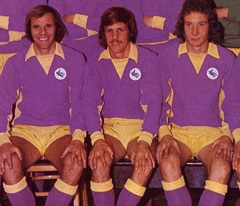 Supporters at the Family Stand End of Cardiff City Stadium had been having a hard time of it lately. They had seen their team playing towards the end in seven games and we had not scored a single goal at that end in that time.
The last match that Family Stand supporters had seen a home goal in front of them to cheer had been on 18 November against Brentford in a match which bore similarities to last night's encounter with Bolton Wanderers – both matches were won 2-0 by us thanks to first half goals scored in front of the Family Stand.
Mind you, the parallels between the two matches stopped there. Brentford came to Cardiff on a nine match unbeaten run and, for me, were one of the best sides to visit us this season as their total of twenty five goal attempts illustrated clearly why they have topped the Championship's goal efforts table all through this campaign – we couldn't match a lot of Brentford's slick approach work, but stuck to the things we are good at while riding our luck at times, but, overall it was a good performance by us.
By contrast, Bolton's display as an attacking unit rather lent support to that stat I mentioned recently about them not winning a match for something a little short of two years without Gary Madine in their team. Former City man Adam Lefondre broke a six month scoring drought on Saturday with a superb goal, but he had a torrid time of it last night as he ploughed a lone furrow up front against an in form Sean Morrison and Bruno Manga – his second half shot dragged yards wide from something like twenty five yards out was the closest the visitors got to scoring from their four goal attempts, none of which were on target.
However, the visitors' main area of concern wasn't their powder puff attacking play, it was their porous and ineffective defending. Right from the moment Junior Hoilett burst clear into their penalty area in the first minute and pulled back a cross which had to be frantically cleared for a corner, Bolton's defence gave the impression that they could be beached virtually every time City attacked – keeper Ben Alnwick was kept busy as he made a series of smart saves and was Bolton's only real contender for their man of the match award.
So many people wrote Sunderland off as the worst side seen at Cardiff City Stadium after our comfortable win over them last month, but they had the excuse of having to play nearly half of the game with ten men – despite some what I'll charitably call robust tacking in the first half, Bolton only had the game's sole yellow card to their name as they struggled to cope with City.
Bolton had come to Cardiff in decent form themselves with a three match unbeaten run which included a win over Bristol City and a  creditable draw with in form Fulham on Saturday. However, they offered very little on the night – I think I'd rate them as a worse outfit than Sunderland.
So, this raises the question that always has to be considered when your team wins as comfortably as they did last night – was the ease of the victory down to your team being so good or their opponents so awful?
Before trying to answer that question, I'll briefly divert to another one which pops into my mind at times "does the responsibility for creating a good atmosphere at a game lie with the crowd in stands or the players on the pitch?". To be honest, I've always struggled to come up with an answer I have confidence in to that question – I honestly don't have a clue!
However, last night the onus fell solely on those out on the pitch to create an atmosphere, because it was as flat as it has been all season in the stands. A lack of numbers watching doesn't automatically mean a poor atmosphere at a game, but it certainly wasn't helped by Cardiff City Stadium's second lowest league attendance of the season which included what was almost certainly the smallest number of visiting fans so far.
A crowd of 16,013 was less than half the number that had watched our previous home match. I appreciate and respect that evening kick offs are difficult for many who live a long way from Cardiff to get to, that there are many who cannot afford to pay modern day prices for non season ticket holders for every home match and the fact that last night was the first in a series of five home fixtures out of our next seven played over a period of three and a bit weeks. However, in every other year where we have had a chance of a top two finish in the Second Division/Championship with the season as advanced as this one is that I can recall since 1963, we would have got something like five thousand more in than we did last night – still, I bet the Champions League game was good on the telly.
The team were never really able to get last night's crowd involved enough to create a good atmosphere, but they did a thoroughly decent and professional job in seeing off what was put in front of them – the only criticism I would offer is that if, at the end of the league programme we find that we have just missed out on automatic promotion or a play off place on goal difference, last night will be one of those occasion where we will think that those one or two extra goals, which will have meant all of the difference, went begging.
That apart, there was a lot to be satisfied about in our performance last night and, for this supporter, who has been watching many of our games over the past couple of months with a sense of growing pessimism, I was encouraged by some of the individual performances.
For example, the video pictures I saw made clear what was not apparent to me at the ground – Armand Traore's finish for his first goal in nearly four years was a clever and quite classy one. I've seen criticism in some quarters of his performance, but I thought he did pretty well and with Neil Warnock saying that Jazz Richards will be out "for a while yet" with his latest injury, Traore gives us that bit extra cover in the full back positions.
Kenneth Zohore may have scuffed a decent second half chance of the goal that he so obviously needs, but there was evidence that he is reacting in a positive manner to the challenge posed him by the signing of Gary Madine.
With Madine not risked because of a series of knocks picked up courtesy of Millwall's bruising centrebacks on Friday and our manager talking about the possibility of him being red card candidate because of the special challenges associated with playing against a club you were an employee of a fortnight ago can bring,  our new striker was not risked and Zohore took the chance to show strength, awareness and a degree of creativity as he put in his best showing since his injury lay off.
I was talking to someone about Callum Paterson's use as a type of number ten in recent matches at yesterday's Academy team game and we disagreed on the matter with me thinking he could be effective in the position with the right players around him and my friend disagreeing as he set out his preference for a more "traditional" type number ten. Whichever one of us is right, I don't think it can be denied that Paterson's versatility can be an advantage to us over the remaining months of the campaign – it certainly was last night.
When I heard that Lee Peltier had been recalled to the side, I assumed this meant that he'd form a back four with Morrison, Manga and Traore, but I was wrong – Peltier was one of three centrebacks, with Traore as left wing back and Paterson on the right. However, with Jamie Ward succumbing to one of those injuries which some Forest fans told us he is becoming increasingly prone to within the first ten minutes of his Cardiff debut, that all changed as we switched to a back four with sub Yanic Wildschut moving on to the wing and Paterson being deployed as the most advanced of a central midfield three. He was to stay in a midfield position for the rest of the game, albeit one that got forward a bit less when we partially intent on preserving a lead as opposed to seeking one – I believe that, as injury concerns, hopefully, become a thing of the past, Paterson will turn out to be one of the most important members of the first team squad.
Paterson lasted the full ninety minutes, as did Marko Grujic for the first time in a league game. Grujic had what was, by some distance, his best game so far in a City shirt. in my opinion The BBC's stats tell us that possession was shared at 50/50, but it seemed like we had a lot more of the ball than that and I would put that down, to a large degree, to Grujic being instrumental in helping us get that element of control to our game that has developed a tendency to go missing for very long periods in the last couple of months or so.
Grujic was able to link well with Joe Ralls in a manner which meant that there was never that feeling that I thought had been growing increasingly commonplace that the latter was carrying our midfield virtually on his own shoulders and it's to be hoped that, having offered more than the occasional glimpse of what he can give us, the Serbian international can become more of a factor in every match we play.
The homeward drive was taken up by a conversation as to who would be your City player of the season so far? There was agreement that Junior Hoilett (he was what has become his usual self last night as he mixed moments of high skill with an exemplary team ethic and could easily have had a hat trick) should win, but I also advanced the claims of Ralls and Sean Morrison and the latter certainly did his cause no harm last night.
After what has been something of a thin time of it this season on the goal front, Morrison netted for the second time in three games with a brave header in among the flying boots after his first effort, from a Ralls free kick, had been beaten out by Alnwick. Of course, it's in his defensive play that he will be mainly judged and here Morrison, who found time to share a laugh at an attempt to head the ball by a fan in the Ninian Stand had not gone quite as planned with other supporters, excelled – again. Although LeFondre in particular and Bolton in general hardly represented the greatest of aerial tests for our captain, I cannot remember him being beaten to a defensive header until the match was in added time at the end.
Although Aron Gunnarsson (Neil Warnock was smiling when he said in his post game press conference that our Icelandic midfielder should be back in May, then corrected himself to say that there was an international break in March wasn't there, but I couldn't help thinking that those jocular remarks also contained a message for Gunnar!) may yet prove to be a candidate as well, the winner of the prize for the one of the multitude of injured players we have missed most this season has to go to Morrison on the evidence so far and this is why I think he should be right up there high in the voting when the Player of the Season prize is decided – he was my clear man of the match last night anyway.
In truth, the second half was a bit boring because  it was hard to avoid a feeling that all of the relevant action had come in the first forty five minutes. Manga headed against the bar early in the second period, Alnwick denied Hoilett with possibly his best save, then, when the winger won a personal duel with the keeper on the edge of the penalty area, centreback Mark Beevers got back to clear off the line – there was also a near thing for sub Anthony Pilkington late on when he shot into the side netting, but, unless those near misses come back to haunt us at season's end, they did not matter too much because, to all intents and purposes, the game was over at half time.
Therefore, as much joy as there was at City winning, I daresay there was probably just as much at the news that Derby had lost. So the game in hand we had on most of our rivals was used up cutting second placed Villa's lead over us to a single point, joining Derby on fifty eight points with still that game in hand on them and, probably most significantly, gone nine points clear of seventh placed Preston with less than a third of the season left.
In a result that typifies what the Championship is all about, Derby, who had not lost in twelve league matches, were beaten 2-0 at Sheffield Wednesday by a team which recorded its first three pointer in seven games. Derby's game last night was brought forward a few days because their opponents were in FA Cup action this weekend, so anything bar a defeat at home to ninth placed Middlesbrough on Saturday will see us go above them, while fixtures such as Fulham v Villa and Preston v Wolves will mean that some at the top will definitely be dropping points this weekend – optimists at Elland Road will argue that Leeds' home match with Bristol City falls into that category as well.