I was a big critic of Alan Cork towards the end of his time with us as manager and I can't really see him finishing near the top of any list of "best City managers I've seen" drawn up by anyone who has been following the club for twenty years or more, but season 2000/01 really was great fun and a good part of that was down to the way Cork sent out his sides to play.
This season has seen City using a 4-3-3/4-5-1 formation in some matches and it's good to see something a bit different from the side after getting on for nearly a decade of the 4-4-2 mantra stuck to pretty slavishly by Lennie Lawrence and Dave Jones during their time with us. Lennie did use three strikers for a while and Dave played 4-5-1 very occasionally during 2005/06, but until this season it's been an almost continuous diet of 4-4-2.
Now, our manager often says that too much emphasis is put on systems and he does have a point – it's how good or bad your players are which, more than anything, determines how successful a side will be. The fact also has to be faced that the decade I am talking about was the most successful the club has had in ages and this was done almost exclusively using the 4-4-2 system which is much criticised these days for being both dated and predictable.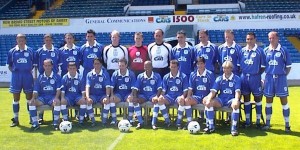 However, in all of that time, while the wins have mounted up, none of the City sides I have watched have gone out with the "no matter how many you score, we'll score one more than you" attitude that Alan Cork's team of 2000/01 did. Cork had taken over the reins at Ninian Park after the unpopular Bobby Gould had stepped down following a 2-1 defeat at Leyton Orient on October 14 which left City with just three wins from league eleven games and in twelfth place – a situation which was nowhere near good enough given the level of expectancy at the club at the time. The reason why people were getting so excited was that former Wimbledon owner Sam Hammam had taken over at the club during the summer and City were spending money like it was going out of fashion in their bid to get out of the basement.
I have always thought that what I still call the Fourth Division is the only league where you could almost guarantee promotion if you spent more than a set amount on new players and, and in my book, the sum of in the region of £2.5 million that City spent in the transfer market that season was around ten times the set amount I mentioned earlier! Therefore, it follows that Alan Cork didn't have to do anything too earth shattering to get us promoted – then again, Gould's expensively assembled squad was making climbing Everest look like child's play by comparison!
Things improved right from the start under Cork. After coming back from 2-0 down to get a point at Carlisle in his first match, City went on a tremendous run which saw them win eight times in nine, unbeaten, league matches and Bristol Rovers, who were in the league above us at the time, were trounced 5-1 in a televised FA Cup match as City made it through to the Third Round of the competition (a pretty rare event back then)
The new manager had introduced a system whereby City played with three centrebacks and two wingbacks and, although that might suggest a defensive approach, it certainly wasn't in their case as, with the erratic, but sometimes devastating at that level, Josh Low on the right flank and the likes of Paul Brayson or Jason Bowen playing in the hole behind a front pairing of Robert Earnshaw and Leo Fortune-West, their approach was one of attack being the best form of defence.
With Earnie's speed and ability to run the channels alongside the unique talents of Leo Fortune-West and the affiliation the new club owner and manager both had with Wimbledon, you would have expected City's approach to be very direct, but, while it was true to say that they make good use of their front two's strengths as players, there was also a lot of good, passing football played by the 00/01 side.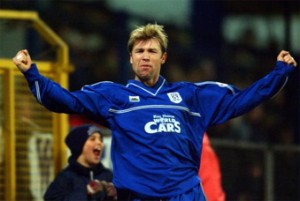 Cork also made positional changes and it has to be said that his switching of Andy Legg into a sweeper position in City's back three was something of a master stroke which was responsible for extending the player's International career. By this time, Leggy had overcome the hostility that that was shown to him by some supporters because of his Swansea connections and was well on the road to establishing himself as one of the most popular, if not the most popular, City players of recent times, but, at the age of thirty four, he must have given up any hope of playing for his country again. However, such was his form in his new position, Mark Hughes included him in the starting line up for the World Cup qualifier in Armenia – the game was drawn 2-2 and Legg's return was not a complete success, but it did represent a tremendous achievement by a player who has in recent years overcome bigger challenges than he has ever faced on a football pitch.
Three weeks before that Armenia match, Legg had made the crucial contribution in an important league game with Hull City switched to a Friday night because a rugby international was being played at the Millennium Stadium the following day. City went into this game having come out of a poor run in February which had seen them pick up just one point from three, goalless, matches, but with Hull, who would reach the end of season promotion Play Offs, having won their previous five games, this was no home banker for City.
City were without regular starters Low and Fortune-West and soon had to make another change as local youngster Martyn Giles came on for a league debut in place of Matt Brazier. With Earnie only on the bench after a mysterious training injury a month earlier, an already awkward looking game was becoming even more so and for much of the first half, Hull defended well while also managing to work some promising positions themselves – ten minutes before the break though, the visitor's hopes were dealt a real blow when striker John Eyre was red carded for a second bookable offence. As often happens however when a team is reduced to ten men, this had the effect of Hull concentrating solely on containment and, as the game approached the hour mark, there was little sign of City breaking them down. The team were doing a good job of keeping possession and moving the Hull players around though and their patience was rewarded when play was switched from right to left and eventually worked to Andy Legg whose well struck low shot flew across keeper Musslewhite and into the net.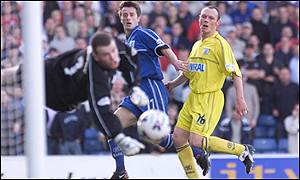 Hull were now forced to go for broke and this resulted in plenty of chances for City to increase their lead, but there was to be only one more goal which came when the talented Jason Bowen beat a defender, then took the ball around the keeper before squaring it across goal where Mike Edwards turned the ball into his own net with City players lined up waiting for a tap in. Bowen was another ex Swansea player who had won around the Cardiff crowd and, over the next three seasons,  would give supporters plenty of examples of the skill which suggested that he should have achieved more in his career than he did, but he was never really accepted as much as Leggy who, to this day, with his support for the Cardiff City Supporters Trust and his willingness for the Llanelli side he now manages to play City's reserve team last week, shows himself to be a true friend of the club.
2 March 2001
Cardiff City 2 Hull City 0
City Walton; Young, Legg (1), Hughes; Gabbidon, Brazier (Giles); Boland, Weston; Bowen; Brayson (Earnshaw), Lightbourne (Nogan); subs (not used) Jordan, Evans
Hull Musselwhite; Edwards (og), Whittle, Mann (Morley), Holt (Wood); Brown, Brabin, Rowe (Harris), Philpott, Francis, Eyre
HT 0-0
Att. 10.074