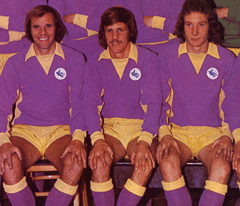 I've a strong suspicion that Semi Ajayi was in the Charlton Under 21 team which beat City in the Professional Development League Two Play Off Final back in May 2013. A few months later he secured a dream move to Arsenal, but, although he was a non playing sub for the Gunners on four occasions earlier this season, it's looks pretty certain that he is not going to be offered a new deal when his current contract runs out in the summer.
During January, Ajayi played Under 21 matches for Sunderland and Ipswich as those clubs both took a look at him and last night the imposing centreback was in the City side that ended their long run without a home goal in style as they beat Coventry City 4-2 in what may well have been the most entertaining match I've seen at first team and Under 21 level this season.
Ajayi was to emerge as, arguably, the match's most influential player in the second half, but in the first half, his, understandable, lack of familiarity with his team mates showed with a few misplaced passes that might have been punished more severely by a Coventry side featuring four players with plenty of first team appearances behind them this season and with former Watford man Al Bangura appearing as a trialist.
The City player who stood out most for me in the first forty five minutes was Tommy O'Sullivan. Back at Cardiff after a month's loan at Port Vale that saw him get less first team action than I'm sure he and the club would have wanted, O'Sullivan featured on the right of midfield with workaholic Ben Watkins and Under 18 team captain Robbie Patten occupying the central positions. However, the Welsh Under 21 international had the licence to come infield as well and, often when he did so, there was a subtlety and incisiveness to his passing that we don't see from City's first team.
Coventry's early tendency to give the ball away at the back in dangerous areas gave O'Sullivan and his team mates opportunities to create something and from one such instance, a delightful reverse pass set Abdi Noor through on goal, but, unfortunately for the youngster, his shot proved as difficult for Coventry keeper Richards to keep out as a routine backpass from one of his colleagues. However, the early indications were there for City that their long wait for a home goal would not go on much longer and, with Coventry also looking dangerous on the break (home keeper Ben Wilson had to make two good saves from visiting captain Ivor Lawton and then was tested by the experienced Simeon Jackson), there was plenty of evidence to suggest this was going to be a more open and entertaining game than most seen at the stadium this season.
When a goal did come, it arose from the visitors losing the ball too close to their own goal again and they were unlucky in some respects I suppose that it was O'Sullivan (someone who wasn't going to lose his head when given such a good opportunity to create something) who was able to take the ball to byeline on the right before knocking over a low cross which left the advancing Watkins with an easy tap in.
With their clear edge on experience, it was to be expected that Coventry would come back strongly after this, but, in truth, City settled down to be quite comfortable throughout the rest of the first period with my feeling being that any further goals would come from the home team. Among other things, City owed their slight superiority to their greater attacking pace and it was the player most responsible for this who doubled the lead when the lively Tyler Roche cut infield following a corner and fired a low twenty five yard shot past Richards on his near post – the keeper looked to have been wrong footed by the shot, so maybe there was a deflection on it.
Within a minute or two, there was almost a third City goal as Ajayi got free on the near post, but didn't get a strong enough contact on O'Sullivan's corner, only to be given a second chance when the ball dropped to him six yards out and his follow up shot was just kept out by a fine save from Richards – the City player would not be denied after the break though.
Although a couple of goals behind, there was still the suspicion that Coventry were far from out of the game, but the early second half action saw City on the front foot and it wasn't long before they had a third goal. Truth be told, it should have come sooner than it did, because good work by Roche and Noor created a great opportunity for Gethyn Hill who wanted too long when he was found unmarked about ten yards from goal and the visitors were able to scramble the ball behind for a corner. However, when O'Sullivan's delivery found it's way to Ajayi on the far post, he cracked home a shot from eight yards that went in off the underside of the crossbar.
A three goal lead with about forty minutes to play is often a prelude for a side to deliver a thrashing, but, not in this game as the deficit could, and probably should, have been reduced to one within two or three minutes. Perhaps it was the excitement of having just scored that caused Ajayi to go chasing a ball he was never going to reach, but his slip enabled Coventry to exploit the space he had left and within thirty seconds of conceding, they were back in the game. That said, it looked to me as if a poor touch from the scorer Shawn Miller had given Wilson the opportunity to make a save, but he dived over the ball and the scorer was able to walk it into the net.
If Wilson was at fault with that goal, he more than made up for it soon afterwards when he did brilliantly to stop Jackson from heading in a Ryan Haynes cross from point blank range. Coventry complained that the ball had crossed the line before the keeper's intervention, but it was impossible to tell from where I was sitting – certainly, it was one of those situations where a goal looked inevitable and I have my suspicions that the visitors might have been hard done by.
The game settled down somewhat after that, but, with a quarter of an hour left, Jackson was not to be denied as City carelessly gave away the ball in midfield and the experienced striker moved on to a through pass to score confidently from the edge of the penalty area.
Coventry must have fancied their chances of getting at least a point out of the game at this stage, but the City youngsters reacted positively to this setback and, truth be told, the expected visiting onslaught never came. In fact, it was City who did most of the meaningful attacking in the remainder of the match, with Richards somehow denying Noor from close range after a neat move down City's left. Whereas you could imagine the first team hanging on for grim death under similar circumstances, with players making their way towards the corner flag rather than towards goal if they were attacking (actually, forget that, when has this team ever been 3-2 up in a match!), it was refreshing to see the youngsters going for that fourth, match clinching, goal.
With the clock showing 85 minutes, Ajayi burst down the right to force a corner and he was there on the near post to head home powerfully when the ball was swing in. There was no way back for Coventry after that and the game ended with City still chasing more goals, but 4-2 was about right after a very enjoyable ninety minutes which leaves them two points behind league leaders Swansea, but with a game in hand.
I suppose the big question now is did Semi Ajayi do enough to earn another chance at Cardiff. On one level, that's an easy one to answer – although not faultless, he was certainly impressive and, with more time to get integrated at Cardiff, I'm sure he'd be a very effective player at this level for us. However, he's twenty one year now and I believe that, at that age, he should be somebody who is going to be ready to step straight into the first team and, hopefully, improve it, as opposed to someone who would make it harder for Academy products like Deji Oshilaja and Tom James to break into the senior squad.
It's impossible for me to say for certain either way based on just one viewing of the player – the fact that Sunderland were interested certainly conveys one impression, but it could be said that Ipswich deciding not to take things further, for whatever reason, having had a look at him, conveys another.