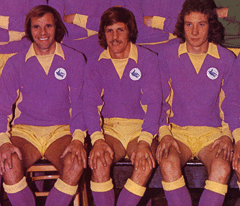 Whenever we drop points through the concession of a late goal, you can guarantee that there'll be people on the City messageboard I use claiming that there's not another club in the country that lets in as many late goals as we do.
It's been said for years, even decades, on there and, generally, my attitude has been that while it seems to me that we are in the "debit column" when it comes to any analysis of goals scored and conceded late on in matches, there will always have to be plenty of sides who find themselves in that position, so I've never believed that we are any worse off than plenty of other teams in that respect.
However, following yesterday's 2-2 draw at Brentford which saw us lose a 1-0 lead in the eighty third minute and then a 2-1 advantage in the ninety first, I have to concede that those messageboard contributors may have a point when it comes to the 2016/17 season.
I've been trying to find a statistical analysis of times in matches when sides score and concede their goals – there's been such stats out there in past seasons, so I'm sure they are still around somewhere, but I've had no luck in finding them.
Therefore, in the absence of such figures, I've been doing a bit of research of my ownand what I have found must, surely, mean that there are very few teams out of the ninety two who comprise the Premier and Football Leagues who have a worse record in the closing stages of games this season than Cardiff City.
If you include the Bristol Rovers League Cup tie, with it's deciding goal five minutes from the end of extra times, City have conceded goals in the last ten minutes in more than half of their twenty four matches.
In thirteen of those games, we have let in at least one goal in the last ten minutes of playing time – what reasons can there be for such an appalling record?
Well, first it needs to be said that, as with many struggling sides I would have thought, some of those goals can be put down to us "chasing" matches that we were already a goal behind in.
For example, during our run of awful results and performances at home earlier in the season, potential single goal defeats were turned into 2-0 losses against QPR, Leeds and Derby as City attempted, forlornly, to get on terms – much the same thing happened, albeit with different final scores, in the away matches with Norwich and Villa.
So, some of the goals can be said to have made no difference to the outcome of the match (the one which enabled Preston to beat us by three goals, as opposed to two, being another example).
Also, more successful sides than us tend to have a handful of matches where the opposition score a consolation goal late on. The closest we've had to that was the televised game against Forest where the home side turned in a display that was so naive and poor that we should have been three or four clear going into added time – instead, in typical Cardiff fashion, we conceded a penalty which meant we were hanging on desperately to a one goal lead at the end in an encounter which should have been all over bar the shouting about half an hour earlier.
Another pretty simple explanation would be that the players aren't fit enough. In the last few years, it has become increasingly amusing for me to see successive City managers claim that the squad they inherited was not fit enough.
To be fair, I think Russell Slade may have had a point when he said that about Ole's squad because the signs were there early on in the 14/15 campaign that other teams were lasting the ninety minutes better than us. However, generally speaking, Slade's sides continued the practice of us being a team that conceded more than they scored late on – despite plenty of talk from within the camp about how much more work was being done on fitness in pre season training for 15/16.
Go forward twelve months and we had a Wales based fitness and conditioning team with a big reputation (apart from the defeat to England in Lens, I cannot recall late goals conceded harming the national team in the years leading up to the start of our 2018 World Cup qualifying campaign) that were going to improve a squad that was "not fit enough" and we proceeded to concede late goals in five successive matches under Paul Trollope's management in August and September!
Now we have had Neil Warnock saying that fitness levels will improve over the coming weeks and months, so, yet again, a new manager indirectly accuses his predecessor of failing when it comes to matters of fitness and preparation.
Let's face it. this is an easy and convenient claim to make for any manager that is fairly new in their job – it helps to buy them a bit more time because there's nearly always a honeymoon period where fans eager to see the best in their new man take anything they say as read.
Leaving that aside though, it's difficult to believe that any manager can do too much at this stage of the season that can lead to fitness levels increasing. You often hear it said by people who are supposed to know about these things that the real time when fitness training is a priority is the pre season – if anything, fitness based training is toned down as a season goes on and if Warnock was to have a fitness blitz in the coming weeks, it seems to me that any short term gain would be more than offset by problems in the spring courtesy of one of the most knackered squads in the Championship.
Therefore, I see the lack of fitness line as being something of a red herring that managers can use at times to deflect blame. That is not to say that there are not fitter sides in this league than us, but you would like to believe that the margins among full time players with full time staff working to get them in the best possible shape are very fine ones that certainly would not offer a complete explanation as to why this season's side are so crap at keeping their goal intact in the final minutes.
Extending the discussion into goals scored by us late on, until recently the goals we scored in the closing ten minutes of matches made little difference – we got two at Norwich, but we were never level after going 1-0 down and the one we got at Newcastle only meant we lost 2-1,  rather than 2-0.
However, the last three matches have seen a complete change (one which might possibly mean that I'm wrong about Neil Warnock being unable to improve players fitness at this time of the season!) because we have scored after the eightieth minute in all of them, but the concerning thing is that we've gained nowhere near the reward we should have done from doing so.
The good done by the come from behind win over Wolves gained by Anthony Pilkington's eighty sixth minute strike has been more than offset by the harm caused by Barnsley's ninety fourth minute winner after we'd done so well to recover from a two goal deficit ten days ago and, now, by having lost leads twice to goals scored after the eightieth minute yesterday.
Let's say I am wrong and that Warnock has got us fitter, it seems ludicrous that we can be fit enough to score more late goals and then become not fit enough to concede again after that – especially when we managed to score again after Brentford's first equaliser!
Therefore, the far more likely explanation for me is that, rather than not being physically fit enough, we are not fit enough mentally.
Now, many, probably a majority, of any club's fans watching the closing minutes of a match where they are trying to hang on to a narrow lead or a draw expect their team to concede a goal. Therefore, especially when it is happening on a fairly regular basis, it's asking an awful lot of the players involved for there not to be a few doubts in their minds as well in circumstances like City's did yesterday.
Although that run of five consecutive early season matches mentioned earlier where we conceded goals late on only had two match (Fulham and Reading) where we lost points as a consequence, such a sequence would surely have an effect on most groups of players that could stretch into the months to come.
Are City players expecting to concede late goals now? Possibly not, but I would argue that there is a resigned acceptance when we do that is not present in many other squads at this level.
That Pilkington goal against Wolves when one point became three remains the only instance of us gaining points by scoring inside the final ten minutes so far this season. However, when you measure that against the two points Fulham's late equaliser cost us, the one Reading's winner did, the one we dropped when Wigan won a very important game, the one lost in heartbreaking fashion against Barnsley and the two we threw away (twice!) yesterday, we are a very damaging minus seven when it comes to points gained and lost after the eighty minute mark this season.
Hardly surprisingly, Neil Warnock sounded like an exasperated man after yesterday's double Christmas giveaway. For the second successive time, the manager was critical of some of his players, in particular he railed at the lack of the sort of sheer bloody mindedness you would expect from a Warnock side that went ahead in the eighty ninth minute.
The criticism that City have a squad that lacks leaders has been a pretty consistent one over the struggles of the first half of this campaign. The answer to this question may not be as easy as it may first seem, because we were conceding late goals with Sol Bamba in the side (only the one against Wigan cost us points though), but would we have at least one and, hopefully, three more points than we do now if he had been playing against Barnsley and Brentford?
Certainly, the second goal yesterday was a dreadful one to concede given the game circumstances. We've all seen City drop deeper and deeper in the closing stages of matches as we look to preserve a one goal lead and the amount of times it has cost us makes me think most of us think of it as something of a recipe for disaster, but there is a balance to be struck, and for us to be caught out by the opposition exploiting space in behind one of our wing backs was criminal.
Credit to Brentford for cashing in on the space we offered them, but if we were playing with a back three and wing backs for the majority of the game, it surely should have transformed into a flat back five when the score became 2-1? Even if Joe Bennett had gone upfield to support an attack, someone should have dropped back to fill the space he had left.
Neil Warnock had promised changes after the Barnsley game and they duly arrived with the absence of Chamakh and Richardson from the subs bench surely confirmation that the heavy hints from the manager that their deals would be not renewed when they run out at the end of the month had been acted upon.
Ben Amos also paid for his errors in recent matches as City turned to their third keeper of the season in veteran Brian Murphy who was recruited from Irish football in August with the seeming intention of providing cover for Amos and Ben Wilson.
The move to three centrebacks enabled Matt Connolly to move to his preferred position and Lee Peltier to switch to the right, with Bennett coming back on the left for Craig Noone, while Pilkington made way for Joe Ralls as Junior Hoilett went back to the more central role he had filled with varying degrees of success last month.
Such a tactical change confirmed what I had always believed – that is, that Neil Warnock is not a slavish devotee to one particular system, but, having said that, four at the back has been a fairly constant theme throughout his career, so to move away from that is another sign that, while things have definitely steadied under him, he has been unable to engineer the sort of transformation that he did at Rotherham last season.
I've mentioned before that, on paper at least, the City squad looks so much better than the one Warnock had at Rotherham, but it does make you wonder whether the players he had up in Yorkshire were more willing to fully embrace his approach than the ones at Cardiff are and, perhaps, more crucially, had that mental toughness to see things out until the final whistle that we so conspicuously lack.
*picture courtesy of http://www.walesonline.co.uk/