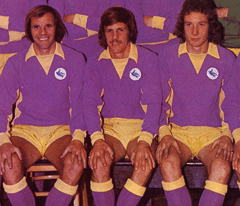 Before City embarked on the run of three consecutive away matches which ended last night at Coventry, I heard the view expressed that three points from three drawn games would constitute a good return for the team. I agreed with that and, although, in an ideal world, it would probably have been better if we had dropped two points last night while not allowing Leicester to pull so far clear of us, I am not going to complain too much about us reaching the three point target with a win which might turn out to be one of our most important of the season.
The best thing about last night's victory for me was that, virtually a year to the day since the last time we did it, we were finally able to win a match this season having conceded the first goal – when Clinton Morrison punished sloppy defending from Gunnarsson's long throw by netting from barely a yard out, it was hard to avoid a feeling of that was that.
With City on a miserable run of results which had seen them net just twice in six matches and with Coventry having won four of their last eight matches 1-0, this did not seem to be the occasion for them to show the doubters like me that they had it in them to turn things around, but their response to going behind this time was very impressive. Darcy Blake went close with a header and Peter Whittingham had a goal dubiously ruled out, before Chris Burke punished some even worse defending than there had been for Morrison's goal by scoring from close in after Jay Bothroyd's header from David Marshall's punt up field was allowed to travel way too far by the home rearguard.
Burke's goal was City's first in 308 minutes since Bothroyd's early winner against Middlesbrough and it was ironic that on a night when, by all accounts, City played their best passing football for some time, the goal that broke their drought was straight from the route one coaching manual – I'm sure no one was complaining though because the goal served to be the prelude for a second half which saw them get right on top.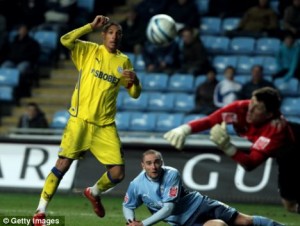 However, for all of their dominance, some poor finishing looked like consigning City to just the one point until they got the little bit of luck that, some big decisions in the Middlesbrough match apart, they just have not been getting lately. Although full back Martin Cranie did appear to block Peter Whittingham's volleyed pass with his hand, the Coventry defender was so close to the City man that the decision to award a penalty seemed a harsh one – it certainly wasn't the sort of decision you expect the away side to get in added time! Home keeper Keiron Westwood guessed correctly as he dived to his left, but, Whittingham placed the ball right into the corner to get the goal which could mean so much to our season.
It wouldn't be Cardiff City of course if, having gone ahead with no more than two or three minutes left, they didn't allow Coventry the opportunity to get back on terms as substitute David Bell hit the bar with a header. This time though they saw things out to record a 2-1 win which keeps them in the top six after a night where they could have been leapfrogged by Coventry who, instead, now find themselves five points behind us having played a game more.
Although all three of them have had their fair share of critics (myself included) at times during their careers at Cardiff, I don't think there is much doubt that a City side with Whittingham, Steve McPhail and Mark Kennedy in it are likely to keep the ball better than one that doesn't feature them and it was good to hear that we were winning the midfield battle in the second half (albeit against another side playing 4-4-2). With Joe Ledley out and us unable to bring in anyone who could be relied on to find a colleague with a pass 80 or 90% of the time, having McPhail in particular fit again is vital to our chances as far as I am concerned because we now have a player who can give us a degree of continuity in the middle of the park simply by passing it to another Cardiff player – this may sound like I am over simplifying things, but we weren't very good at doing that without him were we!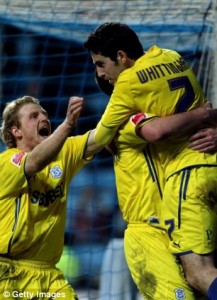 That said, I think a word of praise is due to one of the players who had been filling in while McPhail was missing from our central midfield. After years when he was very much on the edge of things, Darcy Blake has found himself being included in the starting eleven at the expense of the likes of Rae and Wildig in the past two games. On paper at least, a McPhail/Blake central midfield partnership has a nice balance to it, but whether the pair of them get the chance to show whether it would work in practice could well hinge on one of Gabor Gyepes or Kevin McNaughton being fit for Sunday's game with Watford.
An injury to McNaughton at a time when we can't sign loan players and we have two of our three centrebacks missing could have been a recipe for disaster, but with Blake now establishing himself, we have someone else whose versatility is so important for us at this time – while Blake may not be a long or even medium term answer at centreback, the way he played there for Wales in the Under 21 matches with England last season suggests he can fill in there over the next few matches if required.
I mentioned earlier about it being a year since we won after conceding first and the comparisons between last night and the Watford home game from last season are almost eerie – then, as with last night, we were able to equalise soon after going 1-0 down and then, as with last night, we won the game with a controversial handball decision in stoppage time as one of our players kept their nerve to score from the penalty spot.
In the days following that Watford match I said that Ross McCormack scoring the penalty was the moment when I "just knew" we were going to make the Play Offs. I ended up with egg on my face over that claim of course, but have always said in my defence that it took an implosion the likes of which has not been seen in the Football League, certainly in recent years, for us to miss out on the top six place. So, with us three points clear (our favourable goal difference actually makes that as good as four points currently) and with a game in hand on our rivals, do I"just know" that we are going to make it this time?
Well, when you consider that, seemingly, well connected sources are saying that Malaysian investment is imminent, you might think that I could be feeling bold enough to state that the top six place is ours, but, all things considered, I think I'll pass on that for now!