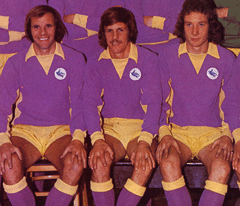 Modem problems meant that I have been offline for three days and so it doesn't seem worth going into any great detail now about Saturday's 1-1 home draw with bottom of the table Preston – especially when the fare on view was so dismal.
To be honest, I had a bad feeling about the match from the moment the teams took the field, I'm sorry for sounding like a boring old statto but as soon as I saw that Preston were playing in white, I knew we were up against it – Saturday was the seventh time Preston have played in Cardiff since our promotion in 2003 and their record when they play in white now stands at an impressive one win and three draws from four visits, on the other hand when, for reasons best known to themselves, they decide to wear a change kit they have a 100% losing record from three matches.
Putting Saturday's failure to beat another one of the league's strugglers at home down to them wearing the wrong kit won't wash though. Once again, City turned in a wretched home performance and it needed a goal deep, deep into added time by Andy Keogh (one of our better players on the day) to rescue a point against a Preston team who, defensively at least, gave plenty of clues as to why they are where they are in the table.
When you consider that Preston's goal came from a poorly struck deflected free kick, that we had to play without hamstring victim Jay Bothroyd for more than eighty minutes and that we had twenty odd efforts at goal, it can be argued pretty strongly that we were unlucky not to get a win which, on the balance of play, we probably deserved. However, so many of those goal attempts were scuffed, wayward or hurried that it's hard to have much sympathy with such an argument – although the chances that weren't there against Swansea and Forest were there this time, this was still a third successive miserable Cardiff City Stadium performance.
So, the loss of faith in team and manager which I have been suffering from since the Swansea match continues. We still keep on being told that this is the best squad in our division and nothing but automatic promotion will do this time, but, apart from thirty odd minutes at Scunthorpe, I've seen nothing in the last six matches to come close to justifying such optimism and, to be honest, there wasn't much around to warrant it in August, September and October either.
Having begun with a stat, I'll end with another one – leaving aside the 0-0 with Palace, our opponents have scored the first goal in two thirds of our home matches so far. We have only scored first in three Championship matches at Cardiff City Stadium this season and I would say that only against Norwich have we made the sort of aggressive start to a match that you would expect from a home team. Home performances haven't been great all season and now they are starting to get the results that they deserve.