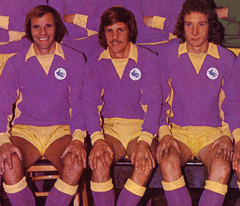 It's funny, I genuinely thought at half time during City's humiliating and soul destroying 4-0 defeat by Hull at the Cardiff City Stadium yesterday that we were playing pretty well. Actually, we were in a way, we were neat and purposeful in much of our build up play and we were, at long last, creating the chances that I have accused our midfield of not being able to for most of the season.
However, what I was not recognising, or, probably, to be more accurate, I was trying not to recognise because the truth was so painful, was that we had just put in another forty five minutes in which we looked every inch a relegation side.
There are different ways a team can look like a relegation side. For example, they can go to a place like Crystal Palace and fail to compete with a whole hearted, but limited opponent who wanted the win so much more than them.
They can also not turn up for the first forty five minutes of a new manager's first home match in which a desperately out of form and injury hit West Ham side are allowed to get a goal in front and then spend the second period comfortably withstanding some toothless attacking despite being reduced to ten men. A third alternative would be that they go to the ground of their bitterest rivals for a relegation six pointer and totally cave in once they go a goal behind.
What probably marks out a relegation side as much as anything though is how they get punished when they aren't playing too badly. The BBC's stats for yesterday's match showed that we had 56% of the possession and had twenty three goal attempts compared to Hull's twelve (and I'd say maybe half of those from our opponents came when the game was all over at 4-0).
I honestly didn't think Hull were that good yesterday, but, tellingly, half of their goal attempts were on target whereas just 22% of ours were. As I mentioned above, our strikers could not complain about a lack of chances – I don't know whether it was because he was trying to prove himself against a former club, but Fraizer Campbell never looked confident in front of goal, while Kenwyne Jones (who I'm afraid is turning out to be just the type of player Stoke fans said he would be for us) showed exactly why his recent goal scoring record is so poor.
On the other hand, Hull scored four from what I can only remember as five decent opportunities in the first sixty seven minutes. You can look at their first goal and say they got lucky with a deflection, but they were gifted the ball in a dangerous position by Magnus Wolff Eikrem (who I thought was playing well until then) and questions have to be asked about the defending for at least two of the other goals – City certainly helped Hull along the way to their comprehensive victory.
So, although I suppose it can be argued that we were unlucky and the score didn't really reflect the balance of the game, it cannot explain away the ineptitude shown at either end of the pitch or that, not for the first time under Ole Gunnar Solskjær, we looked like a side that is completely wrong for a relegation scrap.
Sorry to return to something I mentioned last week, but we are in a scrap, battle, fight, call it whatever you like, with a bunch of players who as a group seem hopelessly ill equipped to succeed in that struggle.
What we have (especially since the January transfer window) are plenty of pretty ball players who can be very easy on the eye at times, but, where is the substance, the heart and the pride?
Yes, we can have twenty three goal attempts in a match (which, incidentally, is more than we managed in any Premier League match under Malky Mackay's management), but what difference does it make when at the end of it we have registered another zero to go with the other fourteen so far this season?
Those extra goal attempts are coming at the expense of defensive solidarity and midfield "dirty work" which Gary Medel apart (it's two home defeats, no goals scored and seven conceded in the two games he's missed this season), our "nice" players in the middle of the park are unable to perform to an acceptable standard. So, with no end product at the one end and less stability at the other, what good is this new attacking philosophy doing us?
Sorry, but I felt more comfortable with, and would prefer to see included now, a Gunnarsson in the middle of the park who will at least compete and do what I would like my players to do in a relegation scrap – scrap! I would also feel more comfortable if I could see some signs of the attitude we had under Malky Mackay whereby we were generally a lot harder to break down than we are now.
If you are my age then you earned your City supporting spurs so to speak watching us in relegation battles most seasons. We won the battle most of the time, but, from memory, I don't recall us doing so by playing the sort of sometimes pretty, but generally ineffective, powderpuff football this side has been producing for the past couple of months – soft touches get relegated and, make no bones about it, we are a soft touch these days.
Of course, I should end by pointing out that if you look at the table, our position is not terminal by any means. Going back to those successful relegation battles in the seventies, I can remember bad defeats in March and April which left us in far worse positions than we are in now, but it's our record at both ends of the pitch which gives me so little hope this time.
We have now failed to score in 56% of our Premier League matches this season and we have conceded twenty eight goals in the eleven games we have played since beating West Brom in early December. We will need to concede about half that number in the same number of matches to have any realistic chance of staying up and, if we were to do that, then we will also probably need as many goals scored in those eleven matches as we have managed in the twenty seven we've played so far – can you honestly see that happening?
*pictures courtesy of http://www.walesonline.co.uk/