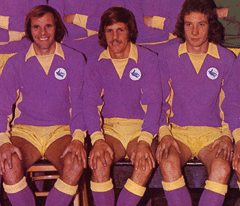 Just a few lines about yesterday's Academy game in which the sides four match winning run came to an end with a 2-1 defeat against Birmingham at Leckwith. I was only able to watch the first half because I had to go to town to meet my brother and his son who had come down from Birmingham for their annual visit to a City match (they haven't had much luck with their choices in recent seasons!) but I saw a much more confident looking side give a good account of themselves against bigger and stronger looking opponents.
The  eventual outcome of the game didn't come as that big a shock to me when I learned it later on because Birmingham were just about shading things based on what I saw. In saying that though there was hardly anything between the teams despite the absence of, arguably, the Under 18's best two players in Ibby Farah and Nat Jarvis.
It was Jarvis' replacement Dane Griffiths who broke the deadlock with about ten minutes of the half left after excellent work by left back Adedeji Oshilala as he beat a couple of players before getting to the byeline and squaring a low cross for Griffiths to touch home on the near post. If Oshilala deservedly got the plaudits for that, he experienced the other side of the game three minutes later as he weakly headed a cross which appeared to be going out of play(maybe he didn't get a shout from his keeper and/or co defenders?) into the path of Birmingham's number eleven who confidently hit a side footed volley in from about twelve yards.
Best City players for me were a couple of names that I don't think I have mentioned before on here. Jordan Carter (who arrived from Farnborough with central midfield player Joe Ralls in the summer) made a very bright start to the match from his left midfield position, but I thought the most impressive player was someone who has often struggled with the physical side of the game at this level when I have seen him play in the past – Mamadou Diallo had an excellent forty five minutes playing just in front of the back four as he excelled with his tackling and passing.