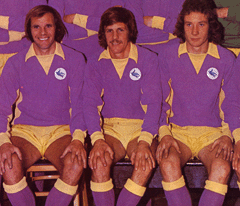 There has been speculation in recent weeks about the financial health of the club and those who feel that things aren't brilliant on the money front can point at schemes like the recently launched Academy Foundation which has been set up to raise £20,000 through supporter donations to help pay for running costs etc. of City's Academy as possible evidence of this. Supporters have been asked to pay £10 a month into the Foundation and, of course, this is an individual decision for all concerned – there are many who are prepared to pay another £120 a year to the club, but I think they are taking liberties with a group of people who have, in many cases, already poured thousands of pounds into the financial black hole that is Cardiff City football club.
Anyway, whether you support the Academy Foundation or not, it doesn't seem to be effecting the lads out on the pitch because the Under 18s stretched their unbeaten run to seven games yesterday morning with a 2-1 win over Reading at Treforest.
In truth, it wasn't a great game of football, but it was competitive enough to keep your attention and, by going 2-0 up and then surviving a late Reading fightback, I think City did just enough to merit the points.
You could tell the City team were in a confident frame of mind by the way they started the game as they forced the visitors back. Corners were conceded by Reading and captain Jon Meades brought a save out of the Reading keeper with a low shot from distance in the opening five minutes as City looked much the better side, but after that the game settled down into a midfield scrap as both sides rather cancelled each other out. Until their late goal, Reading offered little threat except for some crosses into dangerous areas which their strikers just couldn't reach and one such cross was the catalyst for City upping their game as Leigh Smith and Nat Jarvis had goal bound shots blocked and a Reading defender was forced to clear off his own line seconds later.
However, things settled down again after that and half time came and went with the score sheet blank. After the interval, City generally looked slightly the better team as they began to make inroads down their right wing. However, apart from one or two goalmouth flurries when the Reading keeper was forced into saves, it was beginning to look like the game may peter out into a goalless draw when a goal arrived out of nowhere midway through the half. Once again, the danger came from down City's right flank as midfielder Ibby Farah was played in and, after his first effort was blocked by a defender, he buried a close range shot high into the net – although the keeper was beaten at his near post, the force of Farah's shot meant that no blame could really be attached to him.
Reading's response to going behind didn't suggest that they had an equaliser in them with a second City goal definitely looking more likely and it duly arrived with around ten minutes to go when substitute Steffan Jones was played in down the same right hand channel as Farah had been for his goal but this time the goal came courtesy of good low shot across the keeper which found the net via a post.
A two goal defeat would have been harsh on Reading and with four minutes to go they scored the goal of the game with a lobbed shot from outside the penalty area which flew over Santiago and into the net. This goal was the prelude to Reading abandoning any attempts to play passing football as they constantly knocked long balls from back to front in a bid to get on level terms, but City held firm without too many alarms to record a win which takes them up to second in the table.
It wasn't the type of match for great individual performances, but I'll mention a few names. Firstly I was looking forward to watching Nat Jarvis who has been showing signs of becoming the sort of goal getting striker the Under 18s have lacked in recent years and I was pretty impressed overall. Jarvis plays as a lone striker and I would have thought that was a pretty thankless task for someone of his age, but he made a decent job of it yesterday. On the down side, Jarvis' constant questioning of decisions got him a yellow card for dissent, then a strong talking to a few minutes later when he ridiculously started it up again (off the top of my head, I can't ever remember a player being red carded after two yellow cards for dissent, but I came very close to seeing it yesterday).
Shortly after that Jarvis gave away a free kick with the sort of tackle that would earn a yellow card nine times out of ten, but the referee, who I thought was very good overall, erred very much on the side of leniency by giving him a final warning. This was the cue for Neil Ardley to withdraw Jarvis and bring on sub Steffan Jones who, by all accounts, is really a centreback. Well, all I can say us that he must be some defender if the club think he is better off playing at the back, because, on this evidence, he looked a natural target man type centre forward. It wasn't just the cool way Jones took his goal that impressed, it was the way he linked play up by showing awareness of those around him that also took the eye – perhaps I saw Jones on a good day, but he really was impressive when he came on.
Others deserving of a mention were the right sided midfield player  (I'm sorry, I don't know his name but his team mates were calling him Kenny) who did very little to take my eye in the first half, but became increasingly influential after the break and keeper Jordan Santiago who didn't have too much to do but played as well as I have seen him – he looked much more assured than on the previous occasions I have seen him play.
I think the biggest single factor behind City's win was the way Santiago and the back four completely dominated the Reading attack. While I didn't think any of the back four were outstanding individually, I thought they defended well as a unit and worked well in conjunction with their goalkeeper. If I had a criticism of the five of them yesterday it would be that in the first half they overdid the building from the back stuff a bit as Santiago threw the ball out to defenders in positions that led to awkward moments for the team, but that's not a bad fault to have really because, overall, it has to be good that our youngsters are encouraged to build from the back and play football rather than just welly it forward. Okay, there wasn't much flowing football on show yesterday, but the ability to win when not playing too well is not a bad thing – it's an art that the senior side, for all their big wins, don't seem to have mastered yet.