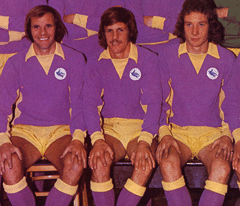 After the disappointment of enduring another poor performance by a the Welsh senior team, it was a day for concentrating on the youngsters yesterday as Cardiff City Under 18's faced Charlton at Treforest and Wales Under 21's visited Hungary for a crucial match in their qualification group for the Finals to be held in Denmark next summer.
The match with Charlton was my first chance to watch the Under 18's play this season and with a large influx of new recruits (the programme for the Doncaster match profiled sixteen new first year scholars) it was my first look at the majority of yesterday's squad, but it was one of the older players, captain Ibby Farah, who got things off to a very promising start with a superb left footed volley from twenty five yards which looped high over the Charlton keeper and into the net. Sadly, the team did not kick on from here though and, carelessly, gave away a free kick in a dangerous area when keeper Reece Ottley picked up a back pass.
City survived that scare, but didn't learn their lesson. Regular readers of this blog may remember that a recurring theme of reports on Academy matches last season was how the side diced with death by insisting on building from the back when it wasn't really on – somehow, they got away with it last season, but they didn't yesterday as a ridiculous penalty for Charlton came about by players passing sideways across the face of goal when being quickly closed down by the opposition (while it's a good thing that City's youngsters are encouraged to express themselves by playing passing football from deep positions, surely part of their education should include a recognition of when such an approach is on and when the "Row Z" option should be used?).
In the event Charlton duly accepted their gift and the scoring was completed with only about a fifth of the game completed. What followed was a pretty undistinguished battle for supremacy by two sides who, largely, cancelled each other out. For me, Charlton had the better of the first half, while City, perhaps, edged the second period – we could have won it if Al- Basith's well struck shot from twenty five yards had been a bit lower and a header by centreback Nugent had to be cleared off the line in the second half, but the visitors could point to their own near misses (including a good save by Ottley right at the death), so, all in all, a draw was a fair result.
Despite all of the new faces, it was one of the "oldies" who impressed me most. Besides his fine goal, Ibby Farah got stronger as the game went on and was the player who drove the side on as they tried to find a late winner with the way he would somehow emerge with the ball from tussles with a couple of Charlton players reminding me of Seyi Olofinjana. Farah responded well to the responsibility of being a senior player in the Under 18 team and, on this evidence, looks a good choice as captain.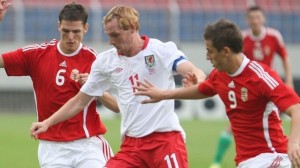 On to teatime then and, first, a thank you to the Cardiff City mad messageboard contributors who found a link to coverage of Wales Under 21 teams game in Hungary. With Italy winning in Bosnia on Friday, long time group leaders Wales went into their last two matches with not even the runners up spot guaranteed. Hungary had been thrashed 4-1 at Wrexham by a side which had a lot of players who had featured in the group winning team of 2008, but yesterday's side had a much more inexperienced look to it as they faced opponents who were just a point behind them and featured highly rated players such as Newcastle's Tamás Kádár and Liverpool's Krisztián Németh .
Wales found themselves under the cosh for much of the first half and were forced to defend desperately at times, but kept their goal intact and went on to start create a few promising situations of their own which gave an indicator of what was to come after the break. The second period saw the home side becoming increasingly desperate for the goal which they knew they had to get to keep any realistic hopes they had of topping the group alive – this was reflected in the number of fouls they were committing and yellow cards they were picking up as the Portugese referee became an increasingly busy man.
It was from one of the many free kicks they were given that Wales broke the deadlock on sixty eight minutes when substitute Ashley Richards' wickedly hit free kick from out on the right touchline was touched on by Hal Robson-Kanu whose header from a good sixteen yards out bounced down and flew high into the net. Perhaps, the vital touch came from a Hungarian defender rather than the Reading forward, but Richards' free kick was of such quality that it deserved the reward it got and Robson-Kanu became increasingly prominent as opportunities arose for Wales to pick the home team off on the counter attack.
The best of these opportunities came late on when Wales were awarded a penalty for a foul on Robson-Kanu by Hungarian captain András Debreceni which saw him given a second yellow card, but keeper Péter Gulácsi saved the goalscorer's poor spot kick to keep home hopes alive for a little longer. Wales' response in the closing stages was impressive though as they did an excellent job of winding the clock down to see the game out with few alarms.
A great win has the table looking like this ahead of Tuesday's decider in Italy. Although Wales' better goal difference would give them a significant advantage in other competitions which would protect them even in the event of a narrow defeat in Pescara, the rules of this tournament (which are set out in Des Parrott's post at 18.38 here) appear to indicate that a 1-0 win for Italy would see them overtake Wales and book their place in the Play Off's – if Wales do lose on Tuesday they need to do it by a one goal margin while scoring at least once and, to that end, the drafting in of Neil Eardley, Andy King and Simon Church from the senior squad has to help their chances. If Wales do find themselves in second place though, then they need to be one of the four best runners up in the ten qualifying groups to make it through to the Play Off stage which they reached in 2008 before losing to England, but, to be honest, it will need three or four other results to go our way for this to happen and so I would say the odds have to be against us making it through if Italy overtake us – that 0-0 draw in Luxembourg in our first match might still come back to haunt us.
Whatever happens though, Brian Flynn and his team deserve tremendous credit for what has been another excellent qualifying campaign, it's just a shame that it has been done with so little input from Cardiff City players. The squad for the current round of matches contained five players from Swansea (with two more amongst those named on stand by) and two on Wrexham's books whereas our sole representative was Adam Matthews. Likewise, a recently named Under 19 squad had three from Swansea and two from Wrexham with just Alex Evans on stand being from City – to balance things up a little, a recent Under 16 squad had nine youngsters from Cardiff in it compared to one from Swansea and one from Wrexham.
In the event, Matthews came close to scoring from a free kick early on in Hungary before picking up an injury which saw him substituted after a quarter of an hour and so the only, tenuous, Cardiff City link after that was provided by our former player Aaron Morris (who signed for Aldershot in the summer) who gave a typically solid performance in the heart of the defence.  With players such as Ibby Farah and Nat Jarvis doing well at Cardiff, you would like to think that this would be reflected in their selection in one of the various Wales age group squads, but, to my knowledge, that has never happened and it is concerning that there is so little Cardiff representation at the older end of the Wales youth set up.