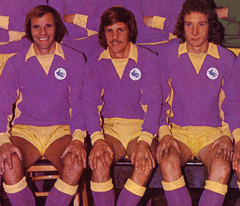 Rightfully, "Men against boys" isn't a phrase which should be applied to an Under 19's match, but it was one which kept on popping into my mind as I watched Cardiff City's Academy team bow out of the FA Youth Cup in last night's Fifth Round tie with Chelsea at Cardiff City Stadium.
Especially in age group football, there is little that a team can do to win a match against opponents who are bigger, more powerful and quicker than they are – especially if the other side are better footballers as well. I suppose what a team needs to do in such a situation is try to get things right tactically and, perhaps, if City could have frustrated Chelsea and kept the score at 0-0 for a long time, then the opportunity to nick a goal might have come along – instead, they shot themselves in the foot by gifting the visitors the lead inside the first five minutes.
Tom James has impressed me as a composed and effective central defender this season, but his decision to head the ball back to keeper Joe Massaro under pressure from  Chelsea centre forward Dominic Solanke would have been a risky one even if he had got a full contact on it. As it was, the ball brushed off his head and fell short of Massaro who was left helpless as Solanke rolled the ball beyond him into the net.
Effectively, the game was over as a contest from that moment. That might sound over dramatic to anyone who did not watch the match, but I've seldom seen one at any level that ended with a relatively close scoreline where one of the teams were given as little to cling on to make them think they could get something from the contest as City were last night.
Back in December, City's Under 21 side were beaten 4-0 by Chelsea in their knock out competition, but, in the first half at least, the visitors were given a real test by a young City side who were very unlucky to go in at the break 1-0 down courtesy of a ludicrous penalty decision. That night the Development side got within shooting range on many occasions, but I'm afraid the Under 19's did not test Chelsea keeper Beeney until the dying minutes when he made a routine save from substitute Lee Phipps.
If City could take anything from the first half last night it was that they also went in just the one goal down despite having so little possession. Credit to the youngsters, they worked ever so hard to deny Chelsea room or goalscoring opportunities and, apart from having to punch away a corner, the only save Massaro had to make was when Alex Kiwomya tried to exploit his lack of inches with a lobbed effort from twenty five yards, but the keeper was able to get back into a position to make an easy save.
The problem was though that the visitors barely had to break into a sweat defensively – Tyler Roche was crowded out just as a shooting opportunity looked to be coming his way and Abdi Noor almost benefitted from a poor kick out by Beeney, but was brought down on the edge of the penalty area for a free kick which James, who recovered well from his error, curled a couple of yards over the bar.
Such a low key first half bereft of goalmouth action would have probably suited City fine if it had not been for the early present they had given their opponents, but, now in a position where they had to chase the game, there was hardly anything that suggested they could get back on level terms.
Disappointingly, things got worse after the break as the tiredness brought on by all of the ball chasing they had to do in the first three quarters of the game took it's toll on City. While that late effort by Phipps was the only goalmouth incident seen at one end of the pitch, the other end saw a series of opportunities for the visitors to clinch the match.
The first came from a free kick awarded after Massaro came charging out of his goal and flattened a Chelsea forward – the young keeper is a decisive character who makes early choices and it's inevitable that he'll get some of them wrong, this was one such decision and at a more senior level he may well have seen a red card rather than the yellow one the ref brandished at him. Massaro is a good, clean handler of the ball though and it was impressive how well hit long range shots "stuck" when he was forced into diving saves. However, the keeper's best stop came when Kiwomya's shot came back off the upright into the path of substitute Boga who looked set for a simple tap in until Massaro flung himself sideways to make a great save.
Solanke, who had earlier headed over from a good position, also struck the woodwork as his header came back off the crossbar, but, by then Chelsea had doubled their lead. However, just as with their opener, they needed a fair degree of help from City to find the net – this time, a couple of slight, unwitting, deflections sent a left wing cross into the path of Kiwomya who finished from six yards on seventy seven minutes.
There were one or two more chances for the visitors, but, in true Mourinho style, they did not go chasing more goals once they had what they considered a comfortable lead. Chelsea had not been exciting or flamboyant, but they had squeezed the life out of the City youngsters to the extent that the night which may well have been the biggest of their club careers so far (and probably the biggest many of them will ever feature in for City) became a somewhat flat occasion which never even threatened to become one of those cup upsets where a giant is slain.
Make no mistake, although the two club's senior sides are currently in the same league, a City win would have represented a giant killing – although it has done them no good whatsoever in terms of producing players good enough for their first team, Chelsea are probably the most consistent Youth Cup team in the country in recent years and, on this evidence, they are going to take some beating in this year's tournament.
As for City, they can concentrate on extending their unbeaten league run (they haven't lost since early November) as they bid for the top two finish which will see them into the end of season play Off's safe in the knowledge that they, almost certainly, won't come up against another side as good as the one they faced last night. In terms of results, this is one of the best squads we've had at this level since being granted Academy status and I would like to think that some of the older lads will have done enough to earn themselves pro deals.