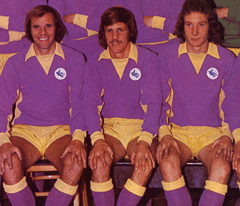 I kidded myself after the Middlesbrough match that that there would not be another home performance as bad as that for the rest of the season, well, in the very next game, a City side lacking in heart, fitness, bottle, leadership and, in some cases, interest in the proceedings were walloped 3-0 at Cardiff City Stadium by AFC Bournemouth in the Third Round of the League Cup.
If you were there a week ago, but missed last night's game (there were only about 6,000 home fans there), then, believe me, this latest humiliation was worse, much worse.
In saying that, credit should go to the visitors who were bright, sharp, creative and motivated – it took them 33 minutes to put the tie to bed by scoring three times and, after that they were able to cruise through the game while giving the impression that they could easily have added to their lead if they had wanted to. Bournemouth's bright, young manager Eddie Howe was full of praise for his side and, correctly and tellingly, credited them as much for their work without the ball as with it.
There were also the usual platitudes about having beaten a very good team from him – at least, I presume they were platitudes because if he really thought that the ease of victory was solely down to how good his players had been, then he might well be in for a rude awakening. The truth is that, while Bournemouth (who made seven changes to the starting line up for their impressive draw at Watford on the weekend), struck me as one of the better sides we'd played so far, it needs to be noted that they had nothing to beat – they won't play a team, sorry, collection of individuals, like this Cardiff outfit again this season (I'm taking the glass half full approach there in hoping that the malaise affecting the club will be, at least partly, cured by the time we get to face Howe's side again in the league).
Once again, the contrast between the way we let our opponents pop the ball about and the pressing game we faced when in possession was embarrassing. A common criticism of City this season is that they are not fit enough and, when you consider that we have yet to score a league goal beyond the fifty fifth minute, it's easy to start believing there is something in this criticism. However, I've mentioned before on here that, as I've got older, I've come to appreciate more that what is going on in a team's collective head is as important as, or maybe even more important than, it's physical condition.
Yes, City don't look physically fit, but, for me at least, they are nowhere near mentally fit either. By this I mean, they lack the belief, character, confidence, commitment and poise that any squad as good as we keep on being told this one is should have. In game after game, I see no sign of the mindset which says I'll do that bit more to help that team mate of mine in trouble, if I keep on making that run something will come my way eventually, I need to impose myself physically on my direct opponent, I need to do a lot more than just stand there with hands on hips when a team mate gives the ball away and, most of all, I see no one whose demeanour suggests they are thinking "I've got to lead by personal example".
I daresay Ole's thinking in putting together this unwieldy, underperforming and bloated squad that we are stuck with was that it would lead to a situation whereby players would come into the team desperate to prove themselves after finally being given a starting chance. Such an approach worked at Manchester United after all, but that doesn't make it a surefire recipe for success – in fact, we are living proof of the potential drawbacks in adapting such an approach, just look what happened last night!
There were two obviously talented players given their chance to put down a marker for selection last night and they ended up being substituted with barely half an hour played. Indeed, one of those involved, apparently, preferred to stay at Cardiff in the face of reported interest from Celtic in the summer, while the other reiterated his commitment to honouring the contract he had signed with City when it appeared that the deal to sign him might be off after our relegation.
I thought Kimbo and Javi Guerra were a disgrace last night. Kimbo at least showed some urgency at times, but he was a shadow of the player who was instrumental in beating Man City last season and in general gave a good impersonation of someone who would have preferred to have been somewhere else.  As for Guerra, he did an impression of Robbie Fowler in  that first pre season match he played for us back in 2007 before heading straight off down the tunnel when Scott Young decided to take him off – thereby giving another clue as to what sort of morale and team spirit there is at the club currently.
It can be argued that, at that time, the two players being withdrawn were faring no worse than many others (e.g. Gabbidon, Cala, John, LeFondre and Maynard), but I would say that in most of their cases, those other five I named were showing at least some evidence that what was happening was hurting them and I thought Young was right to do what he did.
On the other hand, it has to be said that it wasn't a good night for Messrs Gabbidon and Young. Gabbs looked very rusty – I appreciate that he has played very little football and really needs games to get up to speed, but wouldn't it have made more sense to have done that in Development team matches first?
After doing well tactically at Derby, our pair of inexperienced managers came up with a formation which was akin to Ole at his most baffling – Maynard and LeFondre playing as wingers with Guerra and Kimbo through the middle in what looked like the first sighting of a genuine 4-2-4 formation since about 1972! I felt sorry for Gunnarsson and Adayemi as they tried, and failed, to counter Bournemouth's five man midfield – neither of them turned in better than a five out of ten display, but, unlike others in the team, I found it hard to criticise their attitude.
City have got serious, serious problems on the pitch and whoever comes in as manager/head coach/Director of Football or whatever it's being called today has a huge task on their hands. I'd say they have to totally transform morale within the squad, work on getting players physically fitter, get their tactical message across and understood and deal with the inevitable "advice" they will get from the Boardroom. I'm not as anti Russell Slade as most because I believe he might have some of the qualities needed to fire up these players and get them believing/interested/competitive, but, in truth, even Alex Ferguson would probably struggle to turn things around under the circumstances that exist at Cardiff.
Whoever the new man is, an on field leader who would knock a few heads together and provide an example to others would make such a difference in my opinion. Someone like a Graham Kavanagh at his best is needed, but, instead it looks like we are getting Ravel Morrison!
Morrison tweeted yesterday that he was on his way to Cardiff on loan until January while also having a go at his current club West Ham, so it looks like a car crash of a club is signing a car crash of a player. There was speculation that Morrison would be coming here about a month ago, but with the manager at the time no longer in place, you have to wonder who is making the decisions when it comes to transfer policy – in fact, in this case, you probably don't, it doesn't take much working out really given the player's Manchester United roots.
Watching us plodding about the pitch in our Manchester United/Liverpool red while being stuffed by a side who, on the face of it, should not be in the same league as us (Bournemouth are yet another of those well run clubs with the sort of  recognisable footballing philosophy we lack mind)  made me think about how things have changed since Vincent Tan decided to become more hands on in February 2012. Yes, for a while he could point to his methods working, but since we got promoted it seems like everything that could go wrong has done so. Our league position is as bad as it's been in nearly a decade, we have a playing staff and a ground that is too big for a club of our size, we owe about four times more than we did back in 2012 which means that we are unlikely to find someone who will buy us and it seems highly unlikely that Mr Tan will be able to recoup the money owed to him via the proceeds of success on the pitch, so it looks like a fire sale of players (many of whom are on contracts which will make them very reluctant to move) is on the cards if our owner decides he's had enough of the shambles he's played a part in creating.
* pictures courtesy of http://www.walesonline.co.uk/