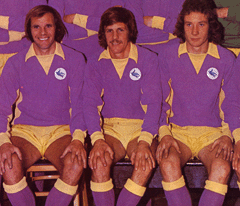 Well, firstly, this is a Cardiff City blog named in memory of the trailblazing kit that was greeted by guffaws and wolf whistles by the home support when I saw my team run out at Fratton Park wearing it in August 1972 – around then they used to say that Martin Peters was ten years ahead of his time, well you could multiply that by three or four as far as that kit was concerned!
Secondly, let's introduce myself. My name is Paul Evans and I have been a Cardiff City supporter since Saturday 5 October 1963 when my late father took me, at the age of seven, to watch us play Northampton Town at Ninian Park – we won 1-0 with Mel Charles scoring with what my very hazy memory of the event tells me was a second half header at the Grange End.
Actually, it's not strictly true to say I was a City fan from that day on because the game couldn't have made too much of an impression on me as I didn't go to another one until 29 April 1964 when we played an evening game against the mighty Bangor City in the Second Leg of the Welsh Cup Final. This time though I was hooked from the moment I walked the steps up into the middle of the Grange End having, first, walked under it to get to those steps – it was the closest I will ever get to running out onto the pitch to play in a game! Shortly after that the floodlights were switched on and, that was it – even at the age of just eight, I knew this was a place I would keep on coming back to!
I maintained my 100% winning record as we beat Bangor 3-1 (sadly it didn't stretch to a third game!) and I can remember pestering my dad about when would I see us being presented with the cup – the concept of cup ties being played over two legs was beyond my understanding at that time and he had to explain that, as we had lost the first leg, there would now have to be a replay (which we won 2-0) to decide who would take the trophy.
At that age, I had no idea where Bangor was let alone how good or bad a team they were, but, such was my desire to learn about the game back then, within a year or two I knew precisely where Bangor was. I also knew exactly where places like Gillingham, Rochdale and Darlington were as I had my teachers scratching their heads as to why my knowledge of English geography was so much better than it was for the rest of the world!
Anyway, I'm only going on about Bangor because losing to some obscure team from North Wales who were probably about five leagues below us at the time (just as now, we were in the second tier of the domestic game then) became pretty typical fare as the years went by and I developed into a diehard Cardiff City fan.
Let's face it, there is a certain naffness (is there such a word?) about Cardiff City isn't there. On so many occasions, the "bonus" of being a team able to compete in English and Welsh Cup competitions has only meant that the probability of humiliating defeats has been doubled!
Although things have certainly improved on the crowd behaviour front lately, wasn't it somehow typically Cardiff City that a referee was hit by a missile thrown from the Ninian Park crowd (for the second time this decade) during a fantastic game with Swansea City last April to ruin what should have been remembered as a terrific advertisement for Championship football?
Also, has there ever been a more pathetic, poorly conceived and executed farewell to an old ground than what we had to suffer during and after that 3-0 defeat by Ipswich? To rub salt into the wound, the move into the new Cardiff City Stadium does not appear to have resulted in the club being cured of the sort of cock ups that typify so much of what goes on behind the scenes at Cardiff City as many have had to wait for their season ticket until after our home pre season matches had been played.
Add to that a playing record that makes the club serious contenders for the award of biggest under achievers in the Football League over the past half a century and is it any wonder that the club's fanbase, particularly it's older supporters, have a degree of healthy scepticism as far as their team is concerned?
It needs to be said of course that things have got much better over the past decade – I spent the nineties believing that I would never see City playing in the second level of the domestic game again in my lifetime. Now, with a new ground and a state of the art training complex, City are an established Championship club and, although I doubt whether your average supporter still fully grasps this, our opponents in this league view us as one of the stronger teams they will face over the next nine months.
The trouble with improved standards though is that they lead to higher expectation levels and it is, again, somehow Cardiff City that, despite the new ground, new training facilities and our best league position in thirty eight years, the way we finished the 2008/09 campaign means that we go into the new season with anticipation levels looking to be as low as at any time in the last decade or more.
And yet…….despite all of the downbeat stuff in the last few paragraphs, isn't the truth that all of the crap only makes you appreciate the rare good days when they come along all the more – I guarantee that no supporter of a "big 4″ team could feel as proud of their club as I did when I watched us play in the Cup Final at Wembley fifteen months ago.
Winning that Play Off Final, watching us play Birmingham off the park in 2006, watching us outclass Middlesbrough on national television in an FA Cup Quarter Final, beating Bristol City when it really counted are all the sort of occasions that make you forget about all the down times that come with supporting Cardiff City. As far as I am concerned, such occasions remind me of the huge part that Cardiff City have played in my life. They have been one of the few constants in that life, they drive me to despair at times and they make me a miserable bastard at times, but I don't know where I'd be without them – I'm sure that over the coming months this blog will reflect the bewildering range of emotions Cardiff City arose in me!
*Originally published on 7 August 2009.
The views expressed in this blog are mine alone and, unless quoted, do not, necessarily,  represent those of the Cardiff City Football club..