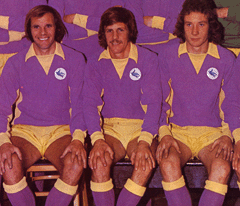 Football, and in particular Coca Cola Championship football, makes a habit of punishing complacency. On the face of it, we saw it happen again yesterday when many Cardiff City fans and probably a few of their players, were left bewildered as a Doncaster Rovers team with just two goals to their name this season eased to their first league win of the campaign with a comfortable 2-0 win over the previously unbeaten table toppers.
From my own point of view, whilst it would be stretching a point to say I expected the result we got, I always had it in my mind that, in the last two seasons in particular, the Championship had routinely offered up "surprises" like yesterdays on an almost weekly basis.
Therefore, whether you want to call it a "wake up call", a "blip" or a "bad day at the office", the evidence of the last two seasons says that all of the teams at the top of the league will suffer from the sort of setback that we did yesterday from time to time throughout their season – the trick is to keep such days down to manageable levels.
However, when they happen to Cardiff City this season (and I am sure there will be more of them to came over the coming months), they are inevitably going to be accompanied by questions about the team's "bottle", "stomach for a fight" etc. Given what happened at the end of last season, this is bound to happen and I have to say that, even if we didn't lose again this side of Christmas and got ourselves well clear at the top going into March, the feeling that we were going to blow up at any minute would still linger with me until it became impossible for us to do so.
That is the cross that the players in our squad who played in those last four games have to bear for the next few months – although they have been getting, deserved, plaudits for the way they had been playing until yesterday, I don't think they will have the trust of significant numbers of their fans for sometime yet.
So, should yesterday's loss be offered up as proof that nothing has really changed and we have a group of players who are likely to choke again come April/May if we find ourselves in the same position as last year? My own view is that, I don't think it can be – for a start, yesterday's starting line up only included six players who featured in those last four matches and one of those (Bothroyd) went off injured inside the first ten minutes, so, for most of the game, our team had a majority of players in it who played no part in the capitulation at the end of last season.
Secondly, I posted the following on the Cardiff City.com mesaageboard last night;
"we've played seven matches so far this season and, by my reckoning, we have played well in five of them and poorly in two of them. We have won each time we have played well and managed to draw one of the couple of matches we played poorly in.
If we continue to play well in 70/80% of our games and keep on winning them and then also pick up something from half the matches we play poorly in, we will probably win this division."
On further reflection, I'd like to change something I said there – I'd like to delete the word "probably" from "we will probably win this division"!

No, I think the team's performances and form so far this season have earned them the right not to have the sort of charges that I for one was hurling at them through most of this summer regarding those last four games repeated after just one loss this time around. A defeat to a Doncaster side who will surprise many teams who go on the pitch considering them to be inferior in some way, does not alter the fact that in some of our games this season we have played football of a better quality than we saw throughout last season – it has still been a very promising start to the new campaign.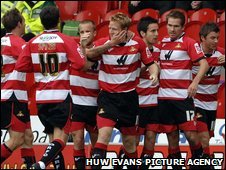 What should be of concern though is that our response to going behind for the first time this season had a depressingly familiar air to it. People say that statistics can be made to prove anything and I agree that it is often possible to draw completely contrasting conclusions from the same set of figures. However, I defy anybody to apply a convincing positive spin to the following  – since Dave Jones took over in May 2005, we have conceded the first goal in league games eighty four times and we have only come back to win the match five times. Now, I know that our record when we score first is very good, but, that is not the point, we have been dreadful at turning losing situations into winning ones.
I listened to yesterday's game with the same feeling of inevitably that I have had so many times before when I have seen or heard us fall behind and, having spoke last night to a couple of people who were at the Keepmoat, they said they felt exactly the same way – okay we very, very occasionally do end up with the three points and come back to earn a draw now and again, but, mostly, if we concede first then you can forget it.
Therefore, if there was any evidence that old weaknesses resurfaced yesterday, then I would say it was limited to the one about us not being able to turn a losing situation around. Another reason why Preston were able to pip us for sixth place last year was that, whereas we were only able to win once while picking up a total of twelve points from losing positions, they were able to get six victories whilst gaining a total of twenty eight points from losing positions. Once again, I find it impossible to put any sort of positive spin on stats like those because, to me, all they show is that we have to react much better to going behind in games if we are to have a chance of getting a top six place this season.
As for the game itself, it's strange, but my main thoughts on it centre on two players who only played a part in it for a total of nine minutes. Doncaster's first goal was the second conceded in successive games from a straightforward header from a corner and that is something that needs to be addressed on the training ground, but, significantly, it came from the very area that Jay Bothroyd would normally have been patrolling. Our lack of a cutting edge for the last eighty minutes yesterday offered proof of how much we miss Jay when he isn't there up front, but we miss him in other areas as well – he really has become one of the most important players in our squad.
For Steve McPhail on the other hand, yesterday may have offered evidence of a new reality at the club as far as he is concerned. Previously, if we were being outpassed and outmanoeuvred in the middle of the park, it would have been McPhail who would have been called off the bench pretty quickly to try and sort things out, but, not this time. Instead we saw new signing Solomon Taiwo brought on to replace Peter Whittingham and McPhail never even made it on to the pitch. I don't know if others feel the same way, but I think we are making a conscious effort to play the game at a higher tempo this season and, if that really is the case, does it mean that McPhail is not as essential as he once was and has now become our fourth choice central midfielder?