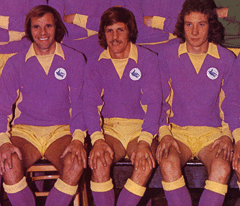 Newer readers of this blog may not know that, rather than the quiz about upcoming opponents I do now in the days before we play them, I used to write about a previous meeting between City and the club we due to play next.
Back in 2010, I did this piece
before a City v Middlesbrough match about a game from 1968 that saw what was a pretty rare thing back in those days – a double sending off.
I was very surprised to receive a reply to the article a few years later from someone who knew Brian Myton (he was making his debut for Middlesbrough that day), who was one of the protagonists in just about the worst on field scrap I've seen in the flesh at a professional game, very well.
Well, now I've received a message from a relative of the other person involved – City's Malcolm Clarke. Charlie Jones is Malcolm's grandson (Malcolm has, sadly, passed away) and is asking whether I could provide him with some more stories about his granddad.
Unfortunately, I included nearly all of my recollections of Charlie's grandfather in the article I did, so I was wondering if anyone else may be able to help him out.
The other thing I wanted to mention was that the City Supporters' Trust is conducting it's annual survey into attitudes towards it and the club. Members will have been informed already about this and given the opportunity to complete the survey, but it's open to non members as well and, if any of you want to, you can answer the questionnaire by clicking on this link.