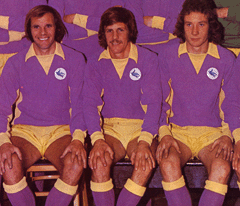 Cardiff City manager Russell Slade has said that his team should be judged after twelve matches. Well, a dozen games in, City, for me, have still not come up with the convincing and commanding display which suggests that this group of players have the potential to be a factor at the very top positions in the table as the campaign reaches it's climax.
However, I do believe that last night's hard fought, and rather fortunate, 1-0 victory over Middlesbrough represented the next best thing as an injury hit team went toe to toe against a strongly fancied side, which completed a comfortable double over us last season, to edge the sort of win which can be a launching pad for better things to come.
Before going on though, I need to qualify what I have just said by adding that, having looked at message board reactions to last night's match, people's opinions as to what they had just watched seemed to be as varied as I can ever remember with large differences in interpretations of the performance of the team and many of the individuals within it.
Quite often, I write these match reviews safe in the knowledge that the City fans reading them will basically agree with the conclusions I draw – there may be the odd quibble with what I say, but, essentially, people will feel that I'm describing what they have just watched.
For example, although I found last season a hard one to write on in many ways, I did so knowing I would not face too many who completely disagreed with the predominantly negative views being  expressed – by general consent, last season was mind numbingly boring.
That confidence is not present here – how can it be when people are expressing the genuinely held view that what they saw last night was little better than the sort of fare we got used to watching last season?
Even so, I can only say what I think and I came out of the match in a pretty upbeat frame of mind after what I'd rate as our best result of the season so far.
Perhaps I felt the way I did because my expectations beforehand were low. Recent away performances had me wondering whether we'd already experienced the best 2015/16 would have to offer – about a month ago, the view was being expressed that we could maintain a Play Off challenge, but, after Rotherham, Preston and a good, but lucky, draw at Brighton, I was finding that an increasingly hard opinion to share.
Last night's match was a timely reminder to me that things don't have to turn out as I was beginning to fear they might. While we didn't see the 3-0 trouncing of a promotion contender that offered the promise of an attacking flair and fluency to completely transform expectations for the season, we were, realistically, never going to see that against the team which has such a superb defensive record since Aitor Karanka became Middlesbrough manager nearly two years ago.
No, if we were going to win, then the ground out 1-0 was always going to be the most likely way we were going to do it and, with Boro having only picked up one point from six after not scoring against Reading and Fulham,, it has to be admitted that this was a good time to play them – it's probably fair to say our luck didn't begin and end with the nature of our late winner.
With injuries to Kenwyne Jones and Joe Ralls and Joe Mason only being declared fit just before kick off, City scarcely looked to be a side brimful of goals, but, to their credit, they forced Dimi Konstantopoulos into quite a few saves in a first half in which they looked slightly the better team. The former City loanee made smart early saves from Peter Whittingham and Craig Noone, in from the start for Anthony Pilkington, and also had to deal with a couple of Matt Connolly efforts, while Alex Revell probably should have done better with the headed chance he had from a Whittingham corner. It's strange with Revell because his headed work outside the penalty area was very good with better directed flick ons than Jones can usually provide – overall, I thought he did pretty well, but at no time, did I really believe that he would round off his evening with a goal.
Middlesbrough didn't have a great deal to offer in reply during this time apart from a couple of efforts from Albert Adomah, the first of which brought a good save out of David Marshall as he clawed away a close range header, while the second flew over after David Nugent's header had provided him with a decent chance.
However, there were ominous signs in the five minutes before the interval that the visitors were beginning to get their act together and, although Ralls' replacement Aron Gunnarsson put a presentable chance over early on, the second half saw the visitors generally having the better of things.
Middlesbrough's cause was helped by some careless City play which mostly manifested itself in poor passing (unusually for him, Kagisho Dikgacoi was particularly culpable here, while Gunnarsson's hopes for more starts were not helped either). Most of the time, City were resolute enough at the back to cope, but when, not for the first time in recent games, Matt Connolly allowed himself to lose possession in a dangerous position, Adomah should have done better than  just force Marshall into a routine save on his near post.
City's skipper had to react more sharply to keep out Diego Fabbrini's shot, but, from where I was sat, it was hard to tell whether the superb goal line blocking of Grant Leadbitter's close range effort was all his own work or whether he had some help from the covering Lee Peltier.
In a way, I hope it was the latter because that would put the finishing touch to what was the best performance I've seen from him in a City shirt (Whittingham, with his good passing throughout, Sean Morrison, with a return to his form of the first month of the season and Mason, with his very good hold up play in the second half which helped lift what was at times a siege on the City goal, we're all contenders, but Peltier was City man of the match for me).
Peltier is often, somewhat disparagingly, termed a "does what it says on the tin" type player who, somehow, typifies the Russell Slade era at Cardiff, but on a night when all of the defenders on the pitch did their jobs pretty well, he was the best of the lot of them.
Having talked about how Peltier is viewed by many, I'm probably going to be as guilty as anyone of disparaging him here when I suggest that the perception that he might embody what your average punter comes up with when asked to describe Russell's Slade's Cardiff team may be one of the reasons why gates at Cardiff City resolutely refuse to start climbing.
In fact, crowds are still heading downwards, with last night's gate of 13,371 being a new low for a league fixture at the ground (not that I expect this unwanted ground record to last long).
It's not just those who don't turn up who are a problem for the club. Once again, the atmosphere produced by those who were there was in stark contrast to what it was like at the last match played in the stadium. Is the atmosphere which has helped make recent Wales games such a great experience provided solely by non Cardiff fans or do many City fans give much more support to their country than they do their club now?
Quite often during a season, I try to think of the campaign it most reminds me of and, after last night, I find myself thinking more and more of the 2011/12 squad that made the Play Offs and reached the League Cup Final.
In particular here, I'm thinking of degree of expectation, attitude, work rate, team spirit and, to some extent, playing ability. Of course, there are differences between the.two teams, but I would argue that many of them are down to how they were/are perceived by supporters.
On the one hand, you had a team under the stewardship of a manager who, no matter how things turned out in the end, was considered to be bright, charismatic and someone who supporters could relate to. With another Play Off miss and the departure of popular and established players, no one was expecting too much from the 2011/12 side, but they ended up being pleasantly surprised. After years of "the surly scouser" and a team who could be brilliant on their day, but had a tendency for a few heads to drop if things started going against them, we had a side who were, obviously, united and giving their all every week – as well as a manager, we had a team we could relate to.
Now, it goes without saying, that an awful lot has changed at the club since then and much of it has been for the worse. Four years ago we could rely on 20,000 Cardiff fans turning up every game and I know there are a proportion of them who no longer attend for non footballing reasons, but I'd say that the majority of the absentees are people who have stopped attending this season, so many of them must have given up because of what they had to endure last year.
Although I am still going to every home game, I can well understand why anyone might have decided enough was enough during the summer. Indeed, there were many times last season when I was pretty scathing about the players at the club and the football they came up with, but, although they are the same players in many cases, something changed during the summer months and there is a new attitude in the squad – it is now a group of players that supporters would really relate to if the circumstances were different.
They won't play lovely, winning, football every week and our manager is never going to have thousands of fans staying behind after a game singing songs supporting him for half an hour or more, but they deserve better than they are getting now from the people of Cardiff and it's surrounding areas, both in terms of the numbers turning up and the type of support they get from those in the ground.
*pictures courtesy of http://www.walesonline.co.uk/