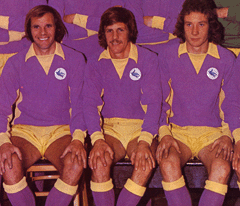 The last time City played Wolves in Cardiff was in September 2012 and it was the newly relegated visitors who struck first through their big summer signing Bakary Sako when his free kick from long range surprised David Marshall to give his team an early lead.
Within five minutes though City were ahead as the player who was their talisman in those days took over. Peter Whittingham equalised from the penalty spot and then added a neat second with a low shot from the edge of the penalty area. However, it was his superb free kick to complete a classy hat trick in the second half that cemented a conclusive 3-1 win.
It was a performance that set people thinking this could be Cardiff's year. As for Wolves, they looked a side with problems – a second successive relegation was not being talked about at that time, but it wasn't too long before it was and come May, the teams headed in different directions – season 2013/14 would see the sides playing two divisions apart.
Since then though, the fortunes of the two clubs have been totally reversed. Wolves regrouped by appointing the shrewd and under rated Kenny Jackett as manager and stormed their way to the League One Championship with the momentum from last season being carried on into this one to the extent that they are currently genuine candidates for an automatic promotion place.
On the other hand, Cardiff self destructed and ended up being relegated with barely a whimper. A very important win at Wigan in midweek means that City emulating Wolves with a second successive relegation looks unlikely, but a 1-0 win for the Midlands side yesterday kept the sides moving along the same paths they've been taking since August 2013.
What it also did was really emphasise how the fortunes of the two main protagonists from 2012 have contrasted since then.The highly rated Sako stayed with Wolves in the third tier and prospered alongside his team. Yesterday his crisp finish from the edge of the penalty area after twenty five minutes decided the game – it was his eleventh league goal of the season.
Whittingham on the other hand collected what I'm pretty sure was the first red card of his career. There was a time when Whitts was in his pomp that the thought of him being sent off never entered my mind – he was above such things! However, based on the nature of the bookings he has been picking up this season, a red card had been coming for a while.
Already cautioned for a professional foul after Matt Connolly had carelessly given possession away in a dangerous position, Whittingham's annoyance at another poor pass (there were a few from him after the break to follow what I thought was a pretty good first forty five minutes) showed as he flew into a tackle on sub Matt Dohertty.
Referee Bobby Madley was rightly criticised by home fans for some of his decision making throughout the ninety minutes, but, if anything, I thought he was a little lenient in his treatment of Whittingham – to me, the challenge warranted a straight red card rather than a second yellow one.
There have occasionally been times when comparing Peter Whittingham to Paul Scholes would not have been completely outlandish – in fact, it could be argued that our player is now a match for the ex Man United great when it comes to the quality of his tackling!
Whittingham's presence in the City side has been a matter of much debate this season with many, including myself, believing that he has been lucky to maintain his place week in, week out. Well, now we will see a Whittsless team for one game at least and it has to be said that the side responded pretty well while being denied the presence of the man who I suppose must still be seen as our most creative force.
Having shown further evidence of the more patient approach of recent matches in a dominant first twenty minutes or so, I don't think City could really be criticised too much for the more aerial policy used when they were a man short. In fact, there was much to admire in the spirit the team showed in the closing stages when Wolves were forced to hang on under the aerial assault.
If Kenwyne Jones' header in added time had looped in rather than been cleared off the line by Richard Stearman, City would have ended up with the point I thought they deserved on the day. However, I strongly believe that sides used to winning often find that they have luck on their side to help out along with their good play and I thought fortune smiled on Wolves at times yesterday.
For example, when Sako put the ball into the same Canton End goal he did two and half years ago, it came at the end of a slick counter attack of a quality that this City team probably couldn't match, but it helped that the ball came to the scorer in a way which ensured that he did not even have to break stride when he hit his shot.
Similarly, when Tomasz Kuszczak made a mess of a cross in the closing stages, Wolves were able to survive first by the ball trickling on to an upright and then a defender scraping it away after Sean Morrison had helped the ball on from point blank range – I can't help thinking that exactly the same type of incident would have seen the ball end up in the Wolves net in the bad old days of 2012/13.
Similarly, when the already booked Dominic Iorfa brought down Craig Noone in the second half, Madley chose not to send the youngster off. To be fair, I thought it was one of those decisions that could have gone either way – however, while not condoning such an approach, many referees' interpretations of the rules seem to depend on whether they are judging the home side or away team when making a decision. I believe many refs would have shown a second yellow card to Iorfa as an away player, so, in that respect, Wolves had the little bit of luck that a side on a good run tends to get and their manager was able to immediately take his right back off and replace him with the one Whittingham ploughed into a few minutes later.
Returning to the subject of Whitts, I don't suppose it ever entered Russell Slade's head to substitute him after his yellow card in the same way that Kenny Jackett did with Iorfa (albeit after a lucky escape). I wasn't advocating it at the time myself either, so I would be a hypocrite if I started criticising our manager for not thinking of doing it, but, when you consider it further, such thinking does say quite a lot about where we find ourselves as this very poor season for the team winds towards it's conclusion.
Until the sixty fourth minute when he saw red yesterday, Peter Whittingham had been on the pitch for every second of City's league season. The inference is obvious – Whitts has been considered an essential part of the team by each one of the four individuals who have been charged with team selection  at various times throughout this campaign.
The importance of Whittingham to the side in the eyes of Messrs Solskjær, Young, Gabbidon and Slade can be gauged by the fact that, apart from a few occasions when the much missed Anthony Pilkington was playing, he has been charged with taking every corner and attacking free kick we have been awarded this season. Now the man is still capable of putting in a good cross from a dead ball, as is evidenced by the number of headers we've scored from them this season, but then, when the same person is taking them all of the time, you'd surely expect him to get some of them right now and again wouldn't you?
When it comes to efforts on goal from free kicks though, Whittingham has been living off the reputation he gained earlier in his career for a couple of seasons now. Yesterday we had a free kick from around thirty five yards out in a central position in the second half – we heard the usual "he does what he wants" chant as Whitts took aim and produced a decent effort which at least forced visiting keeper Kuszczak into a save, but the shots lack of real pace meant that he wasn't seriously troubled.
Compared to the beauty he smashed in when Wolves were last here, it was pretty ordinary stuff and it could be said that it reflected the lack of confidence in someone who has gone a very long time since he last enjoyed any success from such an opportunity. Within a month of that effort against Wolves, Whitts scored a beauty similar to the one he got in the Play Off win at Leicester in 2010 in a 3-0 win over Blackpool – that was one hundred and twenty two games ago.
A conservative estimate is that Whitts has started three quarters of those matches and so, I believe that it's entirely possible that he has had one hundred shots from free kicks in that time and not found the net with one of them. That one sentence really does capture the Whittingham situation as it currently stands – the player at the club automatically thought of, even by his critics, as our set piece specialist has not scored from one for almost two and a half years!  
There are still many who swear by the man, but, increasingly, I believe they are not grasping the reality of the situation – the player they are praising does not exist any more and this is one of the primary reasons why this season has not worked out as the "experts" were telling us it would back in August. Right from the very first game at Blackburn, it didn't need the evidence of the possession stats to tell me that we had struggled in central midfield – the evidence of my own eyes told me that.
With the odd exception here and there, this trend has carried on all season with our current manager's insistence on Gunnarsson and Whittingham as his central midfield partnership in every single match causing general bafflement.
Now, in recent games there has been an improvement in results and performances – for the second successive home game, the team looked motivated and united as they put on a showing that did not deserve the defeat they suffered.
In my view, one half of our much criticised central midfield partnership has been performing at something closer to his best lately – I thought Aron Gunnarsson was excellent yesterday (particularly after he effectively became a one man central midfield after his partner's dismissal), but while Whittingham, as he always is, was neat and skilful in his approach at times, he has not been able to come close to matching Gunnarsson's improvement over the past month.
I mentioned earlier that we were "dominant" in the first twenty minutes. Upon thinking about that a bit more, I stick by it, but will add the rider that what I should have probably said was "as dominant as a side like ours can be".
What we had in the first and last quarters of the game was the dominance of a side that has now scored a measly three goals in it's last seven matches. When the 2014/15 Cardiff City side is "dominant" it means that it is winning more than it's fair share of second balls, coping pretty well at the back, launching it's fair share of attacks and winning attacking set pieces – what it hardly ever means is that it is creating chances from open play.
There has been an improvement, but it's come from a very, very low starting point – for all of the activity around the Wolves goal yesterday, what did there keeper have to actually do in terms of making difficult saves? Two years ago, Kuszczak had a stormer for Brighton when they won here as he defied a City team, with Whittingham as it's creative hub in central midfield, time and again with a series of fine saves. This was during a time when Whitts was supposed to be off form and he would indeed be left out of the team for a while within six weeks, but the point is that, even when not at his best, Whittingham used to do enough to play a prominent part in ensuring that we were getting an acceptable number of opportunities from open play every week – that is is no longer the case.
It is an indictment of the current manager, that he did nothing in the January transfer window to increase the number of options he has in terms of creativity in central midfield and that he seems to rate the one possible alternative in that department already at the club (Joe Ralls) more of a left back than a Whittingham replacement.
Although I believe it will be almost impossible for someone like Stuart O'Keefe, Tom Adeyemi or Ralls to come in and settle in to produce the goods at Rotherham straight away because of the total reliance on Whittingham up to now, it was encouraging to see the reaction during the time we were without him – this team with Whittingham hasn't worked, will Russell Slade be prepared to give a side without Whittingham a fair crack of the whip before abandoning it?
Finally, just a couple of paragraphs about the Academy match with Colchester at Leckwith yesterday lunchtime. With a friendly for the Under 21 team on Friday (they lost 1-0 at Burnley) and another game for them tomorrow night, it wasn't too surprising that many of the regular Under 18 side were missing yesterday and their absence was felt as the visitors left with a 3-2 win. After falling behind early on, City came back strongly to equalise quickly though an own goal by Colchester's left back and probably deserved to be ahead at the interval. However, they performed poorly during the second half – Elvis Menayese did draw City level for a second time, but they were unable to come back after a further Colchester goal and I thought they could have few complaints about the result after a below par second half showing.
For me the game was most notable for something I'd never seen happen before in a match at this level. Colchester Under 16's were playing on the adjacent pitch (don't know what the score was in that game, but I did see City score twice) and after about an hour of the Under 18's match, a kid wearing the number nine shirt in the white kit the Under 16's had been wearing arrived in the away dug out and started changing into the yellow and blue kit being used by the Under 18s. Once he had done this, he was promptly brought on as a sub – this happened again about ten minutes later when two more lads wearing white appeared and took the field shortly afterwards in yellow and blue!
* pictures courtesy of http://www.walesonline.co.uk/