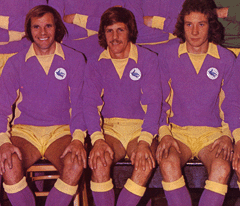 Vincent Tan declared last week that there could be a resolution to the Langston loan note debt "within days" and he was proved to be true to his word yesterday when this announcement on the official site  confirmed that the unsecured debt, which was at the root of so many of the financial woes the club have been through in the past nine years, had been settled.
The figure of £15 million is being mentioned a lot in the media as the amount that Langston/Hammam settled for, which is significantly less than the original £24 million, but more than the figure they were rumoured to be ready to accept late last year. Of course, it has to be acknowledged that City could be replacing one amount lent to them at 7% interest with another one charging the same rate, but Vincent Tan reiterated his plan to turn his debt into equity in his speech after accepting his honorary Doctorate last week when saying;-
"We are talking to Sam  Hammam to try and resolve the  Langston issue. We are, I think,  days away from an agreement.
Hopefully we can get it done  and then I can convert all my  loans to equity and make the  club financially much more secure and hopefully debt free;  that is our goal.
It is my goal to make the club  debt free so it will not be under  any threats and after that we  can manage it prudently, run it  like a business."
Whilst that may not amount to a promise, it's a pretty strong indicator that a debt to equity conversion is still very much on the agenda and with Mr Tan having delivered on his promise to provide funding for the players who could get us promotion and plans in place for an increase in ground capacity and a new training ground, he is well on his way to keeping the other promises made when the re-branding was introduced last year.
The re-branding remains a divisive and very controversial issue of course and the fact that there is a tendency for the club to have to issue sometimes embarrassing "clarifications" after his public pronouncements is a slight concern, but I'd say that, overall, Mr Tan has earned the right to be believed when he says he will convert debt into equity. Although I'm finding it increasingly difficult to accept the change to red, it would be churlish not to recognise that Vincent  Tan has got very many things right in his time with the club – yes, he can, and should in my opinion, be criticised for the shirt and badge change, but there's very little else I can find fault with him for.