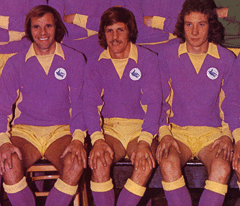 It's funny trying to define what makes games enjoyable or not. For example, if I was to merely recount the notable goalmouth incidents in yesterday's  0-0 draw between City's Under 21 side and their Millwall counterparts at the Vale, I'd struggle to make a couple of paragraphs out of it – neither goalkeeper had a save to make.which could remotely be described as difficult, there were no efforts which struck the woodwork and no clearances off the line by defenders with the keeper beaten.
Yet, the match had something about it which kept me interested right to the final whistle. I suppose that the fact that there was something riding on it helped – with Charlton virtually out of sight at the top, only one of the two Play Off places is still up for grabs and so third place City versus second in the table Millwall had more riding on it than you'd normally get at this level.
It wasn't just that though, with the first team squad hit by a virus that has left some senior players doubtful for today's match with Derby, it looked like regulars at this level, such as Ben Wilson and Kadeem Harris, were not available for selection because they were on standby for the first team.
Therefore, it was a younger than normal side that started yesterday with only Rhys Healey who could be described as a specialist striker in the fifteen man squad.
Maybe, that was the reason why City used a three centreback system with Dylan Rees and David Tutonda more wing backs than full backs and Theo Wharton and Marco Weymans given the job of providing Healey with support from midfield.
Generally, I'd say there are more goals scored the lower the age level of the players involved. For example, at the three levels I watch City play at there are more goals scored at Under 18 level than there are with the Under 21s and then less again with the seniors.
So, it's pretty unusual to see the sort of defensive record which Millwall have built their good season on in an Under 21 side – before yesterday, they had only conceded nineteen goals in their twenty three matches..
Given City's lack of attacking height and options, it was always going to be tough to.break down such a resolute defence, but, although they mostly strove in vain, I thought there was a lot to admire in how they went about trying to do it.
Some of the link up play between Healey, Wharton and Weymans in the first half in particular was very easy on the eye and with captain Jamie Veale's passing to the fore from his deeper midfield role and Rees and Tutonda looking more like wingers than wing backs, the visitors spent most of the first period on the back foot.
However, it was to Millwall's credit that they were able to snuff out City's attacks before they were able to get within sight of their goal – there was a shout for a penalty, which was probably correctly turned down, when Healey went down and the same player was only just wide after he had done well to create a chance for himself, the striker also put a free kick not too far over (as did Weymans), but Millwall encountered few serious problems in getting to half time with their goal intact.
At this stage, the visitors had done absolutely nothing to suggest they had a goal in them mind. New goalkeeper Oliver Byrne (who I believe was on Manchester United's books) was given a very gentle introduction to life at Cardiff and only really had the chance to impress with some long and accurate kicking – that situation wasn't to change in the second half either.
In saying that, Millwall did enjoy their best spell of the game in the first quarter of an hour of the second period as they pressed City into errors and committed a few more men forward.
For a while, the visitors threatened to take control of the game and Kyron Farrell had Byrne worried when his well struck effort from twenty yards flashed just over, while Mikiel Ndjuli's turn and shot from a right wing cross wasn't too far wide either.
With City three points behind their opponents and with a worse goal difference than Millwall's, their need for a win was the greater and, after spending some time working their way back into the match, the home team ended the game in the ascendancy.
An injury to Ashley Baker saw City switch to a four man defence as subs Jamie Bird and Lloyd Humphries were introduced, while there was also a first appearance at this level for Under 18 right back Cameron Coxe when he replaced Rees for the last quarter of an hour or so.
Coxe, like Tutonda on the other flank, was committed to attack as the minutes ticked by and City were grateful at times for some exemplary defensive work by sitting midfield player Robbie Patten as Millwall looked to catch them on the break, but the definite feeling in the closing stages was that, if the deadlock was going to broken, it would be City who did it.
The trouble was that Millwall were so well organised defensively that any opportunities.City got were likely to be fleeting ones, such as when Healey looked to have found a yard of space as a cross dropped towards him only for the gap to be closed down as quickly as it had appeared.
Nevertheless, visiting goalkeeper Harry Girling was called into action a few times in the dying stages as Bird (who had shot a couple of yards wide from the edge of the penalty area earlier) got in another effort which Girling was judged to have conceded a corner from.
The keeper and his team mates were not happy with that decision and their mood would not have been improved one iota if the unmarked Wharton had been able to get a meaningful contact on Rollin Meneyese's firm header. Girling was able to catch the centreback's effort comfortably, but City had been only a matter of inches from getting what would have been the decisive goal.
The keeper had to make another routine save when Healey got his head to a Veale corner, but the final whistle came seconds later with the feeling that City may have gone on to win the game if it had lasted for another five minutes or so.
If a side deserved to win, it was probably City, but I'd say a draw was the right result and Millwall would have gone back to London happy to maintain their advantage over us – there's still six games left I believe for us to get that second place finish, but Millwall showed that they are going to take some overhauling now.