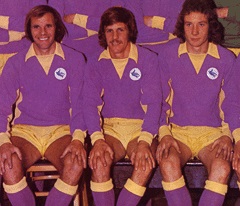 I daresay that the passing of time will come to see Wales' latest failure to qualify for a World Cup Finals tournament being treated on a par with what happened to us when we faced Romania in 1993 and Scotland in 1985.
These days those two heroic failures are seen in purely black and white terms – Paul Bodin scores from the spot and we would have been there in America with the best in 1994 and, if it wasn't for another very dodgy penalty award for Scotland on the night that will forever be remembered for Jock Stein's death, it would have been us, not them, at Mexico in 1986.
I've always thought both of these versions of history were gross over simplifications that are at odds with what actually took place. For example, Bodin will forever be portrayed as the man who cost us World Cup glory twenty four years ago almost to the day, but that is to forget what actually happened between us and a very talented Romanian side in the two matches played between the sides in that qualifying procedure.
My recollection was that, until Dean Saunders' equaliser at the old Cardiff Arms Park, we were distinctly second best to slick opponents and the mystery was how we were only the one goal, courtesy of a rare mistake by Neville Southall, down at the time.
The moment that defined Bodin's career obviously was a very important passage in the game and, maybe, Romania would have crumbled if we had gone in front at that stage. However, Hagi and co were better than the stereotypical "don't like it up them" foreign sides that are supposed to fall to pieces under what could be called a typically British footballing assault, there was still almost half an hour to go and, I believe it's more likely that Wales would have faced a very searching last third of a match which I think it's fair to say the visitors controlled for 75/80 per cent of the time.
Add in the fact that when Wales had visited Sofia around a year earlier, they found themselves 5-0 down at half time (it finished up 5-1) and I feel that, even the most diehard Wales fan would have to concede that the better team out of the two qualified for the 1994 World Cup Finals.
Eight years earlier, the venue was Ninian Park and I must admit to believing that our failure that night was more to do with bad luck than being foiled by a better team, because we'd beaten Scotland quite comfortably at Hampden Park earlier in the campaign and they were certainly no Romania. Although it didn't seem like it at the time, Mark Hughes' goal to put us one up probably didn't do us many favours because it came so early in the game as to put Wales between two stools – did they go looking for a killer second goal or did they hold on to what they had?
In the event, what started as the adventurous approach, probably understandably, turned more and more into the cautious option as the minutes ticked by and with nine of them left, the Scots were once again the beneficiaries of a controversial penalty award. While this one was not in the same class as the absolute howler at Anfield in 1977 or the one which cost Northern Ireland so dearly on Thursday, David Phillips, the player penalised, was very close to the ball when it was last played by a Scot and many referees would, surely have decided it was ball to hand, rather than hand to ball.
A draw wasn't good enough for Wales and I believe that it's generally accepted that we were the better side over the ninety minutes on the night, but, amid all of the tales of another typical example of World Cup qualification heartbreak for us, it tends to get forgotten that the Scots still had to win a two leg Play Off with Australia to ensure their place in Mexico.
Wales would probably have been favourites in such a shoot out with the Aussies back then, but it wouldn't have been anything like a sure thing, so it's not quite true to say that our long wait for a chance to replicate the heroics of Sweden 1958 would have been over but for that controversial penalty award.
I can't help thinking that in decades to come there will be much, rightful, bemoaning of the absence of Gareth Bale and Joe Allen for the whole of the game in the former's case and around two thirds of it in the latter's in the crucial encounter last month, but the fact that, as it turned out, all that was at stake was a Play Off place against Denmark will tend to get airbrushed out. Sorry if this sounds anti Welsh in any way, but while the absence of Bale and Allen were huge obstacles to overcome, I tend to think that, over the whole ten game qualification process, we showed ourselves to not be in the best two teams in the six strong group.
It would have been tough, but I believe that Wales playing to their Euro 2016 qualification standard would have beaten the Irish to second place and so would have at least still have a chance of making that elusive second World Cup Final tournament.
Therefore, it follows that I have to believe we have declined as a team over the past year or two (we certainly have from the one we saw in France in the summer of 2016) and I couldn't help but think of that sense of decline and resultant change as I watched our 2-0 defeat against France in Paris last night.
The first thing to say about the game is that there was no disgrace in losing to a French team playing as well as they did last night and 2-0 is hardly a thrashing, but we were over run in the first half especially and at half time I couldn't help but think we could have been looking at another Bucharest 1992 style 5-0 deficit.
The hope which came from last night centred on what was seen after Wales brought on the likes of Ben Woodburn, Ethan Ampadu and David Brooks (it was for a senior Wales debut in the case of the latter two and now they must be given competitive caps as soon as possible so that their allegiance to us becomes a binding one). That trio, with a combined age of fifty five, played a full part in an improved Welsh performance in the final third of the match and should help Chris Coleman, or whoever replaces him, through what he said would be a transition period over the next year.
One of the most telling pieces of commentary in the BBC's coverage of the game came when Rob Phillips said the Welsh starting eleven had a total of more than six hundred caps between them. Contrast this with England, who last night fielded a team with a collective cap total of just over a hundred, and you realise that Wales "golden generation", which was talked about for so long in terms of what was to come, have now very much arrived.
In fact, looking at some of those who have served their country so well in the past labouring last night, it was hard not to think that the time may well have come when they need to get off the train. England's youngsters got a creditable draw with Germany and that all helped create that impression that there is a thin dividing line between when having all of those international caps goes from being a strength to becoming a weakness.
This Wales team does not need wholesale dismantling, but if the last year or so has seen Tom Lawrence (on the bench last night ironically enough) make the transition to regular starter, you can't help feeling that at least one or two of the youthful trio mentioned earlier will be likely starters by the time we begin our quest for a place at Euro 2020.
While I make it that only three of last night's starters were over thirty, they've all played an awful lot of international football in their young lives with only Ben Davies being below the age of twenty five out of the starting eleven.
Wales are not an old team in terms of years then, but they are in terms of the international football mileage they've racked up and it may be that the time that the group this side is very much based on (i.e. the members of the Under 21 team which ran England so close in a qualification Play Off nearly ten years ago) was supposed to peak may have been misjudged somewhat because it was based entirely on how old they would be at a particular time.
If you looked at the side from last night, only Ashley Williams (who, in this season where he has looked so vulnerable, I thought looked a little more like his old self against France) would be seen as someone whose position in the side needed to be reassessed purely on the grounds of age, but there are two or three others for whom international football is looking increasingly difficult these days.
Therefore, what is going on in the age groups below senior level perhaps becomes more important than normal and so I'm afraid what happened to our Under 21 and Under 19 teams yesterday makes for gloomy reading.
When you look at Woodburn, Ampadu and Brooks, you see the evidence that the grandiose claims that were being made around two and three years ago about the quality of player coming through had an element of truth to them, but, watching our Under 21s losing 4-0 to Bosnia at Bangor last night rather suggested that we are not seeing a second golden generation to follow on so soon after the first one.
To be fair, 4-0 was harsh on Wales, but, after competing well in the first half, they ended up a well beaten side. From a City perspective, I know I'm biased, but, although Cameron Coxe was among three or four Welsh players who may have thought they could have done more to prevent the opening goal, I thought he was one of our best players as, in the first half especially, he attacked constantly down the right. After the break, his attacking influence waned, but I thought this had more to do with the introduction of former City Academy player Rabbi Matondo to play on the right wing, rather than any decline in Coxe's standard of play.
The other City player in the side, Mark Harris, also did some good things on the left and you couldn't help but think that his withdrawal was more down to the fact that he always tends to get taken off sometime around the hour mark when he plays for this team than his performance on the night – I thought Harris was more effective than the higher profile attacking players that featured alongside him in what was a pretty toothless Welsh attack.
A few hours earlier Wales Under 19s had followed up their 2-1 loss to Slovakia, on Tuesday I think it was, in one of those mini tournaments whereby four sides play a round of games in a short period of time in the one country, with another loss by the same score against hosts Turkey, so that, almost certainly, means they are out of the European Under 19 tournament.
Goalkeeper George Ratcliffe as well as midfielders Sion Spence and James Waite were among the City contingent selected for the squad for this event and they all started against Slovakia, with the first two named also in the eleven against Turkey – Wales complete their programme with a match against Kazakhstan on Monday.