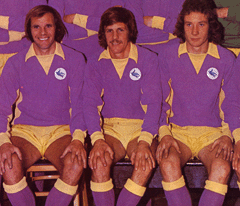 Well the hope expressed in my last post under this category that it would be the only one about Boardroom matters that I would do all season lasted just three days! However, whereas normally any news regarding finance and Cardiff City is a cause for worry, this time it is good news all the way as the club announced a link with Malaysian based company Football Focus Asia which comes under the auspices of a property company called Central Malaysian Properties. In particular, it would appear that a relationship has been formed with the company's Managing Director Dato Chan Tien Ghee who Peter Ridsdale met last week on his visit to the Far East.
Dato Chan Tien Ghee is a partner in a billion dollar plus property scheme to transform a stretch of beach in Johor that locals consider to be an eyesore into an "integrated residential-cum-commercial Boulevard City".
At the moment, the agreement, or "strategic marketing alliance" (to use the sort of corporate speak bollox that is increasingly favoured by the club!), runs to the development of football related youth programmes across the region, the establishment of Cardiff City supporters groups in the Far East and invites to the City team to take part in pre season tournaments in the future. However, in his press conference yesterday Peter Ridsdale outlined the hope that this would just be a beginning with the possibility of share ownership, shirt sponsorship and stadium sponsorship options being taken up as well as the possibility of a restructuring of the club's debts which would have a very positive effect on it's overall financial position.
Does all of this sound a bit too good to be true to you? Long suffering City fans have become used to the sort of false dawns that were provided by Messrs Goldstone, Cadman, Kumar, Hammam and others down the years and you can't really blame some supporters for greeting all of this with some cynicism – also, let's face it, our Chairman does have a bit of a history when it comes to grandiose schemes that go wrong and result in financial meltdown doesn't he!
However, although I am probably going to regret this, this just feels like good news to me and I am hopeful that this is a first step along a road that will end by seeing the Langston financial millstone being lifted off the club's back.
There is more than just a vague unexplainable feeling that this is good news behind my thinking as well. Peter Ridsdale emphasised yesterday that negotiations with Far East business' have a tendency to be slow affairs with relationships being built and mutual trust achieved gradually over months or even years rather than days. Now, assuming that is true (and I believe it is), the last thing Peter Ridsdale should have been doing was to hold a press conference in which he went into some detail about the nature of the negotiations he had been having – that is, unless the other party concerned had already indicated that they would have no problems with these details being released for public consumption.
Similarly, when our Chairman says "I'm still talking to people I met in Malaysia last week and the investment could be 30p or £30m,", he must realise that supporters are going to ignore the 30p figure and seize in the £30 million one mustn't he? Speaking for myself that comment had me thinking that while any investment might not be as high as £30 million, it is likely to be a substantial one – I know the Jimmy Floyd Hasselbaink fiasco might suggest otherwise, but, surely, Peter Ridsdale wouldn't be so stupid as to pull figures like that out of the air, and risk antagonising Dato Chan Tien Ghee in the process, if he didn't have some prior knowledge of the sort of figure we were likely to get?
One last thing about the issue of trust. Hopefully, for his own as well as Cardiff City's sake, Peter Ridsdale will soon pay the bill of around £300k that has got HMRC (Her Majesty's Revenue and Customs) all agitated because I am not sure if this newly formed special relationship would survive him being disqualified as a Director by the taxman!
*Originally published on 11/8/09.