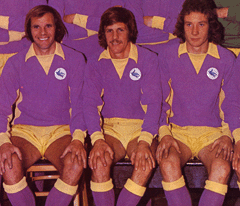 I always try not to be too critical of any player after their first performance in a City shirt, but it was hard to think of many positive things to say about Eddie Johnson after his debut for us against MK Dons in the League Cup after his loan signing from Fulham. He did have a shot deflected on to the crossbar by the keeper I suppose but he really should have scored and I left the game asking if this was really the player who I had made a priority signing when I was starting a new game of Football Manager around 2005!
Johnson looked a complete novice that night and over the coming weeks he went on to show that it wasn't a case of first night nerves either as a series of ineffective substitute appearances culminated in a display against Swansea when he was given another start in a League Cup tie that was so poor that Dave Jones took the very unusual step for him of substituting a player at half time. It would be easy to say that Johnson was effected by the very intimidating atmosphere at the Liberty Stadium that night, but the truth was that he had barely showed anything more in his other appearances for City up until then and I thought it was time to conclude that we had signed a, pretty expensive, dud.
Johnson went on making brief appearances off the bench for the next few weeks but it was hard to see any improvement in him. However,  a goal for the reserves finally broke his scoring duck at Cardiff and we started to be fed the sort of "looking sharp in training" stuff that we had become used to during Robbie Fowler's time with us so that, when Jay Bothroyd was injured, Dave Jones brought in Eddie to start at QPR in November. City lost 1-0, but no blame could be attached to Johnson really because the defeat came about via a late goal in a match in which we finished with nine men so he was given another chance the following week against Crystal Palace. That afternoon, I think City fans were given their first real sight of what Dave Jones had seen in him and why Roy Hodgson had been persuaded to pay £3 million to bring him to Fulham from Major League Soccer a few months earlier – Johnson was a real handful for the Palace defence that day as he put in a performance which made him a real candidate for City man of the match with his header providing the chance for Joe Ledley to score the winning goal.
However any hope that this was some sort of turning point fizzled out the following week when Johnson was one of the worst players in a woeful City performance in a televised defeat at Plymouth and, with Bothroyd fit again, it was back to the substitute's bench again for the USA international striker (he had been dropped from his country's squad by then mind, as the suspicion grew that he had been found out). All of this time though Eddie was becoming something of a cult hero amongst some City supporters and having lived through, and contributed to, the same sort of thing with "Lethal" Lynex nearly twenty years earlier, I suppose I could understand it to a degree – Steve Lynex was a good player in his time, but, when he joined us for a couple of seasons in 1988, those days were long gone by then and he eventually became quite popular in a he's so bad he's good type of way.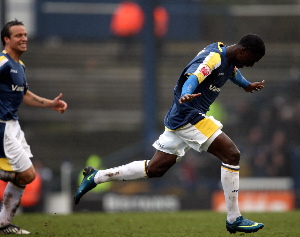 This had to be the explanation for Johnson's popularity because there was nothing in his displays to justify the loud cries of "Eddie, Eddie" and "USA, USA" which always started up when he came off the bench during those winter months of the 08/09 campaign – it's probably true to say that a never say die attitude and the fact that he was, by all accounts, a very decent person helped his cause, but he just didn't look like a Championship quality footballer.
Eddie's next starting chance came in early March when he put in a decent shift against Barnsley as City scored three for the first time that season, but, as usual, never remotely looked like scoring. With Bothroyd returning from injury, he was back on the bench again for the visit of Doncaster the following Saturday. Doncaster, whose trademark had become a fluent passing game under manager Sean O'Driscoll, were widely expected to struggle against the drop in the first season in the second tier in fifty years but were already virtually safe after a tremendous run of form which had seen them lose only once in eleven matches and win five of their last six away games.
Doncaster were one of the Championship's form sides then, but they ended up being blown away by what may have been City's most complete performance of that season until then. In miserable damp conditions, Michael Chopra had City ahead in ten minutes when he poked in Gavin Rae's cross following a forceful run by the midfield player and. although the visitors  occasionally showed why they had been getting such good results, City's overall control was reflected around the half hour mark with a superb goal from Jay Bothroyd  who controlled Roger Johnson's long free kick on his chest before turning and firing past Sullivan with his right foot from twenty yards.
Bothroyd had aggravated his earlier injury in scoring though and was soon limping off to be replaced by Eddie to the usual ear splitting welcome and a quarter of an hour into the second half it happened – Johnson scored and what a good goal it was too! It came about when Eddie took a pass from Whittingham out on the right cut inside and…… look, rather than have me babble on about it, have  a look at it here. It's hard to remember when a City goal was last greeted by such an outpouring of joy and this video gives a clue as to the din which followed as Eddie ran to the home dug out in front of a crowd all of whom seemed to be on their feet shouting "Eddie, Eddie".
Everything was an anti climax after that and City coasted to a 3-0 win with the remaining minutes being most notable for a song dedicated to another erratic loan signing, goalkeeper Dimi Konstantopoulos, whose Swansea connection was mocked as he was serenaded, to the tune of Karma Chameleon, about how he had swam away to Cardiff Bay.
As for Eddie Johnson, well he didn't go blasting in goals from left, right and centre after that in a fairy tale end to his time at Cardiff, but he did show doubters like me that he did have something to offer as he became a more important member of the squad. In particular, he turned what looked like a defeat at Ashton Gate into a draw with a strong run and shot which drew an error from home keeper Basso that allowed Ross McCormack to equalise and he hit a second good goal in the 4-1 canter against Derby (he followed it with a farcical own goal in true Johnson style mind).
If you have been supporting City for the last ten years, there should be some dates which are seared into your brain  like 6 January 2002, 25 May 2003 and 17 May 2008 – I think 7 March 2009 can be added to that list in honour of one of the most popular City players of recent times.
7 March 2009
Cardiff City 3 Doncaster Rovers 0
City  Konstantopoulos; Blake, Johnson R, Gyepes, Kennedy (Comminges); Whittingham, Rae, Ledley, Parry; Bothroyd (1) (Johnson E 1), Chopra (1) (McCormack) subs; Quincy, Scimeca
Doncaster Sullivan; Chambers. Mills, Hird, Roberts; Woods, Spicer, Stock (Wilson), Wellens, Coppinger (Hayter); Price (Shiels) subs; Letheren, Lockwood
HT 2-0
Att. 17,821