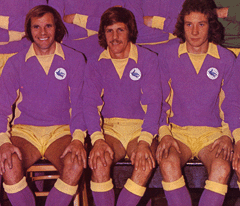 I'm not sure if I've mentioned it before on here, but this season I've been writing a weekly column for the South Wales Echo. Maybe I have made reference to it before, but I know for a fact that I haven't reproduced any articles I've done on here before. I'm going to make a one off exception to that rule this week though because I see the piece is not appearing on the Wales Media website like others have done and I'd like a bigger audience to see what I wrote because I believe it covers an important subject, so here is what appeared in the Echo yesterday;-
"Back in the summer of 2000, Cardiff City were in serious financial trouble – debt levels of £1,500,000 (yes, that's £1,500,000!) saw the very future of the club being questioned until former Wimbledon boss Sam Hammam stepped in to "save" City by paying £3.1 million to become by far its largest shareholder – effectively, he owned the club. 
To all intents and purposes, the deal left City debt free and it was reported that Mr Hammam had indicated he would not be taking anything out of the club, even being willing to pay for his ticket to games apparently!
Last week the club filed their annual Accounts for the period ending 31 May 2013 with Companies House and they showed that its overall debt had risen to £118 million.
So, in thirteen years we had gone from being debt free to having one of nearly £120 million, that seems a horrendous figure to an ordinary punter like me who hates owing any person or company money.
How can the club have lost so much money in that time? Well, it's interesting to look at the amount of Administration expenses Cardiff City have had since Mr Hammam's arrival – according to the various sets of accounts filed since 2000/01, the Administration expenses figures have been;-
year ending 31/5/01 (whilst in today's League Two) = £889,727
y/e 31/5/02 (in League One) = £1,543,090
y/e 31/5/03 (in League One) = £1,917,819
y/e 31/5/04 (in Championship) = £2,537,841 (however the figure for this period is shown as £5,324,229 in the accounts for y/e 31/5/05)
y/e 31/5/05 (in Championship) = £5,266,234
y/e 31/5/06 (in Championship) = £3,089,826
y/e 31/5/07 (in Championship) = £5,705,544
y/e 31/5/08 (in Championship) = £4,111,257
y/e 31/5/09 (in Championship)= £4,974,425
y/e 31/5/10 (in Championship) = £8,870,000
y/e 31/5/11 (in Championship) = £6,169,000
y/e 31/5/12 (in Championship) = £7,467,000
y/e 31/5/13 (in Championship) = £15,856,000
Total = £72,153,258
So, I make that 61% of that £118 million mentioned earlier.
Now, in the interests of fairness here, a couple of things need to be said. First, I'm no accountant and it may be that these figures are ones that bear comparison with other clubs of a similar size and profile as Cardiff City – that being the case, it strikes me that they represent a football problem, not a Cardiff City one.
Secondly, the present regime at Cardiff City Stadium cannot be expected to have answers as to why the figures were at the level they were, say, ten years ago.
However, that figure for last season is an eye catching one and my, admittedly, non-expert eyes have not been able to find anything in the accounts to explain why it's so high compared to other years.
Critics of our former manager say that it was easy for him to get us promoted last season with the transfer budget he was given. I have my own opinion on that, but I'll make no comment now except to point out that the substantial budget Malky Mackay was given to build last season's squad (CEO Simon Lim puts it at "in excess of £12 million" in his report which accompanies the Accounts) was considerably less than what was spent on Administration expenses during the same period – that doesn't sound right does it?
I apologise for devoting this column to a subject which I would guess some of you have no interest in and I have no plans to do another one like this before May and the end of the season.  
However, if our worrying inability to take three points off sides around us in the table at home continues then it's very likely that we are going to be relegated and, even with parachute payments, our financial situation is going to look pretty bleak – given what's at stake, it would be nice to know what that £15 million plus was spent on last season."  
Now, regular readers on here and some of those who read messageboards and are familiar with my opinion of the man, will say that I'm just Tan bashing again, but that's only partly true – just under £34 million of that total administrative expenses figure was racked up before he linked up with the club during the 09/10 season. However, it is a fact that administrative expenses in the four seasons since Tan arrived stand at £38,362,000 – more than half of the total figure over a thirteen year period.
To be fair, the figures for the first three of those four seasons bear comparison with what happened during some of the Ridsdale/Hammam years – they still seem awfully high to me mind. It's the figure for 12/13 which really stands out though. I've already said that the administrative expenses figure for 12/13 was a lot more than what Malky Mackay spent in transfer fees during that season, but here are two other mind boggling facts;-
1. If one thing got Malky Mackay the sack, it was probably the signing of Andreas Cornelius (or, more to the point, the finances involved in the signing). However,  the widely reported transfer fee of £8 million for the Cornelius signing is less than the increase in the administrative expenses figure between the 11/12 Accounts and the 12/13 ones!
2. Remember the ructions on Black Friday back in 2005 as the repercussions of the Langston loan notes debt were felt? Now, I'm certainly no apologist for Sam Hammam, but it's sobering to think that the 12/13 administrative expenses figure is only just under two thirds of the amount the Langston loan was for as the club paid for four seasons of financial mismanagement.
According to this piece, City lost another £30 million in 12/13 – therefore, over half of that figure was down to administrative expenses. As I mentioned in the piece for the Echo, I couldn't find anything to explain the administration expenses figure in the notes to the Accounts, but I'm no expert and I owe those responsible for putting them together an apology if there is one and I have missed it. As far as I can see though, there are those two words and then a figure more than ten times the overall debt the club had when Sam Hammam bought it thirteen years ago with no explanation how such a huge sum came about.
I really think supporters should be told what this figure is comprised of – if there is a perfectly reasonable explanation for it then it would be in the club's best interests to let people know about it because those figures don't look good at all.