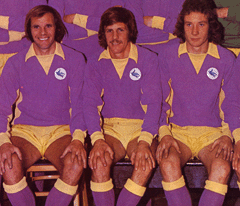 When you consider that our win/loss ratio was better than Preston's, it can justifiably be argued that City fell victim to the downside of the three points for a win rule last season. For most of this campaign though, the opposite has applied – for the first four months of the campaign, we were a team that had almost forgotten what it was like to draw a match and the resultant high number of victories had us occupying a higher position than sides with better win/loss ratios. The last four games has seen that trend change completely though as four successive draws  have brought a hint of normality to our overall record and, with three of these draws being in the League, it has meant that the nice little gap we had built up over the team in seventh place has all but eroded.
This time last year the jacks went on a run of eight consecutive league draws and I daresay their glass half full fans were celebrating eight games without a loss while the pessimists were wondering where the next win was coming from! I reckon the important thing is how you come out of a run like that – with the jacks, four wins and a draw from their next five matches meant that the run of draws didn't do them too much harm at all and that must apply even more so to City if they can string a few wins together over the next few weeks.
What cannot be denied is that the longer you keep on drawing the more likely it becomes that sides will go past you, but sometimes, given the circumstances involved, runs like the one we are on can be viewed a kind of holding operation from which you can then move forward and I would like to hope that City's current run might fall into that category.
When you look at the last four matches on an individual basis then it could be said that I am being over optimistic – Peterborough saw the sort of pitiful capitulation that brought back memories of the back end of last season, Blackpool saw us hanging on at times during a poor team performance, Bristol wasn't bad but it wasn't great either and Scunthorpe saw us second best for long periods against a team in relegation trouble.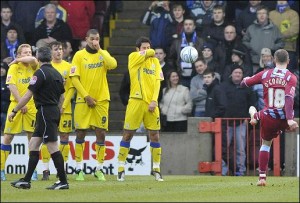 However, when you also consider that the last three matches have been played against a backdrop of illness and injury which has seen us select untried kids, players awaiting operations which will keep them out for months and others battling flu like symptoms then I don't think we have done badly at all in the past week.
Given the atmosphere around the club at the moment, there are probably those who think that Dave Jones is lying when he talks about the problems we have had with illness, but, even if we say he was telling porkies (which I don't believe for one moment), the injuries to Burke and Rae are real enough, as is the serious illness that Steve McPhail has been suffering from. We have played a kid and a crock in central midfield in our last two matches and so two draws will do as far as I am concerned.
At the moment I think expectations need to be lowered until the effects of the virus wears off and a few more players return to full fitness. It is easy to be critical of the team because they are not winning and they deserved all of the stick they got for what happened against Peterborough, but since then we have coped pretty well and, before people start getting all sniffy about Scunthorpe, it's worth noting that they have lost just two of their last nine matches.
Of course, what would help greatly is if Dave Jones could get the three new players in that Peter Ridsdale has promised. This would increase our chances of coming out of this run in the right way and would also give all connected with the club a lift after all the doom and gloom that the New Year has brought so far. Being honest, the chances of that happening seem to me to become less likely with the passing of each day that brings no new news on our finances. I want to try to remain optimistic as far as on field matters go at least though (there's enough happening off the pitch at the moment to be gloomy about!) and so I look at things from the perspective that we are doing well and we still have a great opportunity to finish in the top six.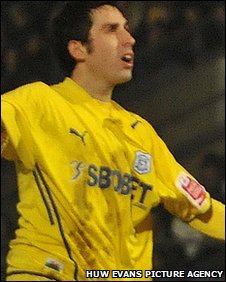 As for yesterday's match, well at least we managed to double our points haul for the season in matches where we concede first and the fact that we came back after being outplayed in the first forty five minutes represents a pleasing change from the Peterborough and Blackpool games. Okay, Peter Whittingham's goal was a fluke but that's sixteen for the season for him now and, although his recent performances have seen a return to last season's diffidence, just think what we would make of a midfield player from another club who was three goals clear at the top of the Championship goal scoring charts well into January.
Add to that Dave Jones showing a tactical flexibility at Ashton Gate that many thought he did not possess and it's not be too bad a week on the pitch at Cardiff City – wouldn't it be great if we could say that about off field matters in seven days time.