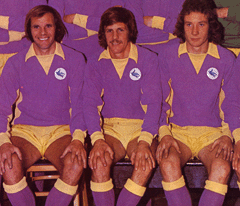 Sometime last week rumours began to emerge of there being some good news for City fans to be announced next month, while, at the same time, stories started to circulate that club owner Vincent Tan would take in his second game of the season at Charlton tomorrow. Then, on Tuesday, it was learned that Mr Tan would be meeting up with a group of supporters and commercial partners before the weekend's trip to the Valley.
That meeting took place yesterday lunchtime and, on the face of it, it would appear that the good news announcement was brought forward by a month! There had been speculation that there would be some movement on the long standing debt to equity commitment first mooted back in the spring of 2012 amid all of the fallout from the rebranding of the club kit from blue to red, but I'm not sure that anyone really thought it would be on the scale announced by the man himself yesterday.
This article sums up the main points to emerge from the meeting, with the news that the club's debt levels will, effectively, be more than halved by Mr Tan's decision to convert over £60 million of that debt into equity. With earlier conversions also confirmed, the club's owner said that the outstanding £40 million debt would be converted into equity at the rate of £8 million a year, so that the plan is to have a debt free club by 2021.
So, will yesterday's announcement have an effect on what I think it's fair to say was a mostly negative perception of Mr Tan beforehand? My take on that is that I have always maintained that how you reacted to the rebrand when it was first announced was very much a personal decision – we are all different and so it's obvious that there was never going to be a uniform reaction to the change of kit.
I feel yesterday's news falls into a similar, but not identical, category. Some people will feel vindicated, some will be shocked, some will be cynical and there will be others for whom it will make little difference at all – none of these viewpoints should be dismissed or rubbished just because they don't coincide with your own, it's just that others are seeing something different to you in the Cardiff City kaleidoscope when they look into it.
To fully explain how I feel this morning, I need to go back nearly four years to the time of the rebrand. My initial reaction to it was that it was something I could live with if it led to the eradication of the club's debt and so, if supporters had to be simplistically defined as being either for or against the changes, I suppose I would have fallen into the former camp during the skirmishing which did so much damage to the club and supporters' morale in the months which followed.
During that time, I gradually came to the conclusion that my initial reaction was a mistaken one – the increasingly obvious lack of a commercial justification for the rebrand was a slight factor in this, but, by far the biggest were, first, the realisation that us playing in blue meant more to me than I had thought it did and, second, the non delivery by the club on the debt to equity front.
Those two things were the pillars that propped up my critical attitude towards Vincent Tan in recent years when it has been blindingly obvious to any regular reader of this blog what I thought of his ownership of the club.
When the first of those pillars tumbled down early last year as our owner decided we should revert to blue, I complimented him on his willingness to act when the realisation that this was a fight he would never truly win dawned on him. However, in truth, I was still as critical of him as I had been before because the second, and probably stronger in terms of my attitude towards his ownership, pillar remained in place. There had been some debt to equity conversion, but, in terms of the overall figures involved, they were insignificant and we were absolutely nowhere near being the debt free club talked about back in 2012.
Now, that second pillar may not have been destroyed completely by yesterday's announcement, but it's taken a blow which, seemingly, leaves it barely standing, so how do I feel now about our owner?
Well, in some ways nothing's changed. For example, I'm not going to stop calling the Ninian Stand extension "Tan's Folly" because nothing that was said yesterday will, in the short to medium term at least, alter the fact that it is a structure that cost a lot of money which serves no practical purpose as far as Cardiff City is concerned – it's a decoration, a distraction, a Folly.
Secondly, although Mr Tan, apparently, sees the blame for the damage to the club, both on and off the pitch, which was caused by the huge outlay on signings made during the period July 2013 to September 2014 as falling entirely on the on field management of the club at the time, the lack of knowledge and experience on behalf of the off field hierarchy, which meant that signings made by Malky Mackay in particular were, more or less, just rubber stamped, has to reflect poorly on him and his hand picked CEO at that time.
There has to be an element of collective responsibility for what happened – yes, Messrs Mackay and Solskjaer were guilty of expensive, in both senses of the word, blunders in the transfer market, but the club paid a very heavy price for the fact that Mr Tan had steered it away from having "football men" in important administrative and financial management positions.
Thirdly, although, to my admittedly non expert eyes, the facilities available to the club at the Vale training base are perfectly adequate. Therefore, this is not a matter that has ever bothered me much, the "state of the art" new training ground on offer as part of the "deal" offered as a sweetener to the rebrand has not materialised yet.
So, I'm not going to say that I won't still be having the occasional pop at Mr Tan on here, but, honestly, he did far more yesterday to change for the better how I perceive his time with the club than I ever thought he would.
I have always used the example of Leicester City's owner's conversion of a £100 million plus debt into equity as a stick to beat Mr Tan with and it's been a source of frustration to me to see how the Midland club have progressed as they have done with people from the Far East in charge, whereas Cardiff, potentially as big a club as Leicester, were seemingly stagnating.
Well, Mr Tan may not have gone quite as far as Mr Srivaddhanaprabha did at Leicester, but, if all goes to plan, he will have done in five years time – thank you Vincent Tan and please accept my apologies for thinking that you would never deliver fully on your debt to equity commitment.
Of course, there are those who will probably say that until Mr Tan helps to provide a debt free club, he hasn't delivered on that pledge yet. However, I feel it needs to be emphasised that the club debt back in 2012 was smaller than the amount our owner has now committed to converting into shares and, anyway, I believe he's earned the right to be believed when he says that our current debts will be wiped out by 2021.
This leads me on to a couple of other matters. Firstly, having got my fingers burnt somewhat a few weeks back when I speculated as to the reason why we had that transfer embargo imposed on us in January, can I ask those better qualified than me a question on Financial Fair Play (FFP) regulations  please?
My understanding is that Vincent Tan was right when he said that clubs could only transfer debt to equity at the rate of £8 million a year under FFP regualtions, so how can he say that he will convert £60 million into shares almost immediately? Presumably, the fact that there has been a general acceptance in the media of this news means that there is not a problem here and I'm showing my lack of knowledge in this matter – again!
Secondly, I must ask will we really be debt free in 2021 even if Vincent Tan does deliver the five £8 million conversions he set out yesterday? Forget Cardiff City, who have racked up some spectacular annual losses in the last fifteen years or so, you look at virtually any club not in receipt of Premier League television money or parachute payments relating thereto (and quite a few of those who are), and you will find a loss making concern.
If we are not going to lose money over the next five seasons, then it will require some truly outstanding on and off field management to get us back into the Premier League during that time. To get an idea of what I mean, Burnley were held up as the epitome of a well run, financially sound, club who were promoted two seasons ago, despite having a small transfer and wages budget by Championship standards. Yet, they made a loss of £7.6 million in the financial year ending 31/5/14 – albeit, much of that loss was down to the payment of promotion bonuses.
So, the likelihood is that, without another promotion, we'll be in debt come 2021 even if the emphasis remains on low transfer spending and wage bill cutting. FFP means that clubs like Middlesbrough and Derby, who have both spent money like it's going out of fashion lately, are surely going to pay a price in the next year or so if they don't go up this season. Therefore, in a division where so many clubs still speculate to accumulate, the sort of spending we saw before our 12/13 Championship season is probably out of the question even if the will for such a financial outlay was there.
It seems to me therefore, that supporters need to be realistic about expectation levels in the coming seasons if Vincent Tan is going to remain at Cardiff. He's surely proved now that those who claimed he had lost interest in the club and was merely set on cutting his losses were wrong. However, by the same token, it just doesn't seem feasible to me that we'll see a return to the days when we just used to throw another few million at a problem position in the team.
What would help of course is if yesterday's news led to a return from some of the thousands who were going to games in the years leading up to our promotion when we'd comfortably average 20,000 for home league matches. Forget those who only came along after we got promoted, between a third and a half of those who watched us during the first three seasons of Cardiff City Stadium's existence no longer attend games on a regular basis.
There are all sorts of reasons for that, but I believe the major one for a significant number of the non attenders is a sense of disillusionment with Vincent Tan, which started with the rebrand, but has now become more than just that.
Will yesterday's announcement see many of those people returning to the fold? I'm not sure it will, but I would say that, notwithstanding my earlier comments about supporters making a personal decision on subjects like the rebrand, it's hard to know what else Mr Tan could do to get those who stopped going to games directly because of him, to change their minds. It seems to me that those who are not prepared to forgive, let alone forget, now have, sadly, burned their bridges with the club.
In those turbulent months which followed the rebrand, I used to say that I had given Vincent Tan the benefit of the doubt. I spent years thinking I had been wrong to do that, but now I find myself thinking I could have been right after all. In my view, our owner is now deserving of receiving that benefit of any doubt again and maybe it's time for fans, including many of those who still go to games like myself, to do a bit more to try and restore that reputation for being some of the most passionate supporters in the game that we used to enjoy.
*picture courtesy of http://www.walesonline.co.uk/