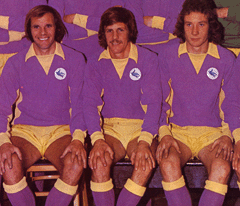 Teams sometimes have problems settling into a new ground and results suffer as the supposed home team find their new surroundings as strange as the visiting side (for example, it took Colchester until 25 October to win their first game at their new stadium last year and they only won there seven times all season). However, you have to wonder if there has ever been a more successful baptism for a new stadium than the one Cardiff City provided yesterday – the sun shone as the goals flew in to leave a crowd of 22,264 (the best opening day home crowd since 1971, the best crowd for a home Cardiff City league game since 23,438 watched a game with Swindon on 17 April 1976 and certainly two or three thousand more than I was expecting) in happy mood and dreaming of what might be possible over the coming nine months.
That dreaming has to be tempered with a dose of realism as well though because it must be admitted that, apart from the first twenty minutes, Scunthorpe looked a weak team by Championship standards. It is also easy to forget that opening spell in the euphoria of a 4-0 win, but, Scunthorpe didn't need to do anything too clever to create one great chance and two or three other decent shooting opportunities as they started much the brighter. Jay Bothroyd admitted after the game that were some nerves in the City camp beforehand and it showed as our defence in particular displayed signs of letting the occasion get to them.
However, once City began to play, they produced some good quality stuff and, although the first goal was against the run of play and definitely had more than a hint of good luck to it, it signalled the start of a spell in which City played played with a freedom and style that Scunthorpe could not come close to matching.
The defence settled down and there were promising performances from Gerrard and Quinn as they ensured that David Marshall was given a trouble free afternoon while the midfield showed that when they can get on top in that department we have players who can play with skill and confidence – for me, Whittingham and McPhail, two players whose contributions last season have been, justifiably, criticised, both had fine games.
It was up front though where City's superiority shone through with some of the link up play between what was often a front three being as good, if not better, than anything produced last season.
Jay Bothroyd still went to ground too easily for me, but he also showed that combination of skill, invention, aerial ability and speed of thought that can make him a real handful at any level as he got on the goal trail straight away with the sort of typical striker's tap in that he should get more of. Alongside him, Michael Chopra admitted that he probably needed that bit of luck that he got with his first goal after a worrying pre season in which he showed more of the anonymous form that had marked much of his play towards the end of last season. That goal saw Chopra recapture some of the sharpness that marks him out as real threat at this level and he really could, and probably should, have had a hat trick but, on his form yesterday, you have to think that he will get three in a game somewhere along the line this season.
Towering above the performances of the players I have mentioned though for me was the display of Ross McCormack. I have been disappointed and annoyed by the way McCormack and his agent have gone about their business in the last ten days or so and still wouldn't be too sorry to see him go, but when he plays like he did yesterday you realise just what an asset we have and how hard it will be to replace him. McCormack's reaction to all of the negative publicity he has been getting was first class as he not only showed flashes of skill and invention which certainly would not be out of place in the league he is determined to play in, but also worked tirelessly for the team (something he always does to be fair to him).
All in all then a great start to the new season which showed that we have three players who will cause defences at this level no end of problems when they are all firing. However, while it is always good to see a youngster like Josh Magennis make his first team bow, his presence on the bench does emphasise that we are in real need of more cover in certain areas of the pitch. The midfield went well yesterday, but there must still be serious question marks about whether, both as a unit and individually, they can repeat the domination they showed against Scunthorpe on a consistent basis – the foundations appear to be in place for us to do well this season, but, even if we keep McCormack and Ledley, we still need more bodies in the midfield and striking departments.
* Originally published on 9 August 2009.