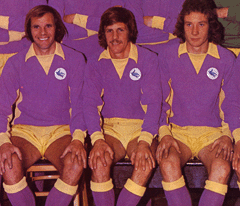 In my paper every Saturday there is a question and answer session with somebody in public life and one of the questions often asked is "when did you come closest to dying" – if I was asked that question, I think I would have to reply "walking home from the Cardiff City v Swansea City match on 7 April 1980″. It probably shows what a, thankfully, mundane life I have lived that what happened that day is genuinely the closest I have come to snuffing it and the funny thing is that I carried on after the incident as if nothing had happened.
What did happen was that the group of five of us who had been to the game decided to walk home to Fairwater rather than wait around for a bus and we were waiting at the traffic lights by the Royal Mail building on Cowbridge Road where you go to pick up undelivered parcels. The lights changed to red and we started to cross the road – I was listening to my radio and so stepped on to the road a little behind the others and I had only taken two or three steps when a car hit me just above my knee, the impact knocked me up into the air and I landed on the bonnet before rolling off it into the middle of the road where I landed with a bump which made my radio fall into bits.
The car that hit me just kept on going as my brother chased after it shouting all sorts of abuse at the driver but he eventually gave up when it became obvious that they had no intention of stopping – my other mates and some people from other cars came to see how I was and one of the drivers said that he had taken the number of the car that had hit me and would certainly act as a witness on my behalf if I wanted to take matters further. I wasn't really listening to what the group of people around me were saying though as I had jumped straight back up and was picking up all the pieces of my shattered radio in the hope that I would be able to put it back together again!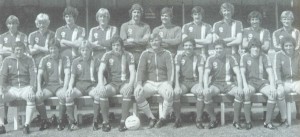 I was wondering what all of the fuss was about and I can remember making some crack about how the driver of the car that hit me must have been a jack, but I felt fine and I didn't even get a bruise where I had been hit. We resumed our walk home and I can remember my brother and my mates being really impressed at how calmly I was taking what had just happened – an attitude I continued by adopting an "it was nothing really" approach when I got home. A couple of hours later though the group of us that had been to the game were in the pub and all of a sudden, my hand started shaking like a leaf as I tried to drink my first pint and I broke into a clammy sweat as what had happened to me finally sank in – it was only then that I was told that, in their opinion, the car that had hit me must have been doing more than thirty miles an hour and that the sight of me being knocked high into the air before landing on the bonnet was just like something you'd see on television or in the cinema. I can only assume that the stuntmen used for such scenes have a way of making sure the impact in collisions is lessened and, without realising it, I was lucky enough to have been doing the same thing.
Anyway, enough about that, what about the football match we had been to watch! There is no doubt that the team in South Wales that was attracting most of the headlines at that time was Swansea – under the high profile management of John Toshack, they were very much a club on the move who had just had back to back promotions and had settled into life in the old Second Division in a way which sometimes hinted at the further promotion which would come the following season. City were seen as being pretty dull by comparison as a low scoring team pottered about all season in mid table with there never really being any prospect that they would get involved in a promotion chase or be dragged into the relegation dogfight.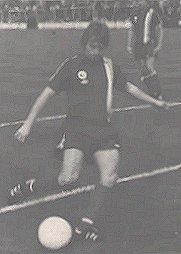 In reality though City were having their best season in some time – they may not have matched the ninth placed finish of the previous campaign, but, frankly, that ranking masked the six months or more that the team had spent in it's usual relegation scrap. There were no such worries in 79/80 as, for the first time in ages, City didn't find themselves involved in end of season dramas at one end of the table or the other – okay, it might have been dull at times, but there was something to be said for mid table mediocrity! Mind you, given their great finish to the previous campaign, I am sure expectation levels at the club at the start of the season were aimed higher than the eventual finishing position of fifteenth – especially when you consider that they had splashed out a club record fee of £135,000 for the Blackpool midfield player Billy Ronson in the summer.
Standing only five feet five tall, the competitive and busy Ronson did not let his lack of inches hold him back and he brought hard work, a great attitude and no little ability to the team. What Ronson didn't bring though was goals as with only two of them from forty one league starts, he exemplified the lack of a goalscoring threat that had stopped a defensively solid City outfit from making more of their season. In truth, Ronson wasn't really bought to score the goals which would make us candidates for a return to the top flight for the first time in eighteen years – that responsibility lay with the likes of Gary Stevens, Ronnie Moore, John Buchanan and Ray Bishop, but with eleven, three, six and eleven league goals respectively, none of them could be too happy with their return come May.

Notwithstanding that though, despite all of the hype attached to our neighbours from down west, the truth was that the two sides which met at Ninian Park that Easter Monday were pretty evenly matched and the eventual outcome should not have come as a shock. The jacks were eventually to finish three points and three places above us, but with only one win and four draws to show from their previous twelve away league games, they were the sort of team we made a habit of beating that season. That was exactly what we did as we gradually got on top after an even first half and our domination was eventually rewarded with a winning goal with about twenty minutes to go.
If the goal was not too much of a shock, then the identity of the scorer was as Ronson got into the sort of forward position he was not really used to being in to score a routine close range goal that might not have been much to look at but which meant an awful lot to home supporters who had seen their side lose 2-1 at the Vetch on New Years Day courtesy of a last minute David Giles goal (another Cardiffian in player manager Toshack netted the other goal).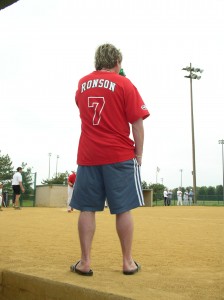 As for Billy Ronson he was probably our best player in his first two seasons with us but he became increasingly disenchanted with what he saw as a lack of ambition at the club and he left early in the 81/82 season to join Wrexham for £90,000 (I can remember him getting a very rough reception from the home crowd when he returned to Ninian Park to play in the League and a Welsh Cup match that season). When Wrexham were relegated at the end of his first season with them, he moved to Barnsley for £60,000 and had three good years there before being loaned out to Birmingham and then returning to his first club Blackpool when he was available on a free in 1986. His stay at Bloomfield Road was a short one though and he left to play in American for the next thirteen years where he made enough of an impact to be inducted into the Baltimore Blast Hall of Fame in 2009.
7 April 1980
Cardiff City 1 (Ronson) Swansea City 0
City; Healey; Dwyer, Pontin, Thomas, Lewis; Grapes, Campbell, Ronson, Buchanan; Moore, Stevens; Sub (not used) Sullivan
Swansea; Stewart; Evans, Stevenson, Phillips, Robinson; Attley, Craig, Mahoney, Giles; Toshack (Baker), Waddle
HT 0-0
Att. 14,677