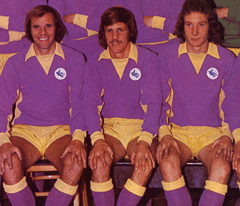 It's one of the great Christmas institutions, you collapse into a chair barely able to move after eating half a ton of food and watch a leader addressing their subjects –  this year, for Cardiff City fans at least, those words had a different meaning.
Truth be told, I've never seen a minute of a Christmas Day speech by the Queen in my life and I had better things to do as well when City's esteemed leader inflicted his opinions on the club's supporters as he was "grilled" yesterday on Sky Sports News yesterday by his mate Jim White.
I take it the reason Vincent Tan wanted to be interviewed was because he thought a response was needed to the release of plans to stage a couple of anti red demonstrations early in the New Year by representatives of supporters' groups early this week.
Details of the planned protests can be found here and I must admit to being encouraged that Mr Tan felt a response to them was necessary. Given the way I've felt about the club over the past month or so, I was annoyed firstly that our owner had ensured that on the one day of the year when I had hoped the shambles of a football club that is Cardiff City could be put to one side, the club still was in the news.
For me, there was a lack of class shown from Vincent Tan when he chose to appear in the media on ChrIstmas Day, but City fans have become used to that and I like to think that there was an element of concern behind his wish to have his point of view heard.
What Mr Tan had to say was a mixture of the predictable and the novel – here it is. The predictable bit was that his statement contained the words "Cardiff will stay red" (there was also the compulsory dig at Malky Mackay).
However, even here, he showed the "flexibility" in thinking that has characterised so many of his statements, and those of his lieutenants at the club, in the last two and a half years – only last May, he was talking of "compromise" in terms of the kit if we got promoted, yesterday there was talk of promotion, but the insistence that we will stay red.
The novel part of his spiel was his new found insistence that Cardiff City fans, collectively and individually I presume, had entered into some sort of pact with him in May 2012 whereby he would deliver £100 million in "investment" into the club if we allowed him to change the club's kit and badge.
Now, there was talk of £100 million if the rebrand went through, but I could have sworn that among the "sweeteners" offered was a new training complex and a debt to equity conversion?
To be honest, a new training complex seems as necessary as "Tan's folly" (the Ninian Stand extension build to celebrate our relegation from the Premier League!), but the debt to equity conversion  was the bit that got many supporters, myself included, to give the club the benefit of the doubt when it came to the change to red two and a half years ago.
It would be useful at this stage to list a few of the comments made by our owner and other club employees about the issue of debt to equity since then;-
at meetings held on 8 and 10 May 2012, an invited group of thirteen supporters were told by high ranking club employees that a debt to equity switch, and with it a debt free club,  was "imminent".
On 11 May 2012 (when the rebrand and "investment" was put on hold after initial supporter opposition), then Chairman Dato Chan Tien Ghee said
"It was intended for Vincent Tan to then transfer the debts due to him into equity and drive revenues through aggressive marketing."
in an open letter to supporters.
On 22 July 2013 (nearly fifteen months after the debt to equity switch was "imminent") Vincent Tan said
"We are talking to Sam Hammam to try and resolve the Langston issue. We are days away from an agreement and then we can convert all the loans to equity."
Three weeks later, on 15 August, our owner was saying
"We are in the process of turning loans into equity. We are talking to shareholders now and after that I will convert my loan into equity. It will take the club to almost debt-free, probably in the next couple of months, God willing."
Seven months later (22 months after the "imminent" debt to equity conversion), Supporters' Trust representatives were talked at by Vincent Tan when he turned up unannounced at a meeting with City off field management staff – the Trust's report of the meeting (dated 19 March 2014) records that;
"Mr Tan gave some cultural, but no commercial reasons for the rebrand and told us that there would be no debt to equity conversion until after the settlement of the current legal dispute with the former manager (Malky Mackay)."
Less than two months later, Malky Mackay and Iain Moody dropped their legal action against the club and on 11 May (almost two years to the day since the so called debt to equity conversion was "imminent"), Mr Tan revealed a change of plan
"I will convert some of my debt to equity, but not all because the amount is very big. The club owes me maybe £120m and I put in £140m or £150m. Maybe I will convert £50m and leave £100m debt".
So, let's play Mr Tan's little game for now and accept that there was some sort of contract between our owner and Cardiff City fans. Vincent Tan contends that
"At the time everyone agreed and I kept my part of the bargain. I have invested now more than £100m so if they are protesting are they keeping their part of the bargain?
"I have done my part and they agreed. I hope they will think carefully and change their mind and support the club."
There you have it, in our owner's world, the supporters are being "rude" to him again. All I'll say about that is that, given the statements above, if there really ever was a deal between him and the 20 odd thousand people who were turning up every week during the season we reached the League Cup Final, then it's null and void now, because the one on the table at present is a completely different one in one, highly important, respect.
The truth is that Mr Tan is hardly in a position to comment on what is happening at his club in late 2014, because the last time he saw us play we were still in the Premier League – besides the obvious, an awful lot has changed since then.
I've mentioned this before on here, but, as far as I'm concerned, Mr Tan is just another Sam Hammam – he's loaned the club money, most of it charged at 7% interest, that it is hardly in a position to pay back. The differences between the two being the figures involved and the fact Tan took his desire to change the club kit went further than Hammam ever did – Tan is more dangerous to the club's well being than Hammam was.