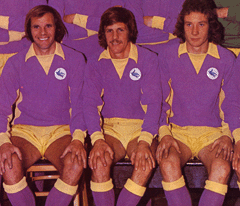 The primary reason for me being so critical of manager Russell Slade in recent weeks has been the antiquated, hopeless (in both senses of the word) and plain boring football that he seemingly was insistent on us playing game in, game out even though we consistently showed we were not very good at it.
It has to follow therefore that, from my point of view at least, anything that sees us adopt more of an approach that has us looking to pass the ball more, as opposed to belt it up the pitch most of the time, has to be viewed as an improvement and, to that extent, I left the ground a bit more happy following yesterday's 2-0 defeat at Cardiff City Stadium to a Derby County side that is now only being kept off the top of the table by Bournemouth on goal difference.
For me, a change to the 4-2-3-1 formation seen in the FA Cup tie with Colchester four weeks ago was responsible for the improvement. That night City enjoyed the very rare luxury for this season of having more than 50% of the ball (albeit against lower division opponents of course) and, while the possession stats went against us again, 52/48 against a Derby side that were still able to put out a very strong looking midfield five despite not having the likes of Bryson, Eustace and Thorne in their starting line up, is good by our standards.
It was heartening to see us looking to create in the middle of the park for a change, but, and it's a huge "but", the slight improvement in ball winning capacity and ball retention only tended to emphasise something that I think, deep down, most supporters knew anyway – merely having more of the ball than we have been getting is not going to solve the myriad of problems there are with this side.
In fact, having more of the ball yesterday only helped to emphasise the lack of vision in the team – looking to create and being able to are two very different things.
Yesterday's formation saw Aron Gunnarsson and new signing Stuart O'Keefe in deeper positions with Kadeem Harris and Craig Noone on the flanks and Peter Whittingham operating in what I still call the "hole" (everyone else seems to call it the number ten role these days!) behind lone striker Alex Revell. O'Keefe's industry and enthusiasm helped make us look more solid in central midfield defensively and, up to a point anyway, it could be said that the sitting two did their job well enough given Derby's lack of goal attempts (the BBC stats show that they only had three of them all game).
However, it has to be said that the three in front of them were unable to influence the match in the way that their manager would have hoped for. Noone is not playing well and is lacking in confidence – he did better in the second half I thought, but his impact on the game in terms of the things he was asked and expected to produce was negligible. After the Norwich game, I argued that Harris should be given an extended run in the team, but I have to admit that he has done little to justify such faith since then – it's tough for a youngster to establish themselves in side that is struggling so much and I thought his lack of "game knowledge" played a part in both goals.
This brings me on to the man who provokes so much debate among supporters these days, Peter Whittingham. So many fans say play him further forward where his vision and shooting ability can be utilised, but I wasn't convinced by him in this attacking role against Colchester when he played there and I wasn't again yesterday. When your lone striker has as poor a goalscoring record at this level as Revell does, it becomes imperative that the three behind him get into positions where he gets support in advanced areas and I believe that it is the central player of the three who should do this the most.
Whittingham singularly failed to do this – there was a nice slipped through pass to Revell after the best piece of attacking football I've seen from us in weeks in the first half, but, overall, the lack of pace and movement that is so conspicuous in his game these days (he was never really blessed in these departments, but he seems to have got worse this season) was even more evident in a position where such qualities are, if anything, more important.
Too often, Revell was left totally isolated as Whittingham was some twenty or more yards behind him and if he is going to play every week, as seems to be the case under this manager, it's getting hard to see where he can be fitted in to best show the strengths to his game that he still possesses. Maybe on the left in a flat 4-4-2 could see Whittingham influencing games in the way that we need him to, but, again, for me, a general lack of dynamism counts against him in that position and I feel the same applies to him in wide positions in the system we played yesterday, so I suppose what I'm saying is that he's best off playing the "quarterback role" he reverted to in the closing stages yesterday.
With so many, seemingly, better qualified candidates for the role Whittingham filled yesterday having left the club recently (e.g Dæhli, Kimbo and Ravel Morrison), it looks to me as if Russell Slade needs to bring in someone from outside if he wants to continue with the policy of playing someone in the sort of withdrawn striker role that can be the central one of an attacking midfield three or at the tip of a midfield diamond in a 4-4-2 (Noone and Harris have not looked too convincing when used in the second of those positions in recent games) – for me, this position more than any other that needs to be filled before the transfer window closes tomorrow.
Again though, just as more possession isn't going to automatically put things right, so bringing in someone even with the game to play the number ten role really well at this level, isn't going to get us mounting the late challenge for a Play Off place that Slade insists is still on.
For getting on for two seasons now there has been a losing culture at the club and Derby manager Steve McLaren's post match comments were very interesting in this regard. At first, I was annoyed at him for what I thought were patronising remarks about his side getting sloppy in the second half and how it was easy for teams to get sucked into relegation battles, but, on further reflection, he was just being honest and accurate in his thinking.
I can't help feeling that City fans at yesterday's match experienced something like what home fans must have felt when watching us play their side a couple of years ago. They would have seen their team being beaten by a side that, on the face of it, were nothing special, but this was to underestimate the maturity and mental toughness the Cardiff side of 12/13 possessed. That team also had a little bit more quality than many are prepared to give it credit for these days and, although they didn't show it very often, Derby were able to put together a couple of moves which were decisive to the outcome that we never really came close to matching.
While many chose to look at the role of the left side of our defence, in particular Scott Malone, in the concession of the two goals, I think that is to ignore the quality the visitors showed in being able to create goalscoring situations in open play in a way that we have barely been able to match all season. For the first goal, Harris' error in judgment in thinking he could get to a ball which he couldn't gave Derby the opportunity to eventually create a two on one situation which led to Jamie Ward's cross being diverted in by Malone and the second saw them work the ball smoothly from left to right while by passing about half of our team to create oceans of room for Cyrus Christie to put in a cross that Chris Martin had no problem heading home.
As has happened a few times this season, City conceded a goal in the minute or two before half time and, with Derby having already shown that breaching their defence once was going to be a very hard task, the idea of it happening twice was too fanciful for me I'm afraid. To be honest, we seldom looked like taking advantage of Derby's so called sloppiness after the break – there were a couple of good defensive blocks of shots from the edge of the penalty area and the visitors were somewhat lucky that two close range headers found their way into keeper Lee Grant's hands.
However, it was only really when sub Kenwyne Jones got his head to a Noone cross and forced Grant into a fine save within minutes of his introduction for Gunnarsson that a goal looked on. In fact, when I saw our top scorer so high above his marker, I was already shouting goal, but, if anything, Jones' contact was too good and the ball flew close enough to Grant for him to get it over the bar.
I reckon Jones will think he should have scored there and the limited impact he had after that might argue that Slade's decision to go with the harder working Revell at the start was vindicated, but that choice by our manager goes to the heart of a problem that I feel is making a relegation battle far more likely than a far fetched late sprint towards the top six.
What I'm going to finish on needs to carry the qualification that it may well be that our manager's hand has been forced by the lack of the sort of spending power which would enable him to bring in more quality, but the preference for Revell's graft over Jones' somewhat spasmodic ability to be a real threat at this level when the mood takes him, could be said to be indicative of a manager used to the lower leagues who is a lot more comfortable with players who provide perspiration over inspiration.
If anything epitomised how much expectation has been diminished among supporters this season, it was the way in which Revell's selfless closing down of opponents and Fabio's impersonation of a headless chicken when he came on as he chased about from player to player while achieving precious little was applauded by many in the crowd.
Of course, putting opponents under pressure when they have the ball is a vital part of  modern football where the pressing game has become so important and I can guarantee that I would be on here having a moan if we had been standing off Derby and letting them play, but at times our attitude had me in mind of the way non league sides approach FA Cup games against Premier League clubs. I've used the term "underdog" football before this season and I just think that this apparent appreciation of graft over craft is indicative of an approach that stems from a fear of what we are up against.
When you look at the sides we've been playing recently, then, yes, there has to be respect for the opposition, but we'll be back playing some of the also rans in this year's Championship soon and we are going to need to be braver than we were in home matches against the likes of Rotherham and Reading for example in the weeks before Christmas. We looked like we believed those sides were better than us and we aren't always going to get the sort of luck that saw us somehow get four points from those games – we are headed for an anxious last three months of the season if the attitude shown over the previous three is repeated.
* Pictures courtesy of http://www.walesonline.co.uk/