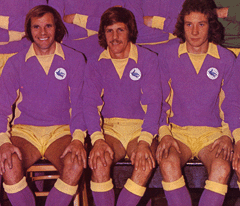 It's not the end of the world to get tonked in your local derby as Cardiff City were by 3-0 at the Liberty Stadium last night. After all, Everton suffered a heavier defeat at the hands of Liverpool recently and Newcastle were beaten by the same 3-0 margin  by Sunderland at St. James' Park only last weekend, whilst in Manchester, United were turned over 4-1 by City at the Etihad back in September. It hurts, but life still goes on as before and the objectives the beaten team have are still the same as they were before – in City's case, the goal is to avoid relegation and, in basic terms, the task is now slightly harder than it was just before we kicked off yesterday evening.
A Swansea win did not surprise me. Right from the moment news of the Laudrup sacking became public I believed our task had been made much harder and the jacks' return to basics in the shape of the appointment of Gary Monk was always likely to work if the team went with him because, painful though it might be for City fans to admit, they simply have better players than us.
Football isn't always as straightforward as that though and inferior teams can often overcome their supposed betters if their spirit, character, effort, team work and organisation is better than the oppositions, but the trouble is, Cardiff City have been in decline for a period of more than four months when it comes to those qualities.
Back in early October, I called my reaction piece to our 2-1 defeat to Newcastle "So unlike this group of players". I did so because their first half display against the Geordies lacked characteristics which supporters had come to take for granted over a period of two years or more. Even those who now rubbish the man and say he had to go, must surely have to admit that the term "a  Malky (Mackay) side" was meant as a compliment for much, if not all, of our former manager's time with us?
After all, "a Malky side" was taken to be one that was strong in those qualities I mentioned earlier which enable so called inferior teams to triumph over their supposed betters. For much of the time during the previous two seasons, City had better quality than the sides they faced and when you put that with the properties of "a Malky side", it becomes a pretty potent mix – yes, the football might not have been the most entertaining, but in tight matches it was often the team's spirit and work ethic which made the difference.
Now, I can understand anyone reading this thinking that these are just the ramblings of someone who makes it obvious on the messageboards that he was a supporter of Malky Mackay (in fact, I still say he's the best manager I've seen at the club) trying to say that we wouldn't be in the mess we are now if we hadn't sacked him. That's simply not true though, Malky's gone now and there is simply no way of knowing how different, or similar, things might be to how they are now if he were still here.
No, what I'm talking about are qualities which helped make Cardiff City sides more than the sum of their parts, made them hard to play against and even harder to overcome – our former manager used to say his teams would come off the pitch with sweat on their shirts and that's a good way of summing up what I'm talking about, it's just that "a Malky side" is a useful and shorter way of summarising the mixture of qualities I'm referring to.
Truth be told, we were well down the road in the transformation from being "a Malky side" even while the man himself was still here – the "performances" at places like Norwich, Villa, Palace and in his last match against Southampton contained very few of the characteristics that had epitomised his sides and, in all honesty, we looked like a team who were destined for the drop in all of them.
The league matches we've played since then have either been against strong outfits where it was quite easy to put a positive spin on things (i.e. the three away defeats in January), or against sides around us in  the table and it is these games where we'veshown, in alarming fashion, how much the team have regressed in terms of being "a Malky side". The four matches we've played against relegation rivals since Mackay's sacking have seen us tamely surrender a two goal lead in the dying minutes against Sunderland, play in such a flat manner and show such a lack of belief against West Ham, scrape a lucky win against a Norwich team which dominated at least two thirds of the game and collapse in such an emphatic manner in the second half last night.
Only the first of those games was not played under Ole Gunnar Solskjær's watch and, unfortunately, it's true to say that, apart from a very brief spell against Norwich, we have looked a lot less like "a Malky side" than we did for the majority of the Sunderland match where we turned in our best attacking performance in ages, only to then become as timid as we had looked against Southampton two days earlier.
Sadly, all of the evidence so far says that Ole has failed to rediscover and instill the qualities which had begun to go missing under Mackay, so where have they gone and why aren't they coming back?
The thing which makes our position such a difficult and worrying one in my opinion is that there is no straightforward answer to that question – it's certainly too simplistic to pin the blame for what is going  wrong on one person. For example, Mackay's legacy has been tarnished by some inept transfer dealings last summer, but I maintain that no other manager in the Premier League had to do his job against the disruptive and shambolic background that he had to put up with during his last three months at the club – despite this, Mackay's team was never in the position that this one is now.
Much as I would like to blame Vincent Tan entirely for our predicament, I can't. Yes, the club has been a joke off the pitch, yes I believe he has contributed hugely to the drip, drip drain of confidence we've seen in the team in general and certain players in particular since those days when we were beating Man City, going toe to toe with Everton and playing Fulham off the park and yes, he made a complete pigs ear of sacking Mackay. However, it wasn't Tan who decided to spend all of that money on Andreas Cornelius (just what effect would having a player on those reported wages who was performing in such mediocre fashion have on a dressing room that owed so much to a "all for one, one for all" mentality?).
Say what you like about Tan, he has provided the funding for both of our managers this season to have come up with better than they have done, so should we be looking to pin the blame on Ole? Most managers little more than a month into their job can claim that it still isn't their team, but he has had the opportunity to bring in seven new players and, as far as they go, there's a very damning statistic against our new manager which emerges from last night – not one of the septet of new players was on the pitch at the final whistle after the three of them that started (did Fabio, Zaha or Jones have any sweat on their shirts when they came off?) had been withdrawn.
Being honest, I see little or no sign of improvement in the team under Ole's management, but, in his defence, I believe we are now seeing what a tough task he inherited. Team morale seems on the floor after an autumn and early winter which saw results and performances levels plummet against a backdrop of open warfare between the former manager and the club owner.
Ole cannot be blamed for what went on before, just as I find it very hard to blame Malky for what's happened since his departure. The one constant is Vincent Tan, but, in public at least, he's not being anywhere near as disruptive as he was when Malky was boss. All three of those individuals should be carry the can to some extent or another, as should a bunch of players who have lost or, in some cases, never had what it was that made them into "a Malky side". Such an outfit would never have subsided as meekly as City did last night and, unless Ole and his squad can carry off what would be a pretty remarkable transformation in turning the no hopers from the Liberty into "a Malky side" in time for the Villa and Hull matches, I think it's back to the Championship for us.