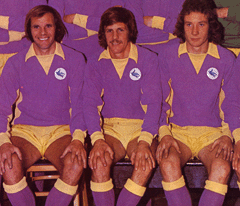 When I was a kid I thought that a big lead at half time meant that more goals must follow after the break as a five or six goal win would automatically result. Experience has taught me that, more often than not, this doesn't happen – there is an understandable feeling that the hard work has already been done and, truth be told, it usually has.
Therefore, when a side is more than a couple of goals clear after forty five minutes, the second forty five becomes a bit of a non event as the team facing the big deficit have already accepted their fate. However, occasionally, that team will be given a sniff that they can get still get something from the match and, as the previously dominant side loses it's way, you end with a very dramatic finish featuring a tremendous fightback or a very careless tossing away of what seemed a certain win – it all depends on which of the sides you are supporting!
Cardiff City's Under 18 match with Brentford at Leckwith yesterday fell into the more mundane category of games where one side have a big half time lead, but, it could so easily have been one of those dramatic fightback occasions if the beaten team had just a little bit more luck in the closing ten minutes.
City will be grateful that the 3-0 lead they built up while playing as well as I've seen a City Academy team do in quite a while proved to be enough in the end. While a final score of 3-1 sounds pretty comfortable, Brentford probably finished up thinking they would have gotten something out of the match if it had gone on another five or ten minutes.
Still, it was a welcome win for a team who, after an awkward start to the campaign which saw them lose seven out of eight matches at one time, are now in a decent run of form with three wins and a draw in their last five league games – a dodgy second period yesterday shouldn't be allowed to overshadow how well they had played earlier.
Right from the first whistle, the game had a good open feel to it as the visitors matched City in the opening fifteen minutes or so. Brentford mirrored their first team as they kept three players upfield for the game's first corner, but, they seemed to be the ones who were more confused by this novel approach because City right back Cameron Coxe was allowed to glance a header not too far wide.
Brentford's response saw home keeper Scott Coughlin having to save at his near post after a cross got a deflection, while, up the other end, Aidan Chappell-Smith saw a snap shot from twelve yards flash just wide.
Chappell-Smith would become one of the most influential players on the pitch as City got right on top in the game's second quarter, but that's not to say that he wasn't doing anything for the first twenty odd minutes.
Playing wide on the left, Chappell-Smith was able to get past his marker on a regular basis. Nothing came of it the first time he managed it, but a few minutes later, he beat his man again, got to the bye line and then slipped a low cross into the path of James Waite who scored with a near post shot from about ten yards.
Within a couple of minutes, it could so easily have been two for City as right winger Mark Harris, having done well to work himself into a shooting position, fired in a great shot from the corner of the penalty area which cannoned back off an upright with the keeper completely beaten.
Brentford managed to break the stranglehold hold City were taking on proceedings for a while as they put together a flowing move which ended with Coughlin getting down well to make an impressive save, but, after this, it would be the best part of an hour before the visitors threatened again.
Brentford's cause was not being helped by their tendency to lose possession deep in their own half as they repeatedly tried to build from the back.
Regular readers of my pieces on Academy matches down the years (I'm sure there must be a couple of you out there!) will know that I mention now and again that City will occasionally concede goals as they give the ball away in dangerous areas as they attempt to pass their way out from the back.
My attitude towards this has always been that this is a worthwhile price to pay for trying to get our youngsters to play the game in the "right" way, but, when it goes wrong as often as it did for Brentford yesterday, I'm not sure I would be as understanding in my approach.
It needs to be said mind that Brentford's problems owed a lot to some very effective pressing of their defenders by City's front men. Ibby Sosani was especially noticeable in this aspect of the game and he got his reward for all of his unselfish running when Chappell-Smith won the ball and played an instant pass to the striker who shot into the corner of the net with the confidence of someone who had scored five times in a recent Welsh Youth Cup match.
City were playing some very good football now as they gained in confidence. A third goal could have arrived earlier than it did, but it was worth waiting for as Sosani and left back Isaac Kelly combined to give the increasingly impressive Jarrad Welsh the chance to thread a delightful pass through to Harris who gave Welsh's pass the finish it deserved by calmly flicking wide of the advancing goalkeeper.
3-0 did not flatter City at all and, for a while at least, it seemed that they would carry their fine form into the second half as they continued to press the visitors into errors.
However, perhaps, because it had, to be honest, all been pretty easy for them for the past half an hour or more, some moments of carelessness began to creep in. This did not manifest itself in the visitors being presented with any goal scoring chances (to be honest, the defence looked to be well on the way to keeping their first clean sheet of the season in a competitive match), more in attacking movement and passing, which had been first class earlier, now looking a little laboured.
Sosani did have a couple of opportunities to run in on goal in the inside left channel which he couldn't capitalise on, but, that apart, there was little sign of City getting a fourth goal.
With the visitors showing also looking incapable of finding a way back into things, the game was dying on it's feet when, from nowhere, the small crowd were treated to a quite brilliant goal. It was almost impossible to read the numbers of the Brentford players on their striped shirts, so, apologies to the scorer if I have got this wrong, but I think it was their number four (I know it was a centreback anyway!) who received a pass, then flicked the ball over an opponent's head before crashing a thirty yard shot high into the net.
This goal reawoke Brentford as an attacking force and within a couple of minutes, they did everything but score as a combination of Coughlin and some frantic defending on the goal line somehow kept them out.
Substitute Rollin Menayese then came to City's rescue with another clearance off the line as City, perhaps with one or two of their players feeling the pace after having played on Thursday in a 3-0 Welsh Youth Cup defeat at Swansea, tired.
Chappell-Smith was able to force the Brentford keeper into his only real save of the second half as he  did well to tip a shot from about fifteen yards over the bar, but it was the visitors who finished the match on the front foot as they gained a penalty which was missed as the ball came back off the same post that Harris had hit in the first half.
The final whistle blew about thirty seconds later and while it was not as impressive a win as it had looked like being at one time, it was more evidence that a group of players who didn't have too much previous experience of performing at this level are coming to terms with Under 18 football after their awkward start to their campaign.
*picture courtesy of http://www.cardiffcityfc.co.uk/