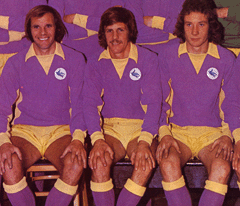 Yesterday's 2-1 loss at MK Dons was another of those periodic matches which I wasn't even able to listen to, so, although I'll make a few general remarks about it in this piece, I don't believe I have enough knowledge as to what happened to analyse it in any detail.
Therefore, with yesterday's game being our twenty third league game out of forty six this season, it seems appropriate for me to concentrate more on what has happened in the first half of this season and to contemplate whether the second half of the campaign will see us improve on or decline from our current eighth position.
Before doing that, I think I should try to ascertain what "par" should be in terms of league position for this City squad. I have my own opinion on that and it's that the current squad is one that is equipped to finish a little bit higher than last season's eleventh, but is not good enough to make it into the top six.
However, I readily admit there are many who disagree with that assessment. If I had a pound for every time I have come across a Cardiff City fan whose opinion is influenced by the thought that "we should be doing much better than we are with this squad", I'd be typing this from my holiday home looking out on some beautiful vista of sun, sea and sand or snow, alps and lovely, crisp, clear air rather than rainy, too bloody mild and muddy Fairwater!
Okay, I'm exaggerating there, but you get my drift – an awful lot of City fans believe that eighth position (bizarrely, we went up a place despite yesterday's loss) does not reflect the level of ability in our squad and many of them use this as justification for the point which often follows that sentiment – Russell Slade has to go.
For now though, I want to concentrate on what the level of expectation is for City in 15/16. I've already mentioned that many supporters disagree with my assessment of our squad (in fact, it wouldn't surprise me if a majority of them did), but, more tellingly, it appears that the view within the club is that I've got things wrong.
After all, our manager has said right from day one that a realistic target for the season has to be a top six finish and, in recent weeks, that opinion has received backing from those in charge of off field club management, while a few days ago, Lee Peltier endorsed earlier comments from Anthony Pilkington that a team with our level of ability should be in the top six.
So, speaking as someone who I like to think does not have a problem with admitting that they might be wrong, let's assume I am in this case and that my assessment is an unnecessarily pessimistic one – we do have a group of players who should be delivering a top six finish come May.
One thing I think that there would appear to be general agreement on is that this season's team is a better one than last season's. That's not to say that there wasn't a large number of City fans who didn't use the we've got one of the best squads in the league line last year, but, surely, all of those months spent in mid table mediocrity with, if anything, relegation, rather than promotion, looking the more likely outcome gives the lie to this?
On Boxing Day last year, we drew 1-1 at Charlton despite a first half dominance which saw us leading against a team which had been reduced to ten men – the second half saw Charlton get right on top despite their numerical disadvantage and the equaliser they got with two minutes to go was the least they deserved as City faded in alarming manner.
After that match, we found ourselves seven points behind sixth placed Watford, a not insurmountable gap perhaps, but the writing was already on the wall after a poor December and, when that was followed by an even worse January, people started looking downwards rather than upwards. However, a couple of wins over struggling sides in late February/early March meant that relegation was not a serious consideration in a last couple of months to the campaign which saw us in a fascinating battle for the honour of finishing ninth in the league!
What strikes me when I looked at the table for Boxing Day last year now is how, with eight wins, seven draws and eight defeats, our results over the second half of the campaign exactly matches the one we had for the first half – Russell Slade will probably tell you that progress was made in that second part of the season, but the results tell you otherwise.
Of course, just because we had identical records for either half of the season last time around, it doesn't follow that it will happen this time and, although the current four point gap between ourselves and sixth place is larger than it's been at any other time this season, you'd like to think that successive home games mean that it will be reduced again by this time next week.
So, the perception that we are better than last season is backed up by the smaller gap between us and the last Play Off position and also by a comparison between our record over the first half of this season compared to what we did from August to December in 2014.
However, when you look a bit closer, you have to wonder if our improvement is as marked as it's generally thought to be. For example, the number of wins we've gained over the first twenty three matches this season (eight) is identical to last year's figure – our improvement in terms of points is solely down to us turning two of last season's defeats into draws this time around.
So, for all of the talk of improvements in spirit and fitness levels this season, it has only resulted in us gaining two more points than we had at this time last year. Russell Slade's backers among our fanbase (there are a few out there!) talk about progress being made this season, but the most important gauge of any improvement from one season to the next (the number of points gained), suggests that, far from being giants steps forward, they are tiny shuffles.
It's worth mentioning now that no side in a forty six game season has ever reached the Play Offs with sixty six points, which is what we'll finish up with if we do what we did last year and follow our results over the first half of the season with the same outcomes in the second part of it.
Yesterday's game saw the same frailty against teams at the lower end of the table which has been a pretty consistent factor since our return to the Championship following relegation. Before our promotion, we had a few years when we'd lose to sides at the bottom of the table, but it happened a lot less than it does now. Indeed, it's hard to think of too many City sides from 09/10 to 12/13 who would lose an away game they generally had the better of (Birmingham) and then dominate even more in their next one and still end up being beaten like they were yesterday.
Things like this, our inability to see recent home games out after gaining seemingly comfortable 2-0 leads and our run earlier in the season where Middlesbrough's George Friend was the only player to score a goal for Cardiff City in five games, all back the evidence of the team's first half of the season points totals over the past two years – yes, there has been an improvement from last year, but it's a very slight one.
What cannot, surely, be denied is that City have not been the power in this division over the last two seasons that they were in the years immediately prior to us gaining promotion and yet, consistently throughout the last season and a half there has been this clamour from many fans that we have a squad which should be finishing in the top six (i.e. performing at a level that would make them the equal of, or very close to, our teams for the four seasons up to and including our promotion in 12/13).
To be fair, you look at our goalkeeper, the depth of quality we have at centreback, at the wingers we have with big reputations and, again, the reputation and past achievements of many of the strikers still on the pay roll and you think that, in terms of ability, there is a genuine comparison to be made with those earlier teams.
However, although some of those sides from earlier in this decade included a few characters with dodgy attitudes, I would argue that, collectively, the mentality of the 14/15 and 15/16 teams falls way short of those sides – I don't believe they match up their predecessors when it comes to professionalism either.
I suppose there is a degree of pessimism involved with any one who supports a football team, but how many of you felt, like I did, after Craig Noone equalised that, if the game had another goal in it, it would be the home side who got it? With this team, I wanted the game to end at 1-1, with those earlier sides I would have wanted it to go on because I generally felt we were the more likely scorers of a winning goal back then.
I'm grateful to Nathan Blake for articulating something which I have felt about this side for a while now. On last night's Radio Wales phone in, he said that City were like his golf game – he'd work on his putting and when he thought he'd got that right, he'd find that his pitching had deteriorated, so he'd work on that and it would improve, only for his driving to go down the tubes. After working to put that right, he'd discover he was putting poorly again, so he was back to square one.
To continue the golf theme, that's City under Russell Slade's management to a tee for me. Back in August and September he would talk about how the poor away form which was endemic in the team he had inherited had been turned around – he was right, after the 2-1 win at Forest at the end of August, we had won six and drawn three of our previous ten Championship away matches.
The challenge for our manager at the time was to turn around home form which had seen us win just three out of ten at Cardiff City Stadium over the same period. To be fair to Mr Slade, for the moment at least, he has overcome that challenge – we've lost one in eleven games so far this season and have the seventh best home record in the division.
Unfortunately, away results have reverted to their former levels, with two wins from twelve meaning that we are a very poor fifteenth in the away form table.
It's the same when it comes to our goals for and goals against records. Up until about six weeks ago, we all knew what Russell Slade Cardiff sides were like didn't we. To repeat the phrase I used now and again at the time, they were "worthy, but dull" – they were diligent, hard working and defensively solid, but they had real problems when it came to scoring goals, being over reliant on set pieces for the ones they did manage to get as they struggled to create chances, let alone score, from open play.
However, in our last eight matches, we've scored thirteen times with eight of them coming from open play – surely, our frugal defence, which had conceded just twelve times in our first sixteen matches would ensure we got the points return that this dramatic increase in goal power merited?
Well, no actually. We've let in thirteen in seven games now and so we've won just two and lost three of these matches. So, from "worthy, but dull",  we've gone to "entertaining, but flaky". We've become more interesting to watch and you can go along to home games now with a decent expectation of seeing the team win, but, with this Cardiff team and manager, there always appears to be a price to pay for this as things that you had begun to take for granted (like good defending and solid away results) disappear before your very eyes.
City are like a leaky old boat with a limited supply of corks available to plug those leaks. As one is filled, another one develops and so it becomes hard to avoid the feeling that a losing battle is being fought. Now, the crew have to take their share of the blame for the situation the good ship Cardiff finds itself in at the moment and you'd like to think that someone would remember to get that additional supply of corks next time they dock, but you wouldn't be too confident that anyone will.
As it is, I can't help thinking that any improvement in our away form will also coincide with more losses at Cardiff City Stadium and that a return to our old defensive solidity will see our goals drying up at the other end as we become desperately reliant on attacking free kicks and corners again.
So, is that all indicative of an outfit that is bound for a top six finish? Sorry, I can't help thinking that I was right all along about our squad, but one thing I'm sure of is that the calls for a change of captain of the good ship Cardiff will continue long and loud whatever our results and league position! For myself, I don't see that captain steering us to the Play Offs because I can find little evidence of the improvements needed to get us there, but, whatever us supporters may believe, it seems to me that Russell Slade is safe for a while yet because he maintains the support of the one man who really counts at the club these days.
*pictures courtesy of http://www.walesonline.co.uk/