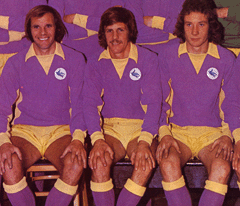 It seems to me that in the early weeks of every season during the past ten years or more, whoever has been Cardiff City manager at the time has told everyone that there is no point in looking at the league table until a certain time in the future when it is able to tell a more accurate story as to how things will end up in early May.
As to when that time is, well some of those managers tell us it's when we've played ten games and for others it's twelve, but the reason why we tend to hear this line trotted out so often must surely be that, in most years anyway, it's something that's been widely proven to be correct.
Speaking for myself, the time of the domestic season's second international break always strikes me as a moment when you can start to draw a few conclusions – so, where does yesterday's 1-1 draw with league leaders Brighton leave us at the time when we are told that drawing some conclusions about how the campaign will work out is allowable?
Using last season as an example, as we looked forward to Wales facing Bosnia and Cyprus in consecutive home matches in October 2014, the Championship table, certainly at the top of it, wasn't too different from how it looked after forty six matches.
For example, two current Premier League teams topped the table with Norwich on twenty one points, which was one more than Watford. Beaten Play Off finalists Middlesbrough were fifth, but, reflecting what turned out to be a very congested promotion race, were also on twenty points, while the other Play Off teams (Ipswich and Brentford) were sixth and tenth respectively.
At the bottom, Bolton and Fulham pulled themselves clear of the relegation places, but the writing was already on the wall for Blackpool in twenty third, while fellow current League One sides Wigan and Millwall were twenty first and sixteenth respectively.
There were anomalies – the League's only two unbeaten sides Forest and Charlton were both in the top six within one and two points respectively of Norwich, but would soon begin the slide which would designate them as epitomising "mid table mediocrity throughout the second half of the campaign – eventual Champions Bournemouth found themselves down in eleventh spot on fifteen points.
As for us, we were in fourteenth place, with four points less than we have now despite the fact that we had played eleven matches rather than the ten the current team have had. We may have managed to climb three places by the end of the season, but the dye which saw us spend the last two months of the campaign competing with Forest, Charlton and the likes of Birmingham, Sheffield Wednesday, Leeds and Reading in a meaningless mini league where the prize was to see who came tenth had been cast.
With yesterday's result leaving us in eighth place, six points behind Brighton, but only a couple behind sixth placed Burnley, the all round picture is, undeniably, a better one than it was twelve months ago. However, rather than have me go on about why even a fine result like yesterday's still raises questions as to whether this squad is really good enough to maintain, and slightly improve, it's position over the coming seven months, I'll leave that to manager Russell Slade.
I believe Slade did a very good job of summing up things in his post match press conference yesterday where he said;-
"We were not great at times, we were loose with the ball and nowhere near our best".
"We had a good start but didn't back it up. We got ourselves too deep, we weren't pressing high enough and when we did win the ball back we were too eager and got the ball turned over again.".
"It was a open game in the second-half but they had 20 shots to our six and had superiority in possession."
What I have to say here is that two of those comments were followed by praise for the way we still managed to become the first team to take points off Brighton at the Amex Stadium this season, despite us not having played that well.
Our manager also said;-
"We wouldn't have eked out that result last season. That's the progress of the team, the spirit and togetherness of this group got us that result."
That seems a reasonable and correct statement to me .
Now, there are still issues which concern me about Russell Slade. For a start, I mention quite often on here that the impression is often given that providing encouragement to our younger players by showing them that there is a route into the first team for them is something that our manager regards as low priority.
Also, his insistence on playing 4-4-2 (albeit with some variations from what is seen as the traditional method of playing that system) every week does not impress me and, up to now at least, his record when it comes to new signings can only be described as mixed. The one fairly sizable fee Slade has paid, for current Preston loanee Eoin Doyle, only adding to a suspicion that he won't be the best if he is ever given the chance to spend the sort of money our last two managers were on new recruits.
However, it would be churlish not to acknowledge that, if our season can be called a success at this early stage, an awful lot of the credit for that has to go the manager. He clearly has a squad who want to play for him and, as I've mentioned before, even if his critics carry on insisting that the improvement in the quality of our football and results since February is solely down to Paul Trollope's arrival, then they at least have to credit Slade for being open minded enough to allow his Head Coach to change what was there before.
I think it's fair to say that that what we've seen so far in 15/16 has at least shown that Vincent Tan's choice of manager a year ago has not been quite the disaster that very many supporters spent most of last season believing it to be – I certainly fell into that category at times!
However, if our manager can continue to keep us in or around the top six for the next few months, then Mr Tan has a few big decisions to make as the January transfer window looms.
For all of the encouraging signs provided by our start to the season, recent games have offered some evidence that the time is approaching where Russell Slade may have to consider the team changes that he has, largely, been reluctant to make so far. Although having Peter Whittingham going through a run of improved form like he is now has to be beneficial to any Cardiff team, there are individuals whose performance levels have dropped from the standards they set for themselves earlier in the season.
To name names, Sean Morrison was not at his best again yesterday, Anthony Pilkington (who I'd normally have as one of the first names on my team sheet) followed up a quietish display against Charlton last week with a poor one at Brighton and, with no goals in his last five appearances, Kenwyne Jones is showing signs of drifting into the exasperating listlessness we see from him from time to time.
The South Wales Echo reported during the week that there was no fee involved in the Idriss Saadi signing and, if that is true, then City's summer spending was very, very low by the standards of this division – something that tends to serve as a reminder that we are still largely relying on the players who helped make last season such a miserable experience.
By and large, improvements in attitude and fitness levels should mean that most players will not drop to typical 2014/15 performance levels too often. However, it's also true to say that even if the mind and body is willing, it won't be enough if the basic talent that marks a footballer out as someone who can perform consistently well at the top end of the Championship isn't there and  I'm not sure it is in all of the players who have been regular starters this season.
Having someone like Bruno Manga in the squad should mean that there is no problem with making a change at centreback as long as he stays fit and you'd like to think that we have the options in wide areas to handle a change there as well, but, up front? I'm not sure we have.
There are those in the local media who talk about Kenwyne Jones as being the best target man type striker in the Championship. For me, he can be, but they are only a quarter, or maybe a third, right in that opinion. I say that because, based on what I've seen of the player at this level since we got relegated, there are only about ten to fifteen league matches a season where the Kenwyne they talk about turns up, whereas there are at least as many where the player who did little to stem the tide of play towards the City goal yesterday puts in an appearance – it also has to be said that in the year this manager, who favours playing two up front, has been here, there has been no sign whatsoever of anyone being able to combine with Kenwyne to form even a decent quality strike partnership at this level.
My fear is that the season could end up like one of those we had during Dave Jones' early days where Play Off bids stalled because of insufficient strength in depth in some areas of the pitch. Even if "Premier League Kenwyne" was there for nearly all of our remaining matches, it seems to me that normal wear and tear would see Russell Slade eventually having to rely on players he doesn't appear to rate or trust.
Back in those Dave Jones days I talked about, it was Peter Ridsdale who was responsible for allocating the finances. Although there was one notorious time when he wasn't, Ridsdale was usually ready (occasionally too ready!) to splash what cash we had during January and it shouldn't be forgotten that we were able to sign Whittingham in January during these years for a very good price, with the signing of Ricky Scimeca in the same window being another very good piece of business.
However, the fact that, for every Whittingham and Scimeca, there tended to be two or three Iwan Redans, Warren Feeneys or Guylain Ndumbu-Nsungus tends to emphasise the restrictions Dave Jones had to operate under, whereas it could be that money would be no object come January under the current ownership.
I say this while also believing that Vincent Tan can hardly be blamed if, having made so much money available to the club in the form of loans over the last six years or so, he decided to continue with what appears to be the current policy of having to bring in transfer receipts before anything can be spent on new players.
My view is that a continuation of that policy, justified that it may be on one level, has to mean that Mr Tan would have to accept that any chance we have of playing Premier League football next season would be dramatically reduced.
Yes, there are those previously mentioned doubts about whether Russell Slade would be one of those managers who is able to spend significant sums in the transfer market well (there are plenty who can't), but the view I'm coming around to is that, in recent months, he has earned the right to be able to do so in January.
It wouldn't have to be a fortune and I'd say we'd only need two or three more players, but, hopefully, Vincent Tan is going to be faced with a decision soon as to whether the priority for this season is more of what appears to be a policy of repaying some of those loans or regaining a place in the league where his chances of getting more of that money back would be much improved.
*photos courtesy of http://www.walesonline.co.uk/