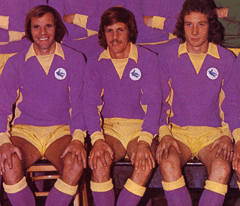 One of the things about having a season ticket in a seating area as opposed to previous years where I had one for a terraced area is that you have the same people around you at games. Yesterday, one or two of the regular faces weren't there for whatever reason, but I would say to them and anyone else who couldn't make the game that you didn't miss much -  it was one of those matches where you came out of the ground feeling frustrated on so many levels.
Before going into detail about why I found the whole thing so frustrating, just a quick comment on what the Mail on Sunday is calling "a 22-man mass brawl". I can see this episode gathering momentum over the next few days as the media go into overdrive – now, if there was a racist comment made then it was completely inappropriate and you would like to see the culprit punished, but, apparently, the referee didn't hear anything to that effect and so we are one of those situations where one party claims something happened and the other says it didn't. Therefore, I would be very surprised if any more comes of the racist comment allegation, but I hope that we don't get to see the clubs get one of those "failing to control their players" charges because, based on what happened after the final whistle out on the pitch (as opposed to what might have happened in the tunnel after that) it would not be merited.
Anyway, here are my reasons not to be cheerful after the game;
The performance of the referee
I am sure that not all of the Premiership refs that we get for our games are complete duffers, but sometimes it doesn't half feel that way. What happens of course is that you tend to forget the ones who do a thoroughly good job and just remember the ones who cock up and, while he was not quite in the Knight, Clattenburg and Probert class, Steve Tanner cocked it up yesterday.
How else can you explain Tanner's decision not to send off Alessane N'Diaye after his first half foul on Joe Ledley when he had already received a yellow card? Tanner issued three yellow cards during the game and none of the fouls involved were as bad as the one N'Diaye committed right in front of the visiting fans – the ref bottled that decision pure and simple and, leaving that incident aside, his performance throughout was not good.
The performance of Crystal Palace
Let me say first of all that I thought Palace thoroughly deserved their point and, indeed, may just have merited all three of them. It is also not the oppositions job to just roll over and die in the face of the formidable attacking team that we can be on our day. Palace stood their ground yesterday and I am sure they left feeling justifiably satisfied with their performance, but I would hate my side to play like that every week and this brings me on to the vexed subject of Mr Neil Warnock.
I am trying my hardest to be fair here, so let's say that, on a certain level, Neil Warnock is doing a fine job at Selhurst Park this season. He can justifiably claim that his hands are tied to some extent by the transfer embargo that has been placed on the club at times during this campaign and on the basis that a manager's job is to make the best of the talent he has available, then operating in a physical, in your face style is probably the best way that Palace can find any success this year.
However, one of the main reasons I have no time for Neil Warnock is that you know full well that, even if Palace were flush with money, he would have them playing in exactly the same way. Trying to be fair once again to him, it has to be said that he has managed so many clubs where money is tight and he has still been able to put together sides where the whole is better than the sum of it's parts.
Warnock is a good manager in my book, but only to a certain degree because when he has been given tidy sums to spend, like he was at Sheffield United when they were in the Championship for example, what he does is build teams that play in exactly the same manner as Palace do. For me at least, that is a policy that can only take you so far in the game and explains why he is a manager with some talent but not one who I would say deserves a place up there with the best in his profession. Somebody favourably compared Warnock on a messageboard yesterday to Dave Jones by saying that he had a plan B and a plan C – I assume plan B entails kicking the opposition harder and Plan C says you kick them harder still.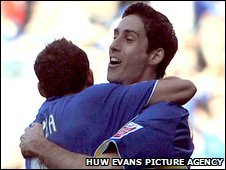 The performance of Cardiff City
Sorry to use the word again, but "frustrating" sums it up for me. The reason I say that is that, having made our usual slow start, we spent the last twenty five minutes of the first half showing exactly how Palace could have been beaten as we moved the ball with pace and accuracy to create situations through playing good football and standing up to Palace's physical approach. However, for the other sixty five minutes we failed to impose our will on the visitors and Palace looked quicker to the ball as they won the majority of the second ball and fifty/fifty challenges all over the pitch.
One incident during the second half summed the majority of the game up for me when, in a typically scrappy passage of play, Palace won five consecutive aerial challenges as both sides indulged in a boring period of headball. Nothing came of that passage of play, but it did have me thinking that the opposition maybe wanted it more than we did yesterday and the suspicion still lingers that some of our players don't fancy it against opponents who face up to them mentally and, in particular, physically.
It should be said that Dave Jones did compliment the team on the determination they showed but I didn't think there was enough of that commodity in the second half in particular when, for the second time this season, we looked bereft of any real attacking threat when Jay Bothroyd wasn't there – it's a real worry that he is, apparently, a doubt for the Coventry match on Tuesday.
One other thing worth commenting on is that,while many concentrate solely on blaming the centrebacks and keeper for the goals we have conceded from crosses this season, I think Dave Jones got it dead right yesterday when he said that we didn't do enough to prevent the ball being crossed in for Alan Lee's header which led to Palace's goal and I believe that this is a criticism that can be applied to other goals we have conceded. Given his lack of experience, you would have thought that Adam Matthews would have been to blame for this happening, but the truth is that, apart from at Sheffield Wednesday where he had an uncomfortable afternoon, most of the goals conceded from crosses in recent weeks have come from our left hand side – I don't think it will be long before we see Kevin McNaughton featuring in the starting line up again.
To finish, I would like to say that it wasn't all doom and gloom yesterday, we did at least manage to get something out of a match where we conceded the first goal  and Peter Whittingham's continued his hot goalscoring streak in a good individual performance which, encouragingly, has become the norm this season. However, I thought the most encouraging thing from City's viewpoint yesterday was the performance of Adam Matthews who continues to mix decent defensive work with good footballing ability and instincts going forward – Matthews' passing at times yesterday was as good as any produced by his team mates and his quickly taken thrown in started the move for our equaliser. The thing is though that I believe that we are only seeing a small amount of what Matthews can offer going forward at the moment and, with increasing confidence and know how, he will become a real attacking threat down the right – perhaps if the Malaysians do come through with the money, it may be that Matthews will show that ability in a City shirt and not in the colours of some other team come next February or March.