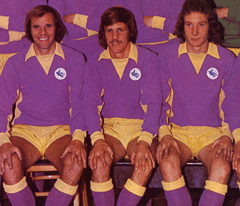 Birmingham City recorded wins at Under 16 and Under 18 level this lunchtime at Treforest over their toothless Cardiff counterparts. The Under 16's lost by the only goal of the game and the Under 18's were 2-0 down with not long to go when I left for the Huddersfield match, so I assume that both of their competitive campaigns started on a disappointing note.
To be frank, based on what I saw of the Under 18's (I watched all of the first half and about ten minutes of the second period), I'm 99.9% certain that they lost because I barely saw them have an effort on goal while I was watching, so I find it very hard to believe they managed even a consolation goal, let alone the two they needed to salvage a draw.
Yet, the early signs were quite promising. Eli Phipps got around the Birmingham keeper and looked well placed to score, but was eventually crowded out by a combination of defenders and goalkeeper and then, when City exploited the high line the Birmingham back four were playing, the keeper rushed off his line to bring down Jake Watkins I think it was who was bearing down on goal – in senior football, I think the punishment might well have been a red card, but, instead the ref showed some understandable leniency and settled for a yellow card and a free kick which came to nothing.
That was it though as far as City coming close to scoring goes on what I saw. From then on, Birmingham took control to the extent that they were able to retain possession in fairly windy conditions a lot better than City were. This superiority for the visitors did not manifest itself by a torrent of goal attempts raining down on City's goal, but they were able to force City into frequently conceding possession and, gradually, most of the play was headed towards their goal.
That said, I'm struggling to recall a significant effort on goal by Birmingham until their impressive number 5 got his head to a corner and the ball flew over Joe Massaro and into the net to give the visitors a lead that City couldn't really have any complaints about – to be honest, this was one of the poorer Under 18 performances I've seen in recent years.
Therefore, I decided to wander over to watch the Under 16's and asked someone with their back to me what the score was – he said he didn't know and it was only when he turned around that I realised it was Craig Bellamy – with Sam Hammam also watching the match, I was in illustrious company indeed and, to be fair, this game offered a bit more entertainment than the other match did.
I learned from someone else that Birmingham were 1-0 up, but, whereas, it was hard to see a way back for the Under 18's based on the way their game was going, the younger team offered the hope that they could get on terms with a forceful start to the second half which saw them put Birmingham under some concerted pressure. Unfortunately, just like their seniors, there was little in the way of an end product and, after ten minutes of City territorial domination, it was telling that it was Birmingham who finally produced a significant goal attempt when their number 7 hit a fine shot from about twenty five yards which struck the upright with City's keeper helpless.
City's number 12 shot just wide soon after and the physical presence of their target man, who was addressed as Ibby by his team mates, troubled the visitors at times, but, just as on the other pitch, it was hard to think of many times when a goal looked on for City.
There were promising situations created, but nothing came of them and after the ref decided, probably correctly, that Ibby was fouled just outside the penalty area rather than inside it, City's last chance of an equaliser came and went when the resultant shot curled harmlessly wide.
So, two defeats and, to be frank, very little in the way of entertainment or promise for the future from our youngsters – there were some in the Under 18 side who looked very ordinary today, but I saw them play far better than this in the second half of last season, so I hope that this was just a bad day at the office for them.