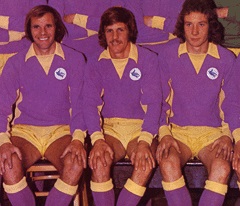 You know that line about the swan or duck that glides elegantly through the water while all the time it is working so hard under the water line to avoid any number of problems below it? Well, it could be argued that something similar is going on at Cardiff City during the 2017/18 season.
At first team level, City are progressing serenely through their season as a team that is frequently written off as also ran ugly ducklings, are showing that they just might be automatic promotion swans. However, at the levels below that, it's much more like hard work as defeat follows defeat and it becomes less and less clear to see how young players willing, ready and able to play first team football for Cardiff City can emerge.
After all, surely, that is the reason why we have an Under 23 development team and an Academy with an Under 18 side as it's primary showpiece? They exist to provide us with young players good enough to be of service to the club either through their football as a Cardiff City first team member or the money they can generate through their sale.
Last night's Under 23 game with Crystal Palace at Cardiff City Stadium was the latest in what, to me, seems to be a catalogue of futility as far as that objective is concerned this season.
The game, which we lost 4-2 after being 2-0 up at half time, served a purpose in that it offered Lee Camp, Kadeem Harris and Rhys Healey (all players who could play first team football for the club in the coming months) to take the first steps in their comeback from long term injuries, but, as an exercise in helping to develop those young players who we could come to rely on at senior level in future years? Pull the other one!
There has been another purpose to matches at this level during this season in particular as a stream of trialists around the 20/21 age grouping are given an opportunity to try to persuade the club that they are worth taking a gamble on. Now, there's nothing wrong at all with that, but I can't help thinking that it becomes counter productive, both for the players involved and the club, when there are so many of them involved in any one game.
To be fair to City, things went nowhere near according to plan for them last night as the game ended in farcical circumstances after they had taking a player off for the final quarter of the game for voluntary, but entirely understandable, reasons which meant they had to finish the match with ten men.
When players are using development team games as a first step back towards full fitness like Harris and Healey were, the plan is almost always that they play for forty five minutes or an hour before being substituted, but that approach was no longer an option for City after they had lost two other members of the team to injury within the first twenty odd minutes.
There were two trialists in the starting line up last night and three more on the bench. The two starters were a pair of Scottish born brothers Paul and Jack McKay who had both played first team football for Doncaster before signing for Leeds last year – centreback Paul had played one game for his new club since then, while striker Jack had been loaned out to Airdrieonians for the second half of last season.
Paul was to play the whole game and, given the way it panned out, didn't do too badly, but you had to feel for Jack who was injured in the first few minutes and had to go off with less than ten minutes on the clock. Referee Mark Whaley had a pretty good game overall, but his failure to even award a free kick as Palace left back Tyrick Mitchell went right through McKay looked a major error from where I was sat.
Shortly afterwards, McKay failed to make contact with a great headed opportunity from close range, but the fact that he was unable to continue a couple of minutes later made it hard to be too critical of him because he was, obviously, nowhere near full fitness when the chance came along.
Keegan Woolley, who had played the full ninety minutes as a trialist in the recent 2-2 draw with Bristol City, replaced McKay, but, within another ten minutes or so, Mark Harris was limping off never to return. The decision to replace Harris with Keiron Proctor was a bizarre one though because it meant that one of the two remaining trialists on the bench was not going to get any game time. If you have to have so many of them, then at least give them the chance to prove their worth – as it turned out, Kartel O'Neil-Martin a winger, now with Rushall Olympic FC from Walsall, was left to head back to the Midlands having spent ninety minutes watching the game in the steady drizzle that fell throughout it.
Kadeem Harris, who had scored after forty seconds when he turned in a Jamie Veale pass from close range, but was otherwise pretty anonymous as he felt his way back to something like full fitness, duly withdrew at half time (I see it being suggested that he could be in the first team squad on Saturday, but I would have thought it much more likely that he will need a further game or two at this kind of level before that happens) and was replaced by the last of the trialists, Kyle Spence, who, like Woolley, had played the full ninety minutes against Bristol City a couple of weeks ago.
This though left the problem of what to do about Rhys Healey, who had scored his usual goal at this level to put us 2-0 up after about twenty minutes when he fired home a Cameron Coxe cross via the underside of the crossbar and had looked both sharp and effective in short bursts. However, there were also frequent episodes of Healey bending to, ostensibly, examine his socks during the first forty five minutes and it seemed obvious to me and one or two others around me that the striker was finding it very hard work out there as he struggled for breath after putting in a sprint.
Healey looked like another who needed to be replaced after forty five minutes, but he had to play on for a further twenty or so in the second period before the decision was eventually taken to let him come off, thus making what was looking like a hard task for his side into an impossible one.
City had played some good stuff early on and deserved their two goal lead at the time, but they were never quite the same after Mark Harris went off and the writing was on the wall as Camp was forced into two or three good saves in the minutes leading up to half time.
With Healey cutting an isolated and tired figure up front, City had little to offer going forward in the second period while it was eleven against eleven, but as soon as they went a man down, the referee could have whistled for time there and then and awarded the game to the visitors.
As it was, Palace had scored twice early in the second half to level things up, with the first goal coming as City allowed them to take a short corner with not even one player anywhere near the ball and Jordon Mutch (who, as the only senior player in the Palace team, strolled through the ninety minutes giving occasional signs of his ability) picked out McGregor who volleyed in via the underside of the crossbar.
Three minutes later, Phillips beat Camp on his near post with a very fiercely hit shot and, about five minutes after Healey's withdrawal, the visitors went in front when Connor Young turned a low cross into his own net.
After this, the game became an exercise in keepball for Palace as they passed it around content that they had won the game because City just couldn't lay a glove on them – Ladopo galloped away to make it 4-2 in the ninetieth minute, but I'd long since lost interest in proceedings by then.
So, once again, I was left wondering not what is the plan at Under 23 level this season, but whether this is one? Yes, City were unfortunate in the way injuries upset their plans, but I would say it was a deserved accident waiting to happen after the way they had played earlier matches at Leckwith without any outfield substitutes – I dread to think how many we would have ended up with after ninety minutes if last night's game had been played with just a keeper on the bench.
I was paying so little attention to Palace's fourth goal because I was trying to find out how City had got on in their FA Youth Cup Third Round tie at MK Dons. I had said on the City messageboard I use that I expected that, as this competition is for players aged nineteen and under, we'd see the likes of Cameron Coxe, Rhys Abbruzzese and Connor Young in the team, but I was wrong and City went with the players who have represented them at Under 18 level all season.
MK Dons had been in the same league structure as City before the present competition began in 2012 and were the perennial whipping boys in a ten team league we played in for about eight seasons. MK Dons wins over us were not unheard of during those days, but they were very rare – most of the time we were good for four or six points at their expense every year.
However, despite it sounding as if we had most of the pressure and the chances, we went out of the competition in the first game we've played in it this season as the home side won the tie with a goal in the eighty seventh minute – to put the result into some sort of perspective, it's the first time in their history that MK Dons will have still been competing in the Youth Cup after Christmas!
Suffice it to say then that this was a game City would have expected to win and yet while this MK team for whom defeat has been a very regular occurrence in the time since we were granted Academy status have been able to produce Dele Alli and the Baldock brothers in recent years, as well as a number of players who have played in their first team, how many first team quality players has our Academy come up with in that time?
It seems that those in charge at the Academy want to see qualified players turning out for that team, rather than be given a chance in the development side or, heaven forbid, the first team. That's understandable to a degree, but, if these youngsters are not allowed the chance to show what they can do at higher levels, how can their development, or lack of it, be measured?
Now, I've often said that results shouldn't be the be all and end all at Academy level, but it seems to me that, when access to the Under 23s or the first team isn't available (as seems to be the case this season), results become the only means by which how well or badly the Under 18s, and the players within the team, can be judged.
Currently, results have been poor this season and there's little sign of them improving, so I would be interested to hear an argument that the "system", such as it is, is working this season.
I'll end by repeating something that was posted on that messageboard I mentioned earlier recently – that is that Cardiff City will become a club that parents will not want to see their talented young son associated with. This is a fear I've had for a few years, but I'd hoped that the shake up which, seemingly, went on at Under 23 and Academy levels last season had made such a thing much less likely, but every time I've watched the Under 23s or Under 18s lately, I find myself thinking that the current system is not set up to best develop the young players we have.
I'm sure those in positions of authority when it comes to youth development at the club would scoff at my suspicion that a seventeen year old Aaron Ramsey would not have played any Development team football, let alone first team football, so far this season if he was on our books now, but it would be nice to see some proof that I'm wrong in raising the matter in the first place.
I'm not saying that we have another potential Ramsey at the club at the moment, but there  are good, young players at Under 18 and Under 23 levels here who, from what I have seen, are playing worse football this season than they were last year.