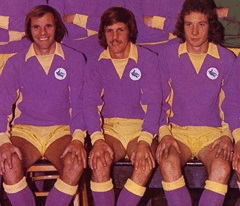 After some thought about binning it, I've decided to carry on with the normal pre game six decades quiz for the new season. However, our first opponents of 17/18 present a problem, because Cardiff City v Burton Albion contests have been very, very  thin on the ground – I can get away with calling something a six decades quiz when we've actually only played a team in three or four of the six decades at issue, but it gets hard to do that when we've only played them in one of them!
So, I've opted to do a different type of six decades quiz today. Although it's almost certain I'll be moving away fairly soon, I've spent nearly all of my life living in the Fairwater area of Cardiff and so I've decided to ask you to identify six City players, from every decade from the fifties up until the present day, who have lived within a radius of about a mile of where I live now at some time during their lives.
As always, the answers will appear on here on match day morning.
50s. The first house in Fairwater I lived in was a prefab on Plasmawr Road close to the site of the old Bulldog pub and, probably before I even saw my first game in 1963, my parents would point at a man in his forties, who lived about two hundred yards up the road from us, and tell me that they used to watch him playing for City.
Although not a born and bred Cardiffian, this Welsh international, signed from Troedyrhiw, played as a winger for us before the outbreak of the Second World War before dropping into what we'd now call midfield after hostilities ceased. He just about played more times for us in the fifties than he did in the forties, before he moved to the other side of the country in 1955 for a short spell at his second, and last, professional club , before returning to Cardiff on his retirement, where he worked for many years as an ambulance driver.
How true this is, I don't know, but my parents would swear that whenever there was a break in play for a minute or two, he would come over to the touchline for a chat and a gossip with the crowd with the impression being that he had a bit of an eye for the ladies.
60s. If you head west from my house, you eventually reach the posh part of Fairwater, St. Fagans (okay, okay, I'm taking quite a bit of artistic licence with this question!) and that's where this player, who I rate as one of the best signings City have made in my lifetime, settled when he moved to us from another team who play in blue – he left us in the early seventies to go into management.
70s. At his best, this player was being talked about as a possible future England international during the early years of this decade. Although he left City for a loan move just over the border and then permanent ones with a side that played in blue and white stripes for a while when he was with them and a nearby county town, Cardiff has been his home since first moving here more than fifty years ago – the last I heard, he was living just off St. Fagans Road.
80s. Was in Cantonian School while I was there, this player's time at Cardiff during the early eighties was fleeting and unusual in that it consisted of two home defeats and two away wins (one of which he scored in as we beat the Second Division's eventual Champions) under Richie Morgan's management.
90s. This local boy only ever scored three goals for City and two of them were matchwinners against the same Midlands team – he also played in the famous Jimmy Glass match and scored at Cardiff City Stadium last season.
00s. Simple one this – his father was in the year below me at Cantonian where he featured as a goalscoring  winger for the school team. Rightly regarded as "Fairwater's finest" – when it comes to football anyway!
10s. Scored for the first team and won his first cap for his adopted country while he was with City, this Fairwater schooled striker will start the new season at Bath City.
Answers.
50s. Billy Baker, who won a single Wales cap and moved to Ipswich Town late in his career.
60s. Former Newport County manager, Brian Harris – I should say there's a bit of a steward's enquiry about this one, amid claims that he, in fact, lived close to the Glamorgan Wanderers ground and therefore was a resident of Ely!
80s. Gary Bell, who was loaned to Hereford, then followed Jimmy Scoular to Newport County, before going on to be captain of Gloucester City.
80s. Peter Sayer scored in a 3-2 win at Luton during his short loan spell with us in 81/82.
90s. Damon Searle took a shine to playing against Walsall because two of his three goals for us in his near two hundred and fifty City games came against them – from memory, they were both very good goals, as was the one he scored in Kevin McNaughton's testimonial last season.
00s. Joe Ledley.
10s. Antigua and Barbuda international, Nat Jarvis.