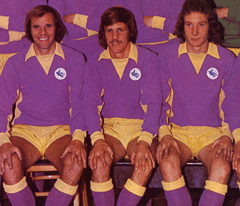 I've made reference to Vincent Tan and that night in January 2012 when we beat Crystal Palace to reach the League Cup Final once or twice on here before, but it is something that I do wonder about from time to time as I consider what has happened to the club since then. Tan was at Wembley to watch us take on Blackpool in the 2010 Play Off Final, but I think I'm right in saying that he did not go to another City match after that until that night against Palace – it was therefore his first visit to Cardiff City Stadium for a game.
What an occasion it was for his first home game as well and it was topped off by the tumultuous reception Tan and former Chairman TG got as they walked around the pitch after the match. Someone with Vincent Tan's wealth is not going to want for much in life, but I can't help thinking he had not experienced anything like that walk around the pitch before in his life – to have 90% of a crowd of about 26,000 treating you like a hero must be an exhilarating feeling and such was the goodwill shown towards the man who was widely credited with saving the club, that he could have been forgiven for thinking that he would have the Cardiff fanbase right behind him for the duration of his relationship with the club.
Within about six weeks, City's owner had taken the decision to become more "hands on" at the club and it wasn't long before we learned the consequences of this decision – would we have remained just another one of Mr Tan's projects that he was prepared to leave in the hands of others if it had not been for what he experienced on his first visit to a game in Cardiff? I think we might well have done.
There may have been those among the 24,000 or so City fans in the crowd that night who have never wanted Vincent Tan involved with the club and refused to join in with the applause he received, but they can't have amounted to many and I'd bet virtually all of those who now despise the man so much were there cheering him to the echo.
Our owner would have had to be a very odd person indeed if he didn't want to experience more occasions like the one he had been through after the Palace game and, surely, such thoughts would have been going through his mind as he set the wheels in motion for the change of kit and badge that was to completely change the way he was perceived, not just in Cardiff, but throughout the football world.
It has been said that Tan took soundings off people at the club about the impact that the rebrand would have, but, based on what we have seen over the last two and a half years or so, I'm not sure anything that indicated there would be problems would have been listened to. Anyway, as I mentioned earlier, I'm pretty convinced Tan thought he was fireproof at Cardiff and so the process which has torn the club asunder (that may sound overly dramatic, but I strongly believe it to be true) kicked into motion.
Trying to leave personal feelings out of this and attempting to be objective, there have been two things that I contend have blighted the period since our owner became more hands on, one of which he could do little about in the short to medium term and the other something that could have been avoided. Firstly, right from his first public pronouncements about the club, it's been  pretty clear that he knew little about the game of football, both on and off the pitch, and, more importantly, what the local football club means to the area in which it is based and how much things, which may not mean much to an outsider, are valued by those that follow it – this is not a peculiarly British thing, but, when it comes to their football club, even the most progressive and flexible individuals tend to turn into dyed in the wool traditionalists!
Secondly, the insistence on not using people with football financial management experience in senior administrative positions at the club has been at the root of problems such as the row over transfer spending in the summer of 2013 when you would like to think the whole mess could have been nipped in the bud with an intervention from a CEO who knew how football budgets worked.
Going back to the first of these points, Vincent Tan could not be blamed for his lack of relevant knowledge back in 2012, but, even if you accept his contention in this article last month (which I don't) that " I think I can run and manage a football club very well.", this newly acquired knowledge does not stretch to an understanding of his football club's heritage and traditions that I talked about earlier and this, I believe, is what is at the heart of the complete breakdown of the relationship between owner and supporters that is killing the club I love.
The really sad thing about this is that I'm sure that Vincent Tan and all of the club's supporters would both dearly like to have more nights like that League Cup Semi Final nearly three years ago, but whereas 20,000 plus want us to be playing in blue when they occur, one man insists we will be in red and the passing of time is, if anything, hardening his stance.
Certainly, the words ""What else can the fans do? They just don't support, it's not going to change a lot" taken from the Guardian article linked above sound like someone who believes he has won the battle over the rebrand, but if he truly feels he has, why is he so reluctant  to come to a City match this season?
I know there was talk of him having a minor operation a while ago, but the interview he had with Sky Sports News a couple of months back included clips of Mr Tan swimming in the ocean off the Malaysian coast and around the same time the Echo reported he had confirmed he would be coming to Cardiff sometime in October, so it would appear that whatever health issues he had are not keeping him from coming to matches and yet he still hasn't done so.
I'll be putting a theory forward as to why this is happening shortly, but I'd like to set a bit of a background to it first. Early on in the 2012/13 season, there was not much blue being worn by fans at all in the stadium at all, but someone at the club (I have strong suspicions as to who!) decided that things weren't red enough and decided to give everyone attending a game in February 2013 a free red scarf. Maybe it was a coincidence, but, ever since then, the number of people wearing blue to games has gradually been rising until we have reached the current situation whereby seeing someone wearing red (especially this season's shirt) is a novelty.
Now there are those who maintain that wearing blue to games has had no impact whatsoever, but I have always thought that Vincent Tan has been surprisingly thin skinned about this – I think seeing lots of blue and hearing anti rebrand songs genuinely annoys him.
If Vincent Tan once had visions of entertaining the elite of Malaysian  society while his football team took on and beat the best teams in the Premier League with City in their red shirts and thousands of supporters wearing the same colour as they sang his name, then he must know now that it isn't going to happen. Given the way his expensively assembled team are performing, the only way we are going to see a Premier League side playing at Cardiff in the next eighteen months is if we draw one in one of the cup competitions or play one in a pre season friendly and while the team might still be in red, the supporters resolutely stick to blue – as for singing his name, that may happen, but there'll be plenty of expletives to go with it as well.
No, as the natives grew more restless and stroppy as the campaign went on and his team sunk to their relegation with barely a whimper, 2013/14 didn't work out like it was supposed to for Mr Tan – he became someone to be ridiculed in the media and not even his subsequent partial vindication in the dispute with Messrs Mackay and Moody has really changed this. Yet, despite everything, in his recent media pronouncements, Tan has sounded like someone who has routed his enemies, be they supporters of the club he owns or former managers and other club employees.
If this is the case, then perhaps Mr Tan might like to test whether he is right by actually coming along to a game. If he did, I think one of two things would happen. Either he would be greeted by a crowd that would be fired up by the prospect of finally being able to unload this season's frustrations on him (large numbers of them would be wearing blue and singing unflattering songs about him) or he would be greeted by an apathetic crowd (mostly wearing blue) that only roused themselves for the 19.27 chorus of we'll always be blue as they watched a side where the whole is a great deal less than the sum of their parts go about trying to prove that football is not part of the entertainment business. Either way, Mr Tan would probably conclude that he'd be better off giving Cardiff City Stadium a wide berth for the foreseeable future as he resumes the boycott he started in August of the dysfunctional club he has created.
* pictures courtesy of https://www.flickr.com/people/joncandy/