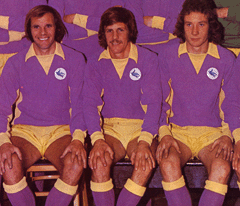 Please don't read this as any sort of doing down of Wales' achievement because it isn't meant to be, but the increase in the number of teams taking place in the Finals competition of the tournament which had always had more qualification places available for European teams than the World Cup anyway, made Euro 2016 the easiest tournament to qualify for in senior international football for eligible nations.
In the event, the manner of Wales' qualification meant that there was a very good chance that they would have made it to France next summer in the days when the European Championship Finals was a sixteen team tournament rather than a 24 side one, but my purpose in calling the qualifying group procedure which ended last month the easiest ever was wholly to do with our opponents last night.
For me, the biggest story of the qualifying phase was the Netherlands' staggering failure to even make it to the Play Off stage for teams that had finished third in their group – it's amazing that the tournament next summer will go ahead with one of the true powers of European football over the past forty years not represented.
As to why they won't be there, well the Dutch international squad is traditionally not the happiest of camps – moulding the collection of egos that represent the best footballers in your country must be a tough task for any international manager/coach, but, arguably it's tougher than anywhere in Europe if you happen to have the Dutch job.
Even so, although there has been the occasional failure to qualify for major tournaments in the past, I'm pretty sure I'm right when I say the Dutch have never finished fourth in a qualifying group since they became a true international power in 1974 when their superb team really should have become World Champions.
So, the failure of the Dutch team in 2015 represents a low point in the last forty years for that country. However, the evidence of last night's win 3-2 win at Cardiff City Stadium over a Welsh team depleted of their two biggest players as well as what are probably their two top strikers suggested that there could well have been a different outcome for them if they had been able to call on the injured Arjen Robben for their final few group matches.
Robben, for some reason booed throughout the game by sections of the 25,000 plus crowd, was excellent. He scored twice and was denied a hat trick by a superb save by Wayne Hennessey just after the break, having earlier fired just over and he also put a great chance wide just before his match winning goal.
That effort was taken calmly and well, but it was his first,  a fine solo goal as he ran thirty yards with the ball cutting in front the right all the while and taking his time before shooting past Hennessey, which emphasised that this was one of the true greats of modern European football in action. The whole episode seemed to take about fifteen seconds, but at no time did I feel that it would end in anything but a Dutch goal, such was Robben's control and mastery of the situation.
I can remember having a similar such feeling during Wales' 3-1 win over Iceland in March 2014, when Gareth Bale skinned an opponent out on the right touchline around by the halfway line, before heading infield towards goal and, although the whole thing took a long time, in football terms at least, you just knew the best player on the pitch was going to end up scoring.
It's a bit too easy and simplistic to say that the only reason the Netherlands won was that they had their matchwinner available and playing and we didn't have ours. However, although they retained possession well and, generally, put their opponents goal under slightly more threat than Wales did, there was an overall brittleness about the Dutch which suggested that they are/were very reliant on Robben.
Indeed, even with the Bayern Munich star, there was a definite feeling within the ground that the match was turning in Wales' favour after their second equaliser and I'd say it's fair to argue that Wales lost because they were chasing the win – I doubt it if the Welsh defence would have been left as undermanned after the ball had been lost just inside their opponents half for the winning goal if competitive points had been on offer.
Given what we saw during their qualifying campaign where success was founded on a great defensive record which helped to overshadow the fact that we were, by some distance, the fifth lowest scorers in our group, this was a strange Welsh showing. The backline looked creaky at times, while, at the other end of the pitch, we were much more dangerous than I for one expected us to be beforehand.
I commented on how I thought attitudes might have been different last night if competitive points had been at stake, so, for now at least, I'm going to assume that Wales will be less easy to break down when the serious stuff starts up again than they were when they were opened up pretty easily for Bas Dost to head the Dutch in front on thirty two minutes and they won't be as wide open to a counter attack as they were with both Robben's goals.
So, to match the current feelgood factor surrounding the Welsh team, I'll instead concentrate on the pluses from last night. For me, the biggest by some distance was the very promising performance of Tom Lawrence in his first starting appearance for his country.
Given the lone striker's job against the Dutch back three, Lawrence kept them honest with a mixture of pace, skill and a little bit of strength. On the down side, his finishing when he had been played into promising positions was indicative of someone who only scored eight times in his fifty senior appearances at club level, but if he can keep on showing the qualities we saw last night, then he'll create goals for others, even if he doesn't get too many of them himself.
On that performance, Lawrence has to be in the Welsh squad for the Finals (I suspect he always was going to be anyway mind), but, more than that, he has to be a serious challenger for a starting place over in France as well. Although I've been pretty impressed with what I've seen of him at Blackburn this season, last night was the first time I've seen why he was so highly regarded at Manchester United in his teenage years.
Besides Lawrence, other youngsters to impress with their attacking play were George Williams who, as he often did before his injury last season, showed that he has the ability to go past players at this level and Emyr Huws who repeated the good impression he had made in his earlier appearances and this time topped it with a powerful headed goal to make it 2-2 after Wales had caught their opponents dozing with a short corner routine.
The cross for that goal was provided by Joe Allen who showed that, whatever his future might be at Liverpool under their new management, he is good enough to play Premier League football every week. Allen was one of a few in the team who would have welcomed the opportunity to play a full ninety minutes after not figuring too often for his club lately –  Joe Ledley (who made scoring look easier than it actually was  when he followed up to make it 1-1 after Allen's penalty had been saved) and James Chester (a bit rusty with his distribution) were others.
So, a good night overall for the senior side I'd say, but, having commented on notable achievements for Wales at Under 16 and 17 levels in my piece on the Reading match, there have been two results in the last couple of days which suggest that we have some strength in depth at the levels below the seniors.
Firstly, Wales' Under 19s opened their qualifying campaign for the UEFA age group Championship with a fine 3-0 win over hosts Georgis. The format for this group is similar to the one used at Under 16 and 17 levels recently in that one country hosts the four sides with all games played within a five or six day period.
So, Wales top the group at this early stage having blitzed the home team with three first half goals – congratulations to City's Rhys Abbruzzese (Cameron Coxe also started the game and Lloyd Humprhies came on as a sub) who opened the scoring with a fine shot from twenty yards.
Wales will be facing Austria (who beat Albania 2-1 in the match between the group's other sides) in less than an hour's time as I type this and Abbruzzese and Coxe start again, with Mark Harris being bought in to take the City contingent up to three – hopefully the team can ensure qualification before they play the Albanians early next week in their final match.
A few hours before last night's match, Wales' Under 21s made it ten points from a possible twelve in their qualifying group with a hard fought 2-1 win over Armenia in Bangor. Declan John captained a team, in which Tommy O'Sullivan also started,  which made heavy weather of beating the group's bottom team, despite going ahead inside ten minutes thanks to a Ellis Harrison penalty. Wales lost their way after a dominant first half and conceded an equaliser on the hour, only for Harry Wilson to come up with the winner a minute into added time.
Wales are in Bangor again when they entertain Romania on Tuesday and a look at the current group table (as shown in this piece on yesterday's match) shows how important the game is. There is still plenty of time for things to go pear shaped, but, having, already drawn in Denmark, Wales are definitely in a promising position at the moment.
So, having had positives in defeat for the seniors and successes all the way for age group teams, men's football in Wales looks as healthy as I can remember it being. However, as people sought to listen to reaction to the match on their radios as they got back to their cars after the game, all they heard was about terrorist attacks in Paris  that had, it's now known, killed three people who had gone to watch their country play a football match in the Stade De France.
The death toll was far greater at the Bataclan concert hall where people who had gone to enjoy music were killed indiscriminately and, currently, the death toll from the various incidents is being reported as more than 120.
On occasions like this, football seems an irrelevance and I did think seriously about not doing a piece on a game which I suspect will be known in years to come as the match that was played on the night Paris was devastated.
One thing social media certainly doesn't lack is people who will tell you they know exactly how the problems which are making this world an increasingly dangerous place can be resolved (peacefully or not). I cannot make such claims myself because what we saw last night is beyond my level of understanding.
However, my instincts (which I accept could easily be wrong) tell me that those who support the perpetrators of last night's atrocities do not want people to try to carry on as normal. Of course, it's impossible to act as if nothing has happened, but, I decided, in my own very small way, to not be swayed from what I was going to do today, tomorrow, next week, next month – to do otherwise is,effectively, to let the terrorists win.
*photo courtesy of https://www.flickr.com/photos/joncandy/albums/with/72157661177400235