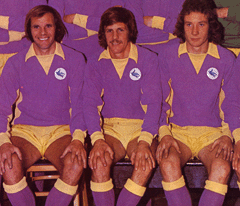 I expected my somewhat critical piece on Saturday's win over Huddersfield to produce a reaction which saw people disagreeing with what I'd said and a look at the comments it attracted on here will show that this duly happened – although, interestingly, there were also as many that were generally supportive of what I had said.
As I mentioned in my reply to the feedback I received, the only real positive I could find from Saturday was that we got the three points. So, when City then go on to lose their next match by 2-0 at home to a side that had only taken one point from it's three away games before last night, then it has to follow that I'm going to rip the team and manager to shreds doesn't it?
Well no actually, City played far, far better in losing their unbeaten record against a good Hull team than they did in maintaining it against a pretty mediocre Huddersfield side three days earlier. If City were to play a whole season playing like they did on Saturday and another one playing like we did last night, then I have no doubt whatsoever that they'd finish significantly higher in the table under the latter than the former.
Now, if this was a Hull City blog, I'd no doubt be drawing different conclusions from what I'd just watched. For example, I would be praising a change in formation which I thought caught their opponents on the hop somewhat in the early stages and the defensive efforts of a back three (Davies, Dawson and Bruce are probably as strong a trio of centrebacks as can be fielded at this level) which gradually strangled the life out of their opponents.
There would also be praise for some of the individual displays further up the pitch (maybe I would have a different opinion of him if I were watching him every week, but, from a distance, it's always a mystery to me why Sone Aluko spends so much time on the bench for Hull) and of the ruthless way they picked City off in the closing stages – was there a hint of offside about the second goal?
So, from a Cardiff perspective, it's right to acknowledge that the team which beat us last night were certainly no bunch of mugs and, with the squad that they have got, they'll not be far away if they can repeat the defensive discipline, togetherness and spirit they showed last night (something which we signally failed to do in our first year back in the Championship last season).
Did Hull deserve their win though? Possibly, but I'm not really convinced that they did. For a start, I thought they lost the midfield battle. In the first half especially, City's worked the ball around with some style to get in down the flanks plenty of times, they were good at regaining possession and, while acknowledging they are not the be all and end all when it comes to analysing a match, when the possession stats are as one sided as they were last night (63/37 in our favour), there cannot be any doubt that they tell a significant story.
Ralls, Whittingham and Dikgacoi (the last named having his best game in a City shirt so far in my view) kept us on the front foot throughout. Now, of course, having an early lead to defend meant that Hull were, in many ways, content to sit back and play on the break, but I'm not sure they would have wanted the ball to keep coming back at them as quickly it did for most of the time.
City's domination of both ball and territory deserved more reward than it got. Hull's resilient defending played it's part in ensuring that they didn't, but, despite there being much to be encouraged about in City's display, Russell Slade was right in my opinion to say after the game that much of the good work came to nothing because we were found to be somewhat lacking when the ball got into the final third of the pitch.
For example, Fabio was a real contender for City man of the match and there was much to be admired about the attacking work that got him into good crossing positions, but, despite having so many opportunities to deliver one, he was unable to come up with a ball which really hurt Hull. It was much the same on the right flank where Lee Peltier's more mundane attacking game meant that he was never going to get as many chances to play in that cross which would transform the game and those that he did manage were dealt with easily enough by Hull's massed defensive ranks.
With Ralls' tendency to come infield or to cover defensively on the left, it means that most of our crosses in open play come from our full backs, but it wasn't just them who failed to produce in that department – if the team's passing was primarilly accurate and true in most areas, that didn't apply when they got into the spaces between the outside edge of Hull's penalty area and the touchline.
When it came to dead ball situations, Whittingham has probably not had as many opportunities to deliver free kicks and corners in a game in some time and it was disappointing that, with his quality, he never quite got things right in that department – that said, any criticism of City has to be tempered with an acknowledgement of how well our opponents defended and so, I wouldn't be too critical of Whitts.
Nevertheless, perhaps understandably as they chased the game, I did think City got more and more one dimensional in their attacking play as the game wore on as the "look for Kenwyne's head" option appeared to be the only one we had in open play and while there were more targets to aim for from deadballs, it was all very much an aerial assault when it must surely have been worthwhile to try something different now and again.
In the first half, Jones enjoyed some success in the aerial encounters and with Joe Mason showing up well when he dropped a little deeper to receive the ball to feet, our front two were doing enough to let the Hull back three know they were around.
However, apart from one run past a couple of defenders which showed that he is so much more than just an immobile lump that you can only utilise in one way (sadly, another not quite good enough cross meant that nothing came from a lovely bit of play from our striker), Kenwyne faded from the picture in the second half and, while the preference for an aerial assault meant that we were not playing to Mason's strengths, the truth is that when he received a pass inside the last ten minutes, it took me aback a little because I had genuinely forgotten that he was still on the pitch.
So, while I thought there was much to admire in our performance, it still had it's faults – therefore is my contention that City were unlucky to lose really justified? I believe it is when you consider the other factor which had such a big impact on the outcome of the game – the worst referee I've seen at a City first team game in the new stadium.
Now, whatever anyone may think of the general tone and content of this blog, one thing it's not is a place where defeat for my team sees a long diatribe from me blaming it all on the man in charge. Yes, I'll make brief reference to an official who I consider has been poor (I've also been known to praise a few refs I've seen as well), but I generally tend to leave it at that.
In fact, without checking this, I believe that in the six years this blog has been going there can only be one ref at most that I've "tagged" (that is singled out so that a search engine will find find the piece you are writing when the name of the person tagged is searched) – well, now there's a maximum of two – come on down Chris Sarginson from Staffordshire!
I would guess that I've posted something like 500 pieces on here since 2009 about games I've watched and the appalling Mr Sarginson is in the something like 0.5% of refs I've seen that have moved me enough to want let the world beyond the confines of the relatively few who read my ramblings know about his ineptitude.
Russell Slade, understandably, focused on the three realistic penalty claims Mr Sarginson denied us. For my part, I'll not say much about them because two of them took place at the opposite end of the pitch to me (although the lack of consistency shown by the ref with two high kicking episodes which happened within a minute of each other was blatantly obvious) so I didn't have a great view of them and and the large number of players between where I was sat and the ball meant I couldn't be sure either way about the second half handball shout either.
However, none of this stopped me seeing that everyone of the big, match defining decisions, Sarginson made went in favour of one team. It also didn't stop me observing that, apart from one instance where, fair play to him, he played an advantage after a City player had been fouled, I cannot remember him giving a single free kick for a foul by a Hull player in the entire first half, apart from the two where he, eventually, managed to see the raised linesman's flag indicating an offence had been committed.
At least Sarginson did start penalising Hull fouls after the break, but, having been so quick to show yellow cards to Cardiff players in the first half, he applied different standards to the multitude of offences committed by Diame in Hull's midfield and it was amazing that it took until the 90th minute to caution a visiting player for a foul.
Meanwhile, we had the ludicrous booking in added time of Alan McGregor for time wasting. I don't blame McGregor for taking as long as possible over every goal kick and free kick he took during the second half – he was doing what any professional defending a lead would do when given the chance by a weak and indulgent official.
It would be wrong to say Hull weren't on the wrong end of some poor decision making by Sarginson – there were four or five occasions when a City player came away with the ball after a challenge which had me saying I thought that was a foul. However, City suffered far more from downright bad refereeing than their opponents did and it was that inconsistency Sarginson showed which marked him down as so awful for me.
I've been doing some research into our Mr Sarginson and found that he first refereed at Football League level in 2008. His first Championship match came a year later and there was then a period when he was given games in the second tier on a fairly regular basis with six of them in 10/11 and seven in 11/12.
At that time, he may have been thought of as an official progressing his way through the system, but there's been a decline in the number of matches at our level he's taken since then culminating in just three of them last season, while last night was the first time he'd done a Championship game in 15/16.
That's a pretty mediocre CV for someone who is now in his eighth season of refereeing in the Football League and it was so easy to see why his superiors don't seem to trust him enough to take charge of Championship matches on a regular basis.
I'd never heard of Mr Sarginson until last night and I hope I never do again in a Cardiff City context – he was completely out of his depth.
Still, let's finish on a positive note by saying we'll be fine this season if we can just add a little bit more precision and cleverness to our work in our opponents' defensive third.
*pictures courtesy of https://www.flickr.com/photos/joncandy/albums/with/72157656340097864