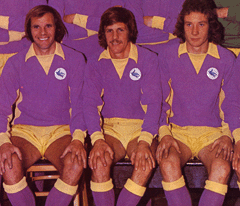 Anyone who has started reading this blog this season may be under the impression that it is about Newport County given the number of recent entries which have featured them, but I assure you that it is not – it is a Cardiff City blog which just so happens to have a fair bit about County on here again today!
The reason for that is that I paid my first visit of the new season to Spytty Park yesterday to watch County take on Kidderminster Harriers in what I suppose comes close to being a local derby for them this season. An excellent draw at Luton in their last match could not mask the fact that Newport had made a pretty disappointing start to life back in the Conference and three draws and a defeat in their first four matches must have led to some doubts as to their ability to compete at the higher level. After a win yesterday though, I am sure thoughts among their supporters will be turning more towards those four Play off spots now than the four at the bottom to be avoided come the end of the season.
After a gap of more than twenty years, I've watched County three times since Christmas. Each time they have won 3-0 and, truth be told, yesterday's victory was more conclusive than the ones I saw over Dorchester and Dover at a lower level last season. With a header against an upright and a few efforts which forced good saves from the impressive Thompson in the County goal, Kidderminster probably deserved a goal or two, but with four efforts cleared off the line by some desperate last ditch defending by the visitors, it is also true that Newport could easily have ended up with five or six.
County again impressed me with their clever short passing when they pushed forward, but, unlike last season, they also had the option of a target man to aim for if they wanted to go more direct. At first glance, the gangling Robbie Matthews (one of five ex Kidderminster players in the County squad) looked like a typical lower league journeyman beanpole centre forward who doesn't have a clue what to do when the ball is at his feet, but that conclusion was soon proved to be wrong as he revealed some nifty footwork which saw him score with a well placed free kick from about twenty five yards, force a fine save from the keeper with another dead ball effort and leave three visiting defenders trailing with a run that a winger would have been proud of.
With Craig Read (who looks to me like a player who could handle the step up to the Football League) adding two penalties either side of half time for, firstly, a very harsh handball award and then for a trip on full back Bignot, the game was effectively won with thirty five minutes to go and County their foot off the gas after that as they became a bit self indulgent with the chances that they were still creating, but that is a minor criticism of what was a very good performance which suggests to me that a top half finish is very much on for them.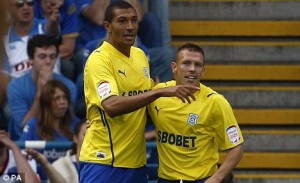 As for City, well with me not watching the game and not even listening to it on the radio, I think it's best I leave any detailed analysis to others, but I would like to make a few observations about yesterday's 2-0 win at Portsmouth which means that only a superior goal difference is keeping QPR above us at the top of the table;-
1. Isn't it great that wins at places like Derby and Portsmouth are now considered to be fairly routine affairs.
2. I see that, despite Dave Jones singling him out for praise, Peter Whittingham's display yesterday has some messageboard critics on his back – if there is one player on our books at the moment capable of identifying the "get stuck in" merchants amongst our support it is Mr Whittingham!.
3. I hope no one in the Premiership has noticed yet that Jay Bothroyd has added goals to his already considerable armoury this season.
4. It is beginning to look as if Craig Bellamy is causing problems for opponents merely by being on the pitch as they spend most of their time with half an eye on him even when the ball is fifty yards away!
5. Although they have serious issues about the depth of their squad, that Portsmouth starting eleven is too good to be at the bottom of the Championship isn't it?
6. I reckon Steve McPhail will replace Seyi Olofinjana for the Hull match, but will Jason Koumas also get his first league start as a replacement for the departed Peter Whittingham? I'll probably end up looking like an idiot in a couple of days time for this, but I'll say no because I think Whits will still be a Cardiff City player when we next play.