At about midday yesterday, news broke that there would be a press conference at the Cardiff City Stadium at 2 o clock. With the messageboards carrying posts about how Steve Borley and Paul Guy had burst into Peter Ridsdale's office in the morning demanding to know why the previous day's statement on the official site had said that Peter Ridsdale had the full backing of the board when this wasn't the case, speculation soon began that a resignation, administration or a combination of both was imminent. Indeed, in the hour leading up to the press conference, it was announced on one of the messageboards that Peter Ridsdale had definitely resigned.
In the event, those reports were shown to be well wide of the mark as, within seconds of a fraught press conference starting , Peter Ridsdale announced that he would not be resigning. What followed was a bizarre mixture of our Chairman's normal poise when  speaking in public, edgy, evasive and unconvincing answers to some questions, downright rudeness and arrogance on his part when answering another and ineptitude and naivety in answering  others.
I thought Mr Ridsdale was at his least convincing when answering questions about how the club had seemingly budgeted for receiving investment that they didn't know for certain would be forthcoming and when he tried to justify previous comments  of his concerning the money owed to HMRC. Also, when trying to explain why there was no need for an AGM, his views on democracy reminded me of a group of trade union leaders who cast their million votes each on something and then say "the members have spoken"!
However, it was in his answer to a straightforward question about whether the tax debt would be paid before the scheduled court appearance on 10 February that Peter Ridsdale really got it wrong in my view as his flippant reply of "you will find out on 10 February" ticked absolutely none of the right boxes. Now, people under pressure sometimes blurt out things that they instantly regret and Mr Ridsdale was being questioned very rigorously by Steve Tucker in particular at the time, however, he then had an opportunity to qualify what he had said in a more "user friendly" manner and refused to take it as he instead went on to express opinions that led one to believe that he was not interested in what minority shareholders were thinking.
Strangely enough, I thought that one of the occasions when our Chairman came across as his normal convincing self was when he stated that the potential investors would walk away if he was no longer at the club. Although this was not confirmed by our Chairman, I think that the widespread view is that the potential investors that we are still talking to are the Malaysians. Assuming this is correct, I have to say that I had believed those who have been expressing the view over the past couple of weeks that, given TG had said in an e-mail that he was not aware of the original winding up order beforehand and that Peter Ridsdale had confirmed that he hadn't informed the man he had been negotiating with about it, people like Steve Borley and Paul Guy had been carrying out negotiations because the Malaysians refused to deal with our Chairman.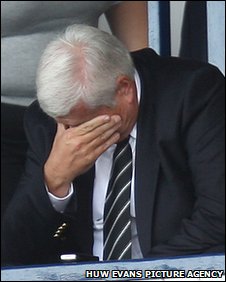 Therefore, to have Mr Ridsdale now claiming that his presence was essential if the ongoing negotiations with potential investors were to succeed seemed very strange. However, when you consider that he was speaking from a position of having been given what he said was the unanimous backing of the board, I for one, was beginning to think that, despite all that had gone on, we should stick with Mr Ridsdale for the time being at least.
This view was reinforced somewhat by the two best messages I read on the messageboards yesterday as Gwyn Davies and a poster called Robbie S argued for calm thinking at this difficult time. In his message Gwyn said that he had talked to Steve Borley, who is regularly portrayed as the one genuine City fan on the Board, and would keep faith with him in spite of the way that he had, seemingly, thrown his weight behind our very unpopular Chairman earlier in the day.
Therefore, it was interesting to see Mr Borley himself put a message on one of the boards last night. Unfortunately, what he had to say didn't offer any clarification as to why the Board agree that Peter Ridsdale continuing in his job is essential to our chances of securing investment. Instead all we got was another call for us not to show that we "are too hot to handle" as if the whole deal with any potential investors hinges solely on us all behaving ourselves on Saturday. Supporters have been perfectly well behaved in the months since Mr Ridsdale first started talking to the Malaysians for all the good it has done as far as concluding a deal is concerned, so,  I'm sorry, but that just does not wash with me.
One thing that Steve Borley said in one of his follow up messages did confirm that the club are also negotiating with HMRC regarding the unpaid tax bill. I am hoping that this means that the funds are in place to pay all of the money owed, but they are trying to negotiate a part payment. Unfortunataly, I get the uneasy feeling that it doesn't mean this – I can't help thinking that it means that, despite supporters giving the club enough to pay off the original £2.7 million in full, the money is not there to do that and we are hoping that they will accept a part payment for now.
So, the question has to be asked are supporters being hot headed in asking for thinking of demonstrating at tomorrow's match while looking for more information as to what is going on at Cardiff City Stadium? I don't think they are and, in the absence of any hint as to why someone like Steve Borley is prepared to stick by a Chairman who, on the face of it, is in an untenable position, more pleas to "keep the faith" aren't going to work. Supporters have come up with £3 million worth of faith in the last few months and no one in authority at the club is prepared to tell us where it has gone.
I think I am right in saying that the 28th of the month is pay day at Cardiff City so it is possible that, while Peter Ridsdale was telling us how he was going to battle on regardless in the club's cause, another £30,000 or so had found it's way into his Bank Account. That's the problem I have with those who are making the decisions that effect the future of my football club at the moment. Are they thinking more of their own pockets than the club's? Is the club heading towards the rocks of administration with much needed investment being delayed while the major shareholders haggle with other parties about how much money they are going to make in the sale of their shares?