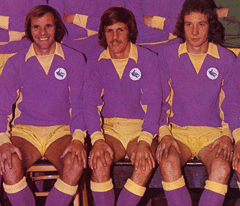 I've just noticed a failing in the naming of the various categories I allocate my entries on here to – "out on the pitch" isn't a very good title to apply to scheduled first team matches that never make it out on to the pitch!
There has been much eulogising by various members of staff at Cardiff City concerning our new ground – in my view, much of that is completely justified, but the postponement of a game (yesterday's scheduled visit of Leicester) after the temperature fell below freezing for just about the first time since the Cardiff City Stadium opened could, and certainly should, be a source of embarrassment to some of the, very highly paid, employees of the club.
For much of the week prior to the game, there were weather forecasts letting people know that it was going to be very cold all over the country on Friday/Saturday. No problem, our "state of the art" undersoil heating will sort it we all thought, but then we started to hear stories about how the "state of the art" pipes for the "state of the art" undersoil heating were in place, but the "state of the art" boiler which would provide the actual heating had not been installed yet.
With the ground rock hard in Cardiff on Saturday morning, it soon became pretty obvious that the game was going to be called off, but that didn't mean there was any lessening of the feeling of exasperation I had when the confirmation came through.
The club issued a statement of apology on their official site which seemed to confirm that the "state of the art" boiler was indeed in place, but the "state of the art" final commissioning (whatever that is) would not be completed until next week (i.e. after December 21 which is officially the middle of winter!).
So, the club which declined to tell supporters buying season tickets (or the potential investor they had been courting for months) that it was the subject of a winding up order by the HMRC were perfectly happy for the impression that it had "state of the art" undersoil heating to continue when actually it didn't. No doubt, the thinking was that recent winters in South Wales had been so mild that there would be no need for the thing to be used anyway, but, that ignores the fact that the very long run (almost two decades) without a postponement at Ninian Park ended in January with the visit of Derby falling victim to a frozen pitch  – despite assurances to the contrary from many at the club, Cardiff City and the term "cock up" continue to be intrinsically linked.