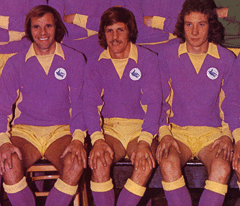 A 2-2 draw at Craven Cottage yesterday against a Fulham team that had taken seven points from their first three matches was better than I was expecting for a couple of reasons. Firstly, my pre match prediction was that we would be beaten and secondly, I expected us not be able to answer the one or two goals the home side would score with any of our own.
So, perhaps more than in any of our games so far, it's possible to feel that we can do well this season while playing a more watchable brand of football and yet there have to still be plenty of reasons why such a statement has to be qualified with the word "but".
For now, the truth has to be that, unless you are a supporter of I would say Huddersfield or Blackburn, City fans find themselves in a position shared by everyone else in this league at the moment. That is, that they can point to some periods in their league matches so far where it's possible to believe that their side can fulfill the more realistic optimistic pre season thoughts you had, but these have to be tempered by the knowledge that there have also been times where it looks like the reality will turn out to be worse than many of us were expecting.
Obviously, that balance between periods of promise and concern will vary from club to club and will have a lot to do with what was considered to be realistic before the league campaign started a fortnight ago – Newcastle and Rotherham fans for example would view, say, a home draw with a team like Ipswich in a completely different manner.
So, four games in, where does that balance between grounds for optimism and concern lie for this Cardiff City fan? Well, as with all of the other clubs, the answer has to be expressed against the backdrop of what was your level of expectation before a ball was kicked and, for myself, it was that we would end up somewhere in positions seven to twelve, just like we did in the last two seasons.
Overall, based on what I've seen so far, there are more reasons to feel that my prediction as to how our season will pan out feels like an over optimistic one than there for thinking I was being too pessimistic.
A draw at Birmingham on the opening day was a good enough start, but the results and, more particularly, the performances in our couple of our home matches more than cancelled that out – we were awful against QPR and although Blackburn was better (it could hardly have been worse!), it was a little like our last home win before that where we scraped a 2-1 victory after receiving considerable help along the way from opponents who were at the bottom of the league.
Fulham was a step back in the right direction, but, even then, there was little or nothing in what we did in the first half to suggest that my predicted outcome was going to be wrong.
Yesterday saw what may well have been the most extreme example yet of the home truth which says that who wins the battle for possession does not always win the battle for the points as Burnley triumphed 2-0 against Liverpool despite only having the ball for nineteen per cent of the game. So, Fulham having around two thirds of the possession in that opening forty five minutes does not mean in itself that they were controlling the match, but the fact that, for the third successive match, we went in at the interval with the match stats saying we had not had a single effort on target does tend to tell it's own story.
In his post match press conference Paul Trollope spoke of his team being too passive in and out of possession during that first half. Certainly, the passive in possession part strikes me as a criticism that can be applied to much of our season so far (in fact, I'd say it could be applied to a lot of the two previous seasons as well). On that score, it's very interesting to reflect that it's a player that I daresay many, including myself, had down as a candidate to be loaned out, again, to a lower division club who is one of the prime movers behind attempts to try and do something about that passivity in possession.
Going back to that end of season game with Bolton again for a moment, it was Kadeem Harris who came off the substitute's bench to earn the very late penalty which gave us the chance to believe we could win our way into the top six for a week longer and in our last two matches his introduction around the hour mark has brought about a positive transformation of sorts for the team.
Now it needs to be said that the fact that the stats said we had not had an effort on target when Kadeem came on against Blackburn is more than a little misleading, because we were 2-0 up at the time and had also hit a post, but Harris brought a directness and energy to the team which went some way at least towards explaining why the stats showed we'd had three more on target efforts in the last third of the match than we'd managed in the first two thirds of it.
Similarly, while it can hardly be said that the goal we scored within a minute of his introduction yesterday was a direct result of Harris being on the pitch, we had scored again and also hit the woodwork within ten minutes of him coming on – that can hardly be just a coincidence.
Yes, you'd probably want someone better equipped to cope with the defensive side of the right wing back role as you come under pressure after he's helped earn you a lead (just as on Wednesday, he was yellow carded), but our best attacking periods of play this season so far are coming when one or both of Kadeem Harris and Declan John have been performing on the flanks in a manner which suggests that the introduction of a system using wing backs could lead to an improvement in our play when compared to recent seasons.
It must be a relief to all at the club that we finally have some goals by City players to celebrate. I'm pretty sure there were few who thought the honour of scoring the first of them would fall to Joe Ralls (and with his right foot don't you know!), but the midfield man left you wondering why he doesn't score more often when he is capable of striking the ball as well as he did from twenty five yards out yesterday.
As for the second goal four minutes later, well, typically, I was bemoaning the fact Anthony Pilkington had only one goal (in the meaningless final game of last season against Birmingham) to his name since the end of February on a messageboard only hours before yesterday's match. This was done to give further evidence to my claim that we must be one of the weakest teams in the division when it comes to strength and depth in the striking department.
Now, in my defence, I would say that the cut in from the right by Pilkington and subsequent left foot shot into the corner after beating a couple of opponents was the sort of goal which has lit up his career from time to time, but it was the goal of a winger (the position that Pilks has played in for about ninety five per cent of his career) rather than a striker.
When Peter Whittingham struck the angle of post and crossbar from a free kick with another effort from twenty five yards, City almost had a third marvelous goal to add to the two they'd already got. However, wonderful though they are to watch, the truth is that you are not going to score such goals as Ralls and Pilkington did and Whittingham nearly did every week. No, "typical" goals for most clubs are a combination of headers or shots following free kicks or corners or predatory efforts from open play from a range of about ten yards or closer and the evidence so far strongly suggests that we are not going to get enough of those sort of goals from the current first team squad.
I'm not saying anything ground breaking or earth shattering there. Paul Trollope confirmed after the match that the search for new players goes on – understandably, he wouldn't be drawn when asked  specifically about the striking department. However, with us back to a front pairing of Pilkington and Lex Immers where the pair of them are being asked to play in a position which most would concede is not their best, then, surely, it must follow that the main priority is someone up front capable of the sort movement, pace and imagination Sone Aluko (someone I would have liked us to go after this summer) showed when he managed the rare feat of embarrassing Matt Connolly defensively when setting up the game's first goal for Ryan Sessegnon (who, at just sixteen, was born in this century for God's sake!).
All of this carrying on about our need for a striker after every game really goes to the heart of something I say on here every year and never ever adhere to myself – there isn't really much point in trying to make reasoned judgements as to how your team will do in any given season until after the summer transfer window closes, it's only then you'll know who will be seeing you through at least the first half of the campaign.
With a clampdown on emergency loans this time around, that applies even more this season – sides are not going to be able to add to their squad with a temporary signing or two after a couple of defeats on the trot in September any more.
Our Head Coach was more forthcoming when he was asked about transfer targets at various times during last week, with the need for a replacement goalkeeper for Simon Moore and a wing back/full back with the versatility to be able to play on either side of the pitch being identified, so, you have to think that Paul Trollope is looking for at least three additions to his squad before the window closes.
I think it goes without saying that millions upon millions of pounds will be spent in the Championship in the next ten days or so as the race to put together the squad each manger wants before the window closes hots up, but the evidence of the last twenty three months or so strongly suggests that not very much of that money will be spent at Cardiff unless there are significant departures from the club as well.
Moore's departure to Sheffield United for a reported fee of £500,000 and the announcement on Friday that Tom Adeyemi has been loaned out to Rotherham for the season helps a little in that direction, but it's been clear for a while that there are three big earners at the club that they are very keen to get off the books.
The trouble is that everyone knows that Messrs LeFondre, Macheda and Dikagcoi are available and so there's, almost certainly, a game of brinkmanship going on whereby any club interested in one of these players is holding fire in the, probably correct, belief that CIty will be forced to eventually accept the sort of offer they'd turn down if it were made today.
This situation is nothing new for City. After all, Russell Slade was under orders to move various high earners out right from day one – the results were mixed where our former manager was concerned and the strong likelihood is that City are/were making a contribution towards the wages of some of the players who left during our previous manager's time at the club..
Therefore, it'll probably not be as straightforward as all of the money from the wages of the three players we're trying to sell being made available to Paul Trollope for new signings if and when they leave. Even if CIty were to get deals whereby they wouldn't be contributing to the wages of the departed players, there's also the matter of the contracts of current players that will expire next summer to consider – for example, would putting together an attractive enough package to persuade, say, Anthony Pilkington to commit to a new deal take precedence over that new wing back I mentioned earlier?
Under circumstances like this, there has to be a real possibility that Fabio and Scott Malone will not be the only members of last year's first team squad to be sold during this window.
Although Trollope moved to quash rumours that Aron Gunnarsson will be leaving soon, would the club really turn down an offer of, say, £2 million for him if it came? Similarly, I'm sure it will not have passed unnoticed that Craig Noone has not played any part in our last two games and that Bruno Manga (left out of the starting line up) yesterday has an agent who has made it clear that he is unlikely to extend his stay at Cardiff beyond the length of his current contract, which has a little over ten months left to run.
Going back to predictions, I'd be willing to make mine for the season a bit more optimistic than my current one is if we retained the current squad with a quality striker added to it, but I believe that's probably an impossible scenario because it will probably boil down to there needing to be a current first team squad member leaving to facilitate the arrival of someone good enough to make a telling difference to us up front. Recently, the last few days of transfer windows have been quite boring from a Cardiff perspective, but I don't think that will be the case this time – late August will, hopefully, see the sort of transfer activity which will lead to a bit more of a feelgood factor around the place.
*pictures courtesy of http://www.walesonline.co.uk/