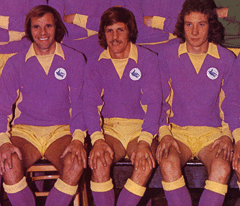 The matches continue to come thick and fast below first team level at Cardiff City during a spell which will see the Under 18s and Under 21s play six games in eight days between them. Yesterday, it was the turn of the Under 18s again as they took on Sheffield United at Treforest and they were able to end a three game winless run at home with a hard fought, but deserved, 1-0 victory.
The team showed a couple of changes from the dull 0-0 draw with Watford on Tuesday afternoon with regular left back Rhys Abbruzzesse returning and Sion Spence (who I think may still be 15) coming into the midfield for Jamie Bird who I suspect may find himself in the Under 21 squad for the match with Crewe on Monday.
Although the game turned out to be a tight affair with defences generally on top, it needs to be said that City were a lot more lively going forward than they had been in their previous match. Indeed, they managed to put the Sheffield defence under severe pressure right from the kick off and they came closer to scoring in the first five minutes than they had in the whole of Tuesday's encounter.
A goal looked a distinct possibility when left winger Aiden Chappell-Smith took the ball past the visiting goalkeeper, but there were enough defenders back to snuff out the danger. United had to survive one or two more scares before they worked their way into the match and began to show that they could be a threat with their attacking pace, but with City's big centrebacks Sam Williams and Shane Perry in dominant form throughout, the threat I mentioned remained more to do with potential than reality.
With City having lost their early attacking bite, the game was now in danger of becoming something of a midfield slog with both teams cancelling each other out, but a tactical switch after about twenty five minutes saw the match enter it's decisive phase.
By switching wingers, City suddenly had a cutting edge, with Mark Harris in particular prospering as he became an influence on the left after struggling to get into the match when on the right. Harris created a fine chance for himself when he burst past the United right back and cut in towards goal only to sidefoot his shot wide as the keeper advanced towards him.
Shortly after that, City managed to blow a four attackers on to one defender chance after they broke away very quickly following a Sheffield corner.
Nevertheless, City were now undoubtedly on top and it felt like a goal might be coming. When it did, after around thirty five minutes, it came via what I think is the best long range Cardiff goal I've seen at any level this season – Lloyd Humphries picked up a loose ball about thirty yards out and fired a shot high into the corner of the net giving the keeper no chance whatsoever.
Humphries had been playing well before his goal, but with the confidence of that great effort behind him, he virtually ran the match for the rest of the first half and another effort from five yards further out than his goal wasn't fair wide either.
City probed and pressed for the rest of the half, but too often came up short with their final ball and while they deserved their half time lead, it was hard to avoid the feeling that it could, and perhaps should, have been a bigger one.
City were never to recapture the superiority they showed at the end of the first half during the second period. Like most of the other sides I've watched in the last week, they were generally more comfortable playing into the wind, as they did in the first period here, as opposed to having it behind them.
Sheffield had made little attacking impact with the breeze at their backs and were hardly that dangerous as they faced it, but they did enjoy more possession and so City became as concerned with the possibility of conceding a goal as they were with looking to add to the one they had.
Even so, it was City who still looked the more likely scorers, with Elvis Meneyese being at the heart of any chances they created. For example, the striker was denied what would have been a pretty simple headed chance when a defender managed to divert a lovely Humphries free kick out for a corner as he closed in. Meneyese was also denied by a diving save and then when Harris played him in with a neat pass, he got around the keeper, but ran out of space as the ball rolled harmlessly out for a goal kick.
Four yellow cards (two to each team) in the second period offered proof that both sides were competing strongly, but Sheffield appeared to lack the attacking poise that City were occasionally able to show and, apart from when one of their players got past four opponents in a fine individual run which was only stopped by the intervention of home keeper Scott Coughlan, they struggled to come up with convincing evidence that they could get on terms.
City were able to hold on to their advantage pretty comfortably through to the end and so the team which did not keep a clean sheet until January now had two of them in four days as they inflicted a defeat on a side which was in second place of the competition's Northern Section going into the game.
Sheffield's hopes of reaching the end of season Play offs suffered a blow then, but there is no reason to think it was a terminal one – their fate is still in their own hands.
Unfortunately, the same cannot be said for City who are going to have to rely on the teams above them blowing up to stand a chance of making the top two in the Southern section and, even then, they probably need to win at least three of their four remaining matches.
Mind you, it's some achievement for City to have even a slight chance of becoming one of this seasons Play off teams when their losing run at the start of the campaign is taken into account. At one time, they lost seven out of eight as they only managed seven points from their first ten games, but this latest win means that they now have as many league victories as they do defeats.
Surprisingly, unless we make it into those Play Offs, yesterday's match was the Academy team's last one at home for the season, so I suppose it's time for me to choose my Player of the season at this level based on what I've seen of the side over the past seven months. In contention were Jamie Bird who scored a great hat trick in the 5-0 demolition of Crystal Palace, the full backs Cameron Coxe and Rhys Abbruzzesse, while James Waite has impressed in the middle of the park.
However, even before his fantastic goal and very good showing yesterday, I was minded to go for Lloyd Humphries who has been playing a huge part in the team's improvement with his disciplined and influential showings in a holding midfield role – he made what I'm pretty sure was his first appearance for the Under 21s this week and I'm certain there'll be more to follow.