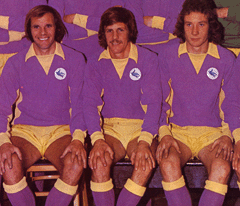 The first thing to be said is that the Welsh players and management needed last night's match like a hole in the head – the team was severely weakened through injury and suspension, they were disappointed at yet another qualifying group failure, the game had no relevance as far as finishing positions in the group went and they were on a hiding to nothing because it was a match where there would be no kudos whatsoever gained for winning and yet they would have been pilloried as the worst Welsh team ever if they had lost.
Given the above, it would have been unreasonable to have expected Wales to have blitzed Liechtenstein with a brilliant display full of invention and flair – there was nothing in either sides recent history to suggest that would happen and, in the context of what happened to the hosts in previous games in the group, a 2-0 win for Wales wasn't a bad result.
Therefore, I am not going to be too critical of Wales' performance last night. Okay. some of the football played was no better than non league standard and some of the basic mistakes from Welsh players made how much they are paid every week look like a bit of a sick joke, but it was always going to be that sort of occasion and it seemed to me that a pitch where the ball didn't always run truly didn't help either.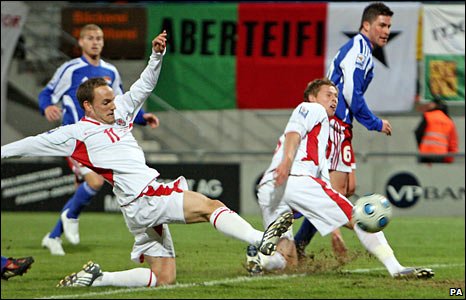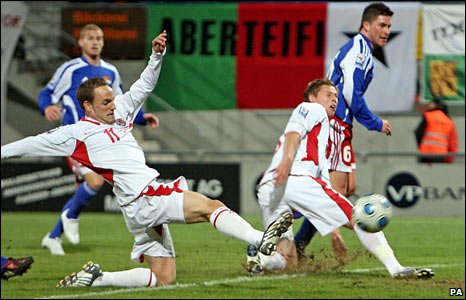 I can't help thinking that the Wales game plan was to get out with the victory whilst expending the least amount of energy possible. That would explain how a business like start to the game which meant that the opening goal was overdue when it came fizzled out into the non event that followed once Vaughan (whose performances were just about the only real plus point from the last two matches) had scored.
Although an offside trap which had me thinking for a second that I was watching Derby County again presented  Liechtenstein with a gilt edged chance to equalise before half time, the game meandered along tamely with Wales always looking likely 1-0 winners until Aaron Ramsey woke everyone from their slumbers with a lovely goal which gave a lie to the theory that you cannot score with curled shots from free kicks on the edge of the penalty area. Ramsey's moment of class stood out along with a couple of passes from him which gave the willing Jermaine Easter the chance to show why he is plying his trade in the Third Division in an individual performance that was otherwise pretty ordinary. Indeed, there were only Gareth Bale's attacking runs down the left, particularly in the first half, that were consistently of the sort of standard Wales should aspire to when they start playing competitively again.
Yet I believe that there is a bigger picture to be looked at here than just what happened last night. The end of another failed qualifying group for a major tournament offers the perfect chance to assess where Wales stand now as opposed to where they were when the campaign started.
In doing that, you first have to take notice of the manager's viewpoint that Wales have gone backwards in the past year. No doubt, John Toshack would argue that retirements and a very long injury list which meant that five or more absentees from the originally named squad became the norm were the main reason for this and I have sympathy with him there. However, the suspicion, which cannot really be disproved until Toshack has left the job, remains that a few people may not have been quite so quick to cry off from the squad if someone else was in charge.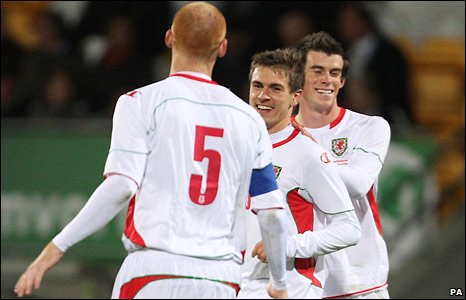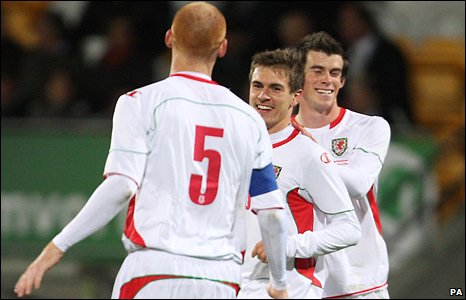 Similarly, the question arises as to whether Wales would have been beset with so many International retirements (some of those packing it in were still in their twenties as well) if someone else had been in charge – in cases such as Robbie Savage and Danny Collins, it seems pretty obvious that this is the case, but could it be that there were others who felt like they did?
As I mentioned earlier, it may be that when Wales get a new manager the list of absentees and retirements will be as long as it has been under John Toshack so it is, perhaps, unfair to be critical of him on those counts yet. However, there is one area in particular where I believe there is definitely room for improvement and that is in the degree of motivation that the team shows.
John Toshack has said in the past that, in his experience, you need more than the breast beating, badge kissing sort of hwyl that has been previously associated with Welsh teams to succeed on the international stage and, to a large degree, I agree with him there. On the other hand though, players do need to take the field with some motivation and fire in their belly and too often it seems to me that Wales are forced onto the back foot in the early stages of games because of their passive attitude – last Saturday in Finland provided a classic example of this as the team started very sluggishly to the extent that you could see the home team's fifth minute goal coming well before it actually arrived.
Looked at from one angle, I suppose that it could be argued that Wales did precisely what they should have done in the group that they were drawn in that they beat the teams seeded below them and lost to the ones above them. If our group would have contained exactly the same sides as it did except that there would have  been five teams because Finland were absent then I could go along with that argument, but, as I have mentioned before in this blog, the two games with Finland define the qualifying group as far as I am concerned and in those we came second, by some distance, to a pretty ordinary team – the campaign just ended therefore has to be seen as a failure and a bad one at that.
Using hindsight, I think that maybe people (myself included) have been expecting too much too soon from our youngsters and, while they certainly look the business at Under 21 level, they are still some way short of the the finished article when they have to play against the streetwise senior teams they come up against. However, I think it is reasonable to start expecting to see some concrete signs of progress next time around and that should mean that putting the team seeded third in our group under the sort of pressure that we never put Finland under this time around has to be a minimum requirement