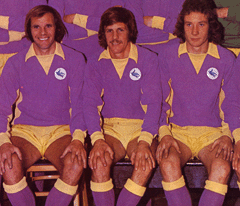 Derby County were Football League Champions in 1972 and 1975, so their relegation from the top flight in 1980 must have been a very bitter pill for their supporters to swallow at that time. However, their decline did not end there because four years later they came to Ninian Park as a club (which still had star names such as Kenny Burns, Dave Watson, Archie Gemmill and John Robertson in it's squad) on the brink of dropping into the third tier of the league system for only the second time in their history. Derby had tried to cling on to the good old days under Brian Clough, by appointing his former assistant Peter Taylor and then former captain Roy McFarland as managers but neither of them were able to stop the downward spiral and it needed two seasons in the old Third Division before the club were able to start moving upwards again.
The fact that Cardiff City were not accompanying the Rams back into the Third Division they had left only twelve months earlier tells of what I would call a minor miracle worked by Len Ashurst. The manager had seen the forward line that had fired us to promotion absolutely decimated as the influential Dave Bennett left to join Coventry City in the First Division for a tribunal decided fee of £120,000, Bob Hatton decided to bring his long career to a close at the age of 36 and top scorer Jeff Hemmerman pick up the injury in the final game of the 82/83 campaign at Bristol Rovers which was eventually to end his career (he did make eleven appearances in 83/84, but, after failing to find the net in any of them while looking like a shadow of the player he was, he retired at the end of the season to become a physiotherapist).
With gates dipping as low as 3,870 during the season and chairman Bob Grogan (who had been virtually bankrolling the club) standing down through ill health (he was to pass away shortly after), it was hardly surprising that Mr Ashurst was given very little of the Bennett fee to spend on replacements for the departed forwards.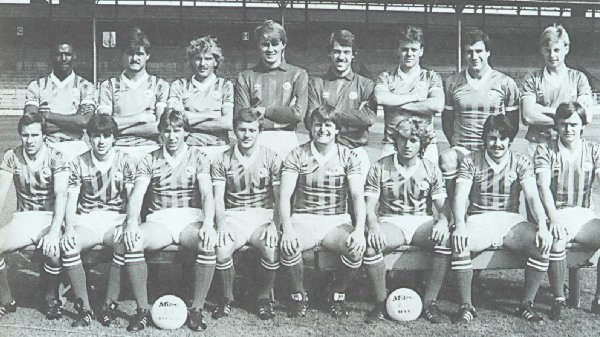 Here's a question for you, what do Andy Crawford, Chris Rodon, Wayne Matthews, Phil Walker, Chris Townsend, Gary Bennett, Ian Baird, Paul Evans (no, not me – things were desperate but not that desperate!), Trevor Lee,  Karl Elsey, Jeff Hemmerman and Martin Goldsmith all have in common? Answer, they all played up front for City in league matches in 83/84 with a degree of success ranging from "adequate" (e.g. Baird and Lee) to "complete waste of space" (e.g. Rodon and Walker)!
Mention of Phil Walker brings to mind the unique swap deal between City and Newport County which enabled Len Ashurst to increase his goalscoring options, albeit at the expense of two more stalwarts from the promotion campaign, as John Lewis, Linden Jones and squad player Tarki Micallef moved to Somerton Park with Karl Elsey and Welsh International Nigel Vaughan making the journey in the opposite direction with not a penny changing hands between the two clubs!
Walker, Elsey and Vaughan all made their debuts in a dismal 3-0 home defeat by Barnsley on 1 October. Walker featured once more before disappearing never to be seen again and Elsey proved to be no more than a useful member of the squad, but Vaughan's goals from midfield (he finished second top scorer with eight) were a very welcome addition from a player who, in the short term at least, proved to be a very good signing.
In saying that mind, there is every chance that we might have been the team being relegated instead of Derby if Len Ashurst had not brought in the little known winger cum striker Gordon Owen who had played under City's manager when he was in charge at Sheffield Wednesday. Ashurst moved quickly to sign Owen when he was freed by Wednesday at the end of the 82/83 season and, in my opinion, he turned out to be one of our best ever free transfer signings as his fourteen goals, the majority of them being down to either his blistering pace or fierce long range shooting. ensured that relegation was avoided with relatively few alarms when compared to previous seasons.
Gordon Owen hat trick for Barnsley
Owen was to make the difference in the game with Derby which ensured that City were mathematically safe from the drop with four matches still to play. It's funny how I have virtually no recollection of some goals that City scored in the old games I look back on whereas others I can still recall as clear as a day. Owen's matchwinner definitely falls into the latter category as his second half shot from just outside the penalty area got a slight deflection which sent it over keeper Steve Cherry's head and into the net at the Canton Stand end to seal the points in a game that saw City reduced to ten men following Karl Elsey's sending off.
By this time, Len Ashurst's first spell as City manager had come to an end – bigger clubs were, increasingly, noticing how Ashurst had managed to get Cardiff promoted and then established in the Second Division on a shoestring budget and, so when First Division Sunderland (for whom he had played 458 times) came calling for him in March, it was obvious that City couldn't and wouldn't hold on to their manager.
In the short term, Ashurst was replaced by assistant manager Jimmy Goodfellow and captain Jimmy Mullen in combination and they oversaw the final weeks of the campaign before Goodfellow was formally appointed as manager in the summer of 1984.
The popular Goodfellow never really had a chance though as, once again, the best players at the club all left during the close season – this time highly rated young keeper Andy Dibble signed for Luton for £125,000, pacy centre half Gary Bennett
Gary Bennett gets acquainted with David Speedie
joined Ashurst at Sunderland (he was to play 382 times for them) for a tribunal fee of £75,000, while Gordon Owen's stay at Cardiff ended with a move to his home town club fee for another, very low, tribunal set fee of £25,000. For the second successive summer, a Cardiff City manager was given none of the incoming transfer fees received to recruit replacements with and so, with six of the first seven league matches of the 1984/85 season being lost, Goodfellow was relieved of his job and the nightmare reign of Alan Durban commenced!
23 April 1984
City 1 Derby 0
City Dibble; Elsey, Dwyer, Bennett, Smith; Owen (1), Tong, Vaughan, Gibbins, Lee, Hemmerman (Mullen)
Derby Cherry; Blades (Pratley), Watson, Powell, Buckley; Devine, Gemmill, Harbey, Robertson; Davison, Garner
HT 0-0
Att. 5,056