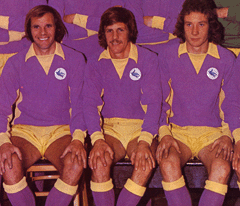 Unless there is a wholly unexpected finish to the season which sees entertainment levels flying off the chart, 2014/15 is not going to go down as one of the most memorable I've experienced.
Of course, with so many televised matches these days, the armchair fan is always going to get to watch the occasional great game and a decent number of good ones. However, as someone who likes to attend as many matches as I can, the five teams I watch hoping they win have not really done the business for me this season.
Some of them are less guilty on the lack of quality and entertainment front than others – Wales have been great when they've played with two fine games in October played in cracking atmospheres and, although their results have been patchy, City Under 18 games are invariably entertaining affairs with plenty of goals in them.
The other three have certainly not done the business when I've been watching them though – City's Under 21s are full of good intentions, but they've forgotten how to score goals at Cardiff City Stadium this year (I see they drew another blank when they switched their match to the Vale training ground last week).
So, that leaves City's first team and Newport County. I'll have some brief words about City's match at Huddersfield later, but if you've watched them live this season, you'll know that when it comes to results, entertainment and atmosphere, there have been far better seasons for them in the recent past.
As for County, well, they're a bit like Wales in that I've only watched them twice this season, so I've not really seen them enough to be too judgemental on them, but I came out of today's game with Morecambe at Rodney Parade thinking that County couldn't be having the season they are, if they were really as bad as they have looked in the two matches I've seen.
To be fair, they deservedly beat Stevenage 2-0 in December, but then County manager Justin Edinburgh admitted himself after the match that it was pretty poor fare and it was more of the same today I'm afraid.
After a misleadingly promising start that saw County earn a corner inside twenty seconds, Morecambe opened up the home defence so easily in their first serious attack in the sixth minute as Jack Redshaw neatly shot past Joe Day.
It was all so simply done that it was quite surprising that they were never to come close to repeating the move in the remainder of the game – the visitors showed a pace and a purpose when they broke that County couldn't really match, but were mostly prepared to sit on their lead and, given the lack of invention and threat from the home team, they were probably right to do so.
With a front two consisting of Shaun Jeffers (one goal in twenty nine games for Newport according to Wikipedia) and Rene Howe (whose career record makes you think that the term "lower league journeyman" was invented with him in mind), It always looked like County would struggle for goals and, in truth, I cannot remember them creating anything worthy of qualifying as a chance throughout.
County did work up a bit of a head of steam in the second half. There were a succession of corners and they had the ball in the net only for the goal to be ruled out for offside against Jeffers, but, by and large, Morecambe coped quite easily – they got their blocks in and County were limited to just the one on target effort all game.
It was turgid stuff, but there was at least the chance to see how City's David Tutonda got on in the second match in his loan spell.
County caretaker boss Jimmy Dack has scrapped the back three favoured by previous boss Edinburgh in favour of a flat back four which meant that Totonda played as a left back. Whatever the merits of the argument for a back four, I'd say that, purely from Tutonda's point of view, using him as a wing back outside a back three would be preferable because that would be playing to his strengths. Tutonda wasn't faultless – he gave the ball away in dangerous areas once or twice, but he also showed an ability to wriggle clear of opponents in confined spaces and there was an intelligence to some of his passing when in advanced positions that few of his colleagues could match.
Just a few words about the City's 0-0 draw at Huddersfield. Given the precarious position that they found themselves in after their defeat by Derby at the end of last month, I would have thought that any fan would gladly have settled for the next four matches to pass without any of them ending in a defeat, but when your team has not won in eight in all competitions and has only one win in their past fourteen, draws are not really good enough.
Yes, City are inching their way away from the Blackpools, Wigans and Millwalls, but a defeat to the second of those three sides on Tuesday (Wigan have not won at home in the league since August, fourteen games ago) would make the "improvement" that has seen our run of league matches without a win stretched to seven would count for absolutely nothing.
City really should have beaten Blackburn in midweek and, the little I've heard about today's match suggests that even though we were well beaten in the possession stakes again (61/39), we had the better opportunities to win a match that I've heard the words "dour" and "lack of quality" applied to on a couple of occasions already.
The best of these chances fell to Eoin Doyle who was denied by a great save from home keeper Ian Smithies, but the incident that attracted most attention came just before half time when Kenwyne Jones was brought down on the edge of the penalty area by Huddersfield's Tommy Smith. The Radio Wales commentators were adamant that, as the last defender, Smith should have been shown a red rather than yellow card, but with us having lost both of the second halves we've played against sides down to ten men 1-0, we should perhaps be grateful to, rather than angry at, referee Mark Heywood for his laxity!
* pictures courtesy of http://www.walesonline.co.uk/