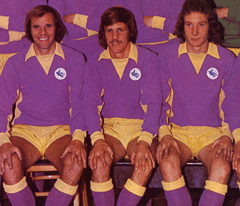 After a day or two where it was generally reported that Malky Mackay was going to lose out on the Crystal Palace job to Tim Sherwood, the media now seem pretty united in claiming that the former City boss will return to management with the London club within the next day or so.
I say this only to point out that, while our previous manager seems to be constantly in the thoughts of some of his City supporting critics (an awful lot of whom have only come to the surface in recent months), many others (including myself I would like to think) have moved on. They do not give Mackay a great deal of thought until his name appears in the media, as it has done a lot since Tony Pulis left Palace at the end of last week.
However, even if Mackay had not been in the news recently, I would have almost certainly had the ex City manager in my thoughts at some time during and after our 1-0 win over Wigan Athletic at Cardiff City Stadium last night because the parallels with the Scot's Championship winning side of two seasons ago in particular were clear to see.
If you ask one of the growing army of Mackay critics to sum up a typical game from our Championship winning season, I daresay they might come up with something like a 1-0 win by a goal scored from a free kick or corner in which the opposition had a lot of the ball and plenty of pressure, but we held on by "winning ugly".
Now, it seems to me that this is exactly what we did last night. In saying that, I didn't agree with Ian Walsh on Radio Wales when he said Wigan were the better side in the first half – I thought both sides cancelled each other out. Similarly, Uwe Rosler's "we were dominant for ninety minutes" seems to be an example of one eyed manager speak to me – a draw might have been a fair result in my book, but if a side was truly as dominant as Rosler claims his was, then, surely, they would have tested the keeper more than his did?
Although I mentioned about the two sides cancelling each other out in the first half, the truth is it was City who came closest to scoring. All Wigan managed was a header from Callum McManaman from an Andrew Taylor cross which David Marshall tipped over quite easily, whereas Aron Gunnarsson forced Scott Carson into a save within two minutes, Tom Adeyemi brought the keeper into action again late on in the half and Nicky Maynard had two presentable chances that he maybe should have done more with.
One came from a header glanced wide from a Peter Whittingham cross and the other was as a result of a poor clearance from Carson which, for a second, left him in on goal only for him to take too long in controlling the ball as the chance came to nothing.
Truth be told, City threatened the Wigan goal less after half time, but they were able to capitalise on their best spell of the match early in the second half when, boosted by a sense of urgency provided by new signing Anthony Pilkington, who came on at the interval for the ineffective Mats Dæhli, the visitors were put under concerted pressure for just about the only time in the game.
John Brayford, again impressive at right back, fizzed over a low cross which eluded everyone and only a marvellous clearing header from virtually under his own bar by Emerson Boyce denied Kenwyne Jones what seemed to be a formality of a goal as Whittingham's wicked corner swerved in under the crossbar.
City weren't to be denied though and from the resultant corner got the vital goal. However, it wasn't quite the sort of goal Mackay's side of two years ago specialised in. This time Whittingham went short to Pilkington, who fed Fabio and the left back knocked a cross beyond the far post where Sean Morrison, in for a debut in place of Mark Hudson, sensibly headed back across goal for Jones to nod goalwards.
Jones' effort might have gone in anyway, but Maynard made sure it did by sweeping the ball home from about four yards out to score his first competitive goal for the club at Cardiff City Stadium. Up to that moment, it had been a frustrating evening for the striker who had been having as little impact on the game as he had up at Blackburn – his selfless harrying of Wigan's defenders and keeper had threatened to create more errors like the one seen from Carson in the first half, but that had been his only real contribution up until his goal.
Apart from a Jones header from another Whittingham corner which went not too far wide, that was it as far as chances to add a second goal went and it was the visitors who looked the more likely scorers from then on.
David Marshall has made a sketchy start to the campaign and flapped at a corner unconvincingly in the first half, but, after the break, he was more like his normal self as he turned aside a Rob Keinan header and was out quickly to block what first appeared to be a great opportunity for Marc-Antoine Fortuné after Don Cowie's cross had found him in glorious isolation.
Marshall also dealt confidently with some testing crosses, but, apart from when sub Martyn Waghorn didn't connect with another Cowie ball properly, City defended well enough to keep their highly rated opponents at arm's length.
It was a team effort to keep Wigan out, but, once again, the back four deserve praise – I've already mentioned Brayford and Morrison (the latter dominated physically and showed a bit more pace at times than I expected), while Matt Connolly continued his fine start to the campaign with another assured showing.
However, the biggest impact for me was made by Fabio on the left who turned in what I'd say was, by some distance, his best display in a Cardiff shirt so far. Besides delivering that excellent cross in the build up to the goal, Fabio got forward well and caused the right side of the Wigan defence quite a few problems in the first half especially, but it was his defending that impressed me most – for someone who is sometimes not very convincing in that department, Fabio gave an exemplary demonstration of defensive full back play.
So, for what it's worth, City find themselves second in the league table to Nottingham Forest only by virtue of having scored a goal less than them without really yet demonstrating the attacking fluency and potency that was supposed to be the bedrock of their promotion challenge.
Instead, they have gained four of their seven points from performances in a couple of games which were a throwback to the Mackay days when we, supposedly, picked up points by sticking every one behind the ball, while hoping for a chance to nick a goal from a dead ball situation.
This "anti football" (for that's what some Mackay critics would have you believe it was) from two years ago led to us winning the title with three games to spare as we enjoyed an end to the season far less fraught than every other team in the division and I'm pleasantly surprised and very encouraged that Ole is proving that he can pick up points under similar circumstances because I had serious doubts about whether he could do.
The Championship hasn't changed much while we were away – games are invariably hard fought with very little in them to separate the sides. Having the capacity to regularly grind out victories while not playing Champagne football is such an asset for a Championship side to have and the early evidence is that we might possess it.
Wigan might have made a poor start, but it's hard to see them struggling for long – that was a big win last night and if we do get promoted, then I'd guess something like half of our victories will come about via the 2012/13 way.
Pictures courtesy of http://www.walesonline.co.uk/