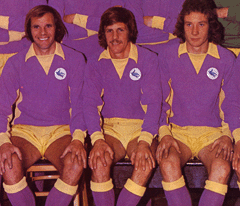 With the season more or less half way done, this seems a good time to have a look at how things have gone so far for the other twenty three teams in our league and to try and forecast whether their fortunes will improve, get worse or stay much the same for them over the early months of 2011, so here's my look at 2010/11 from the perspective of our rivals – one of the downsides of having a blog is that come May when everything is done and dusted I won't be able to get rid of this piece which will, no doubt, be the source of much embarrassment!
Barnsley
If you had to pick one side which typifies a division which tends to be consistently inconsistent then, it may well be that Barnsley would be the choice. I think Mark Robins is a decent manager who has improved them slightly from the relegation candidate tag that they always tended to have after their promotion in 2005/06, but their current position of sixteenth looks about right to me. Some heavy early away defeats suggested hard times ahead, but they have toughened up on their travels and a recent unbeaten run of five matches probably got their supporters dreaming of promotion only for a couple of defeats to stall their momentum. So far, much as expected and I see them finishing in a lower mid table position provided they don't sell Adam Hammill who would be my choice of winger to go for in January if we are looking for one.
Bristol City
The signing of David James was the Championship story of the summer until we brought in Craig Bellamy and, together with plenty of other decent looking acquisitions, strongly suggested that the wurzels were going to have a right go at promotion this season. However losing Steve Coppell after a couple of matches offered a clear signal that all was not well at Ashton Gate. Keith Millen has gradually steadied the ship but one point from their past three matches must have them looking over their shoulders again at the bottom three. Given the huge expectation levels at the club in August, they have to be seen as big under achievers so far, but Nicky Maynard should be available again soon and I think they will improve on their current nineteenth position by about six places to finish just below half way.
Burnley
With their finances in good shape and having kept the bulk of their Premiership squad together while making some shrewd looking signings, Burnley were my pick as likely Champions back in August. My one doubt about them was that the manager who presided over their complete collapse in the second half of the 09/10 season might not be up to the challenge of steering them back into the top flight. Brian Laws lost his job this week after, having finally got their first away win of the campaign at Barnsley on Boxing Day, they slumped to a second successive Turf Moor defeat as Scunthorpe ended a run of five straight defeats. Far too inconsistent so far and so they have to be seen as big under achievers – the right managerial appointment could still see them become genuine candidates for a top two finish, but I think it's more likely that they will finish just outside the Play Off positions.
Coventry City
After too many seasons of mid table mediocrity or worse, Coventry have taken a step forward under Adie Boothroyd who has used what he sees as tried and tested methods to preside over what is currently a genuine challenge for a Play Off place. Coventry are over achievers in my book and have good players at this level in King, Wood, McSheffrey and Clingan. City fans also have very recent experience of just what a good goalkeeper Keiron Westwood is, but an inability to get anything from matches against other sides near the top of the table, as well as Westwood's uncertain future, makes me believe that they cannot maintain the lofty position they occupy and I see them finishing the campaign about halfway up the league.
Crystal Palace
George Burley was always going to have a tough task on his hands in a season where survival in the division was probably the limit of Palace's ambitions. If that was  the case then I suppose their campaign has been much as expected up to now. Palace still have some good youngsters in Zaha, Clyne and the fit again Scannell, while Speroni is one of the best keepers in the division. Also, the likes of McCarthy, Danns and Ambrose are players that many of their Championship rivals would like to sign next month, but, an awful away record which has seen them avoid defeat in just three of their twelve matches away from Selhurst Park so far (if proof were needed as to just how poor we were against them on that night in September, surely this is it) does not bode well for them – Palace have a habit of scraping clear of trouble right at the death, but I think they are going down this season.
Derby County
If I had been doing this review a month ago, then the entry for Derby County would have looked a lot different as they reached the dizzy heights of third position but five consecutive defeats culminating in a 5-2 trouncing at local rivals Nottingham Forest on Wednesday has changed the mood at Pride Park somewhat. Still, it's not been a bad first half of the season for a Derby team that I still see as over achievers. Nigel Clough made some good signings in the summer (e.g. Bailey and Brayford from Crewe and Bueno on loan from Vallidolid) and, with Commons playing, and scoring, much more this season, they definitely possess a goal threat, but their defence looks too shaky to me – I see them ending the season somewhere around their current position of twelfth, but that would still represent real progress for a club that has been in the doldrums in recent years.
Doncaster Rovers
I'll own up to it, I really like the way Donny play and I think it is great that they have not just survived but prospered in this division since their promotion in 2007/08. Therefore, speaking as something of a fan, I'll admit to being a bit concerned about the number of goals Doncaster are conceding away from home (only Leicester and Palace have let in more). However, despite the absence of Billy Sharp for a large part of the season, their goalscoring record is currently more than compensating for this and, with Sean O'Driscoll's future looking more secure after Sheffield United's appointment of Nicky Adams, I feel Donny have as much reason to look up the table with optimism as they do down it with trepidation. It's been another season of over achievement at the Keepmote Stadium so far and, provided that they don't lose key players like Stock, Woods and Coppinger next month I can see them just about making the top half of the table come May.
Hull City
With new owners, their best run of the season so far, a good manager and money to spend (as shown in the signings of Matt Fryatt and Aaron MacLean), Hull fans have good reason to be more optimistic at the moment than they have done for a couple of years. Throw in a defensive record which is up there with the best in the division (aided and abetted by a player contracted to Cardiff City!) and that gap of four points from a top six place looks a pretty small one. After spending so much of the campaign so far looking like relegation candidates, I would say that Hull now find themselves in a position where they are going much as expected. However, in a league where your next poor run is often just around the corner, I'm not sure Hull will be able to maintain their current form – I can see them finishing in the top ten but not in the Play Off positions.
Ipswich Town
The good results of early season seem an awfully long way away now for Roy Keane's side. It's probably because of their high profile manager that Ipswich matches have been televised so often recently and I have to say that they looked a very frail outfit in their defeats against Norwich and Swansea. A win in their last game (another televised one played in a blizzard against Leicester) put an end to an alarming sequence which had seen them beaten six times on the trot has helped matters, but it seems to me that if there is a team that offers hope to the current bottom three, it's got to be Ipswich. Given the money that has been spent at the club, Ipswich have to be big under achievers , but with good players at this level like Fulop, Leadbitter and Scotland to add to the youthful promise of Connor Wickham, I think they'll be alright and finish somewhere just above the relegation places.
Leeds United
So are Leeds the genuine article or do they just happen to be one of the Championship sides (there are usually about six of them at any given time)  going through their obligatory good spell of the season? They certainly didn't look the real deal when we cantered to a 4-0 win at Elland Road back in October (we were the ones who were the "real deal" back then I seem to remember!) , but nine unbeaten games and stacks of goals later, they seem to have as good a chance as anyone. Simon Grayson is establishing himself as one of the better young managers around and I like the way he has given young talent like Schmeichel, Snodgrass, Howson and Gradel the chance to prosper. Leeds have got to be classed as big over achievers at the moment, but I'm not sure that they can keep on scoring at their current rate to paper over the defects of a dodgy looking defence – I think they might end up just outside the Play Off places .
Leicester City
If there is a "money bags" team in this league I suppose it has to be Leicester City whose new Thai owners have, so far, given the impression that they feel success can be achieved by turning the Foxes into the Championship version of the Galacticos rather than building a team on solid and lasting foundations. The hard working and effective outfit that ran us so close in last season's Play Offs has been transformed into a ragged bunch of "big name" players who turn to jelly once they leave the confines of the Walker's Stadium – how else can you explain a record which has seen them ship thirty goals in losing nine of their twelve away games? Overseeing all of this is the kind of "celebrity" manager that a club like Leicester have become demands. So far, Sven has taken Leicester to a situation where they are huge under achievers – things have to improve given the talent they have, but I can see them only just scraping into the top half of the table.
Middlesbrough
The pre season favourites to win the title have had a disastrous time of it and have to be the biggest under achievers in the division. That said, much of the pre season hype was down to the legion of signings from Scotland made by previous manager Gordon Strachan, but the likes of Boyd, Thomson,  McDonald, McManus and Robson have been disappointing (and that's putting it mildly). Given the home grown talent from their successful Academy and the players still with the club who were established Premiership performers not so long ago, I can't see Middlesbrough going down. Despite recent setbacks, I still think Tony Mowbray is a good manager and Tuesday's win at Preston suggests that their appalling away record is going to improve over the second half of the season – a finish about three quarters of the way down the table will still be very disappointing though.
Millwall
He might have previous connections with the jacks, but Kenny Jackett is doing a great job at Millwall. Six games without defeat has taken them into the top half of the table just two points away from sixth position and their recent improvement has been based around a defensive record which only QPR and Forest can better. Reported City target Danny Shittu has a lot to do with their recent improvement, but credit should also go to David Forde who I always believed attracted more criticism than he deserved during his time with us. In August I couldn't see anything other than a season of struggle for Millwall so they have to be seen as big over achievers, but I can't help thinking that they will find things a bit harder when they face sides for a second time and I can see them finish around half a dozen positions lower than their current eleventh.
Norwich City
Norwich are continuing the trend of recent seasons which has, mostly, seen promoted sides settle in at the higher level with few alarms. In fact, that's not really doing Norwich justice because, like Leeds, they have done much more than just "settle" in the Championship – they are mounting a very credible promotion challenge. It's been success all the way since Paul Lambert took over early in 09/10 and, from what I have seen of them, they are a team which shows no fear no matter who they are playing as they look to take the game to the opposition at home or away. Lambert seems to have bought wisely throughout his time at Carrow Road, while Grant Holt for one has handled the step up in class better than I thought he would – big over achievers so far, Norwich played a full part in the best game I've seen at Cardiff City Stadium this season, I reckon they'll make the Play Offs.
Nottingham Forest
Despite starting and ending 2010 well, it has been a bad year really for Forest with manager Billy Davies seemingly more intent on carrying on a war of words with the club's transfer committee than concentrating on his team. Forest didn't impress me in winning 2-0 at our place in November as much as they had done in drawing there a year earlier and the fact that it was one of only three away wins they managed all year offers evidence as to why the second half of last season and the first half of the current one saw Forest under achieve. However, if they can start turning more of their away draws into wins and keep Aaron Ramsey for more than a month, then I can see them doing well – Billy Davies knows what it takes to get out of this division and I think he has got a young, hungry and talented squad which I see as genuine candidates for automatic promotion.
Portsmouth
Although their awful start appeared to prove the doom and gloom merchants right, Portsmouth's best starting eleven always looked better than virtually all of their Championship rivals and, for me, they were never going to be tailed off at the bottom. Furthermore, the deal which saw Mark Wilson go to Stoke in exchange for Liam Lawrence, Dave Kitson and a few million quid was a superb bit of business for them and so I would say that their season up until now has been much as expected. Good recent results at Swansea, Norwich and Leeds suggest that they might still have a part to play in the end of season shake up, but that is counter balanced by them dropping home points to Millwall and Doncaster in their last two matches at Fratton Park – on balance, I can see them being a top ten team, but unable to break into the Play Off places.
Preston North End
That defeat at home to Middlesbrough on Tuesday looks a huge one for Preston to me because, in their position, they just can't afford to lose matches against the teams around them. It surely wasn't too big a surprise that Darren Ferguson was sacked after the Middlesbrough match and at least the new man in charge should have most of the January transfer window to try and build on a squad which has been further weakened by Sir Alex Ferguson recalling the Manchester United players he had loaned the club in response to his son's dismissal. Although they ended up taking a point from their visit to Cardiff City Stadium, Preston's defending that afternoon was poor throughout and, with the money worries they had earlier in the year, it might well be that players will have to leave Deepdale before anyone can come in – I think Preston have gone much as expected so far and I'm afraid I can't see them pulling clear of the bottom three.
Queens Park Rangers
While the other twenty three teams in the league try (and mostly fail) to get the balance between artists and artisans right, Neil Warnock (who, historically, crams his teams full of the latter) has got it absolutely right at QPR and the result is that his team are, far and away, the most consistent and effective in the division. Warnock is a pragmatist and has built promotion sides along those lines in the past, but, fair play to him, he recognised that he had inherited a lot of talented but under performing players when he arrived at Loftus Road and, by keeping faith with the likes of Connolly, Gorkss, Faurlin and, most of all, Taarabt, he has a side which can play as well as graft. That said, by bringing in warhorses like Kenny, Derry and Hill he has added something (a willingness to scrap?) that we seem to lack at Cardiff – despite all of their money, I think QPR have over achieved so far and I expect them to go up as Champions.
Reading
Reading recently went on a run of five consecutive draws, but by coming out of it with seven points from three matches, they now have a lengthy unbeaten run which is making them look increasingly likely to extend their campaign beyond the regular season. Losing the very talented Gylfi Sigurdsson to Hoffenheim back in August looked to be huge blow to any hopes they had of challenging at the top, so, because of this, I'd say Reading are over achieving at the moment. Ex City player Brian McDermott is proving himself to be a promising manager and bringing in Ian Harte to provide the dead ball skills that they lost when Sigurdsson left was a shrewd move – Reading have a nice balance between youth and experience and have pace in abundance to hit you on the counter attack, I think they can reach the Play Offs.
Scunthorpe United
The conventional wisdom with Scunthorpe was that, if they stayed up, it would be thanks to what happened at Glanford Park – after all, that's how it worked out last season. This time around though, seven defeats in their first ten home games should have them marked down as certs for a return to League One. However, six away wins in eleven attempts suggests that all is not cut and dried yet as far as Scunthorpe are concerned and, by bringing a terrible run of five consecutive defeats to an end with that win which did for their former manager Brian Laws on Tuesday, they once again demonstrated that their team is greater than the sum of it's parts. The thing is though, that I just cannot see how a team can stay up by relying on away results and a huge improvement is needed in their home form – the weird distribution of their points thus far notwithstanding, Scunthorpe are going along much as expected and I expect them to be relegated.
Sheffield United
With a huge debt and no parachute payments to fall back on, Sheffield United have had an ordinary look to them in the last two seasons. That said, the very early sacking of Kevin Blackwell strongly suggested that the powers that  be at the club still thought a promotion challenge was on and, although I'm not sure that was ever the case, I do feel that they have under achieved so far. Although I've not seen too much of them this season, they still look the same old physical and niggly side that they always were, but there is little evidence that Leon Britton has increased their technical ability and passing in the way that was hoped when he arrived from Swansea. Sheffield United have a nucleus of solid and experienced players at this level which should keep them clear of trouble, but, despite their new manager, I don't see them getting involved in the promotion battle either – a rise of three or four places from their current twentieth looks about right to me.
Swansea City
Although they had very little to beat on the day, Swansea were so much better than us that they have to be the best opposition side I have seen at Cardiff City Stadium this season, but, when all's said and done, they are just as inconsistent as the rest of us! They started off by winning at home and losing away before finally sorting themselves out on their travels only to then start slipping up in front of their own fans and, although they ended up winning the match, I thought they looked pretty ordinary in their televised win at Ipswich. Scott Sinclair's signing added to what was already a talented squad at the Liberty Stadium and I think this season has been much as expected for them, but, recently with the goals drying up for Sinclair, you see that many of the problems Brendan Rodgers inherited are still not too far away – a month ago I would have said top two for the jacks, now I reckon they'll make the Play Offs.
Watford
Watford are your typical Championship side in so many ways – they've won their last three, but went seven without a win before that. What they have when they are in the mood though is an attacking game which is as potent as most in this league – they haven't just beaten the current top two in their last two games, they've stuffed them. Malky Mackay is another good, young manager who wants his side to play in the right way and has raided the lower divisions well to combine with the steady flow of young talent his club provides through one of the most effective Academys around. Watford are big over achievers for me and, if they are enjoying one of their good spells come the end of the season, I think they could make the Play Offs – a narrow miss seems more likely though.
Although there will be plenty of other opportunities to comment on us later, I can't finish without a few words on Cardiff City's prospects. You will see that I have only named three sides to make the Play Offs while also not quite stating categorically that Forest will go up automatically. That's because, while I definitely don't see the current squad as top two finishers, if Dave Jones can wheel and deal it so that we go into February with a better balanced squad which has strength all over the park rather than just concentrated in certain areas, I think we will never have a better chance of going up automatically – it will be up to our big players to show a consistency we haven't seen from them so far if we are to make it though.
by The other Bob Wilson with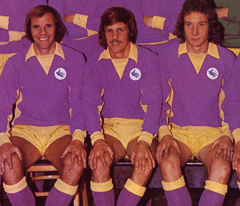 I was out visiting relatives all day yesterday and so had little or no chance to catch up with what was happening in the football world let alone what was going on at Vicarage Road where, by all accounts, we suffered a right pasting. Therefore, I won't talk too much about the game at Watford, but more about how, with half of our games played, we have done so far this season.
Firstly, and at the risk of sounding like a stuck record here, any analysis of the first half of our campaign has to be set against a background which has seen many of those employed by the club telling us that automatic promotion has to be the aim this season. It seems reasonable to me therefore that us supporters should set our expectations to the same level – in truth though, are we really that good?
My opinion, which has hardened a lot in the past month or more, is that we are not a top two side. Now, I know that people will point to the league table and tell me that it says otherwise, but, with us having now played nine matches (almost 20% of our season) where our results have been more akin to a side in the relegation zone as we cling on to second spot only because Leeds' Andy O'Brien kindly helped us out with two own goals, this argument is getting weaker and weaker by the week.
On the other hand, there are still those who say "we should be walking this league with the squad we have", but, I just don't see it that way. Last season our defence imploded as they conceded three goals in around half an hour in our last two, vitally important, matches. For me, this only confirmed a long held suspicion that we weren't good enough at the back and yet how I would wish to see 09/10 level performances from our back five now!
Watford are a typically inconsistent Championship team who have won their last three matches after a run of no wins in seven, but what they do have is the attacking capacity to really put teams to the sword if they are in the mood – now, let's look at the back five which faced them yesterday. In goal we have a keeper whose confidence must have been effected by a decision to drop him back in September (which I still cannot understand) – David Marshall never kicked the ball as poorly before he was dropped as he does now. Okay, right back McNaughton and centreback Hudson have been fairly solid all season, but alongside Hudson we had someone who was very good in the second half of last season, but is now not being helped by the fact that our manager still doesn't seem to know who is the better out of him or Gabor Gyepes (who is also playing poorly) – neither Darcy Blake nor Gyepes can be expected to play themselves into form when they only seem to be featuring once  in every two or three matches.
At least Chris Riggott's performance against Coventry offered the hope that things can improve at centreback, but what is to be done about Lee Naylor whose, frankly, dodgy contributions in most games came to a predictable head yesterday as Dave Jones hauled him off in the first half to save him from further punishment from Watford's ex Rochdale winger Will Buckley (why have we, seemingly, stopped looking in the lower divisions for new players?)? Naylor hasn't merited his place in the team for some time now as far as I am concerned, but Dave Jones has stuck with him steadfastly and, perhaps, that is more understandable when you consider that he barely acknowledges the existence of Paul Quinn these days. Then of course, there is the strange case of Adam Matthews – now, even if you accept that our manager had just cause to slag him off (which I don't think he did) after the Ipswich defeat, you have to say that Matthews' subsequent form has shown that the public dressing down he got has not had the desired effect (in fact, just the opposite seems to have happened), so you have to question our manager's methods in this case.
Against a side who had looked so impressive in ending QPR's unbeaten start to the season, we went in with a back five featuring two players who are definitely not playing to 09/10 levels and another who is proving to be not as good as the veteran who left us in the summer after conversion to the left back position late in his career. When the manager finally loses patience with his left back, he replaces him, from a completely unbalanced substitute's bench, with a promising youngster whose development has been stunted this season by unsympathetic handling (which has, if anything, seen him go backwards) – against a background like that, should we really be surprised by the scoreline yesterday?
Our back five is not remotely close to being good enough for a team which "should be walking this league" and, for all of the, admittedly inconsistent, talent in front of them, I can't help remembering something I heard yesterday on one of the rare occasions when I was able to catch up with the football. I was able to watch a bit of the first half of the Coventry v QPR match where the commentators talked of QPR's resilience when they were under the cosh during much of the first half. Neil Warnock teams tend to have this quality in spades, but, apart from earlier on this year when we were hit by injury, illness and off field financial problems and the occasional match here and there down the years, "resilience" is not a word I would associate with Dave Jones' Cardiff teams. At least though you could always rely on his City sides getting something out of matches in which they scored first, but you can't with this team – to be fair, we are better at coming back in games where we concede first, but why should it be that under Dave Jones we seem to make progress in one facet of the game only at the expense of another?
Our manager was talking after yesterday's match about having the means to do something to improve the completely unbalanced squad he cobbled together during the summer in the January transfer window. If this really is the case, then he is a very lucky man because, given what he has said about what we should expect from this squad, a run of eight points from nine matches is, arguably, legitimate grounds for dismissal. Often in the past, Dave Jones has had to be admired because, in many respects, he was, effectively, managing Cardiff City with one hand tied behind his back, but that certainly doesn't apply this time around. I think it's fair to say that, even if we aren't a top two squad currently, we have enough talent at the club to do a lot better than we have in the past nine matches – for me the half term report for Dave Jones and his squad has to be "C minus – recent work is nowhere near good enough to reach targets set".
.
by The other Bob Wilson with